Activists from Warwick For Free Education (WFFE) climbed to the roof of Senate House earlier today to protest the National Student Survey (NSS).
The three students and WFFE members lit red flares and hung a banner urging: "Boycott the NSS".
The NSS is an annual survey for final-year undergraduates to evaluate the teaching and learning they've experienced during their degree. However, opponents believe that is undervalues teaching and will be used for tuition fees to rise.
Both the National Union of Students (NUS) and Warwick Students' Union (SU) have passed motions in support of a boycott.
The NSS is also used by the government's Teaching Excellence Framework, which Warwick's Vice-Chancellor Stuart Croft has spoken out against, saying universities felt forced to join and that little of Warwick's teaching achievements will be reflected through it.
The 25 SUs, including Warwick, that have supported boycotts of the NSS are apparently placing TEF under threat, due to lack of NSS responses.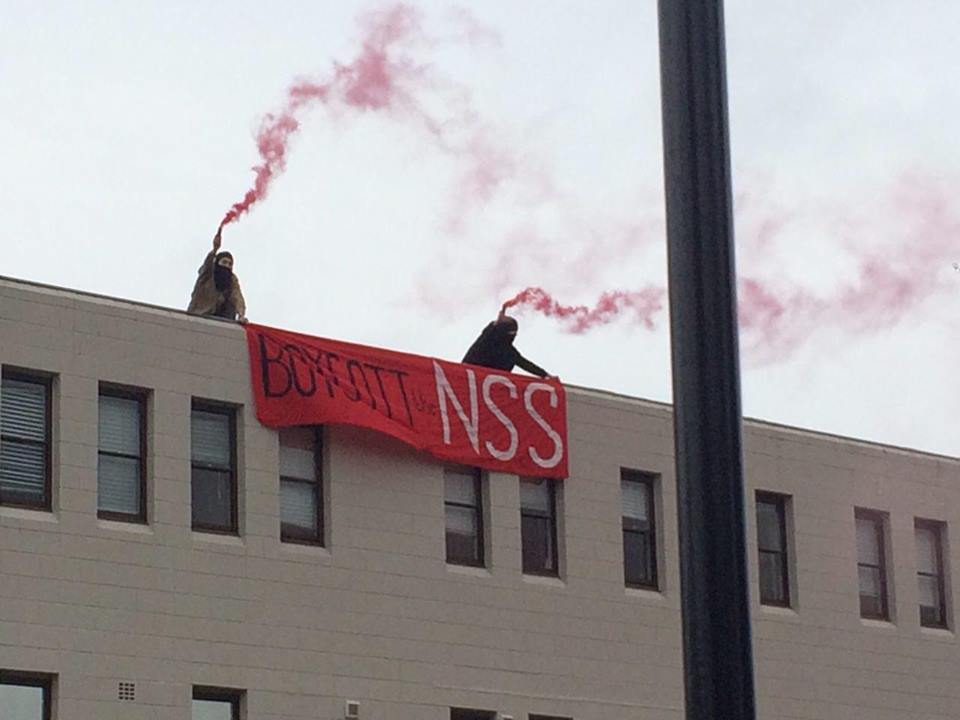 Image: Warwick For Free Education
WFFE are hosting a forum on Warwick campus tomorrow answer questions and discuss the need for the boycott.
This also follows a protest led by WFFE back in December, where new campus building the Slate was occupied. One of the concessions made by the University to end that Occupation was that Stuart Croft spoke out against TEF.
Hope Worsdale, Warwick SU Education Officer, said in a statement released by WFFE: "Forms of direct action by grassroots activists, such as December's occupation of The Slate, are necessary to building resistance to marketisation and privatisation on campus."
"Private providers have been shown to engage in fraudulent practices and provide low quality education where they have operated in the US and FE in the UK. These HE reforms will turn students into consumers, lower quality of teaching, increase pressures on students and academics, and bring universities further under direct government control.
"All students should stand united in opposition."