Today's festivals are haunted it seems – haunted by profits and the demand for what is familiar. What were once hubs for the new and experimental have become the retirement grounds for artists far past their sell-by-date and experiences all too unchanged. I shiver each time I take a peek at the Reading lineup. I feel lightheaded when I browse the Glastonbury lineup. In an age of neo-liberalism, no elements of music can escape modern society's begrudging fixation with nostalgia as new music paths become increasingly difficult to obtain. 
The past 30 years of popular music has faced an identity crisis. Music of the 80s dominated 2020. The Weeknd and Dua Lipa's releases took charts by storm. Festivals of 2021 present no such change. Not only are we bombarded with a nostalgia for music forms of the past, but also those groups who have dominated the industry for the past half century. 
The Isle of Wight festival, admittedly not at the forefront of popular culture, has been attracting attention for such reasons recently. Upon releasing its lineup Twitter users took to comment upon its embarrassing lack of diversity and the agedness of the festival. Looking at the lineup myself, I was convinced I was glancing at a festival from 2009. If someone told me it was from 2009, I wouldn't have doubted it. The festival's Twitter page proudly championed its headliners. David Guetta, derivative 2000's EDM title holder, Liam Gallagher, neoliberalism's poster boy and the king of pastiche, and Snow Patrol, inoffensive pop-rock standard-bearer. It would take you more than a cursory glance to spot any female or POC artists, for approximately 80% of the lineup are white males.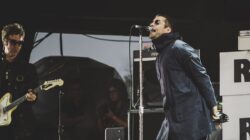 Twitter users can be seen quote tweeting the lineup with pictures of Seth Rogen's Sausage Party, or making humorous comments about the Isle of 'White' festival, but, in reality, it represents on a far grander scale the crisis of music in a racist and patriarchal capitalist society. The anachronism of these artists, present in Oasis' naff blending of 60s pop rock with the aesthetics of the Baggy/Madchester scene, is illustrative of the crisis of capitalism to produce new forms of music and instead put a glossy sheen on them. The white male predominance is reflective of the institutions which maintain 'western' society.
It seems, until the economic system and the institutions which uphold these elements of society, change, festivals of popular culture will remain as stagnated and derivative as they are today
This embourgeoisement of music and festival culture, particularly rock, has created a stagnation, a finitude in creativity. No longer are there great elements of the new, instead society has turned to reflecting the music forms of past and the figures which dominated; whatever turns a profit and is uncontroversial to the establishment. This is reflective of Frederic Jameson's comment on which society has entered a 'nostalgia mode', or the "formal attachment to the techniques and formulas of the past, a consequence of a retreat from the modernist challenge of innovating cultural forms adequate to contemporary experience". 
It would be remiss not to quote Mark Fisher when discussing such a topic. In one of his many K-Punk articles he can be seen observing in relation to Glastonbury festival "no black folks of course unless they're well into their sixties, but no whiteys either unless they're into their sixties or sound like they could be into their sixties". This crisis of music is reflected too in the headliners of Reading. Liam Gallagher, Two Door Cinema Club, and Catfish and the Bottlemen all echo such derivative "unimpeachable" elements of modern music.  
And whilst there might be a general sense that this element of society is fading, statistics illustrate the stark opposite. Just 21.7% of charting artists in the US between 2012-2019 were women. Only four out of 871 producers in the same period were women of colour. Additionally, whilst we see revolutionary and highly challenging artists in modern music culture, illustrated by the likes of SOPHIE, Arca and Clipping, for the vast majority of these instances, they remain on the fringe and present no where near the same rapid development of music styles present 30 or 40 years ago. Even the lesser pop-oriented and 'underground' festivals of today like that of Shambala, El Dorado and Boomtown illustrate an embourgeoisement of the music genres they present. 
It seems, until the economic system and the institutions which uphold these elements of society, change, festivals of popular culture will remain as stagnated and derivative as they are today.