A banner condemning an injunction on occupations at Warwick was unveiled in a one-person protest at a graduation ceremony on the afternoon of Saturday 23 July.
Connor Woodman, a Philosophy, Politics and Economics (PPE) graduate, unveiled a banner which read: "Students Against Injunctions" as he went up to collect his certificate at the ceremony.
His action was directed against a "draconian" injunction that bans occupation style protests at Warwick University indefinitely.
The injunction was originally taken out by the University in order to end an occupation of the Rootes building on campus, which took place in December 2014, following an incident involving protest, police and pepper spray.
Since then, it has not been used but it has been protested against by student activists on a number of occasions.
The High Court injunction is a gross violation of basic liberties.
Connor Woodman PPE graduate and protestor
The most recent action yesterday was timed to coincide with an open letter to University management, condemning the injunction and calling for its removal.
The letter, signed by 46 Warwick academics, the entire future and present full-time sabbatical team and a number of student societies, declared sit-ins and occupations a "legitimate tool of social movements".
In the letter, it was noted that sit-ins have helped to achieve meaningful changes both at Warwick and in countries around the world.
It described Warwick's injunction as an "unprecedented crackdown on civil liberties", calling for its removal in order to "start a new era of relations between Warwick's management and its community".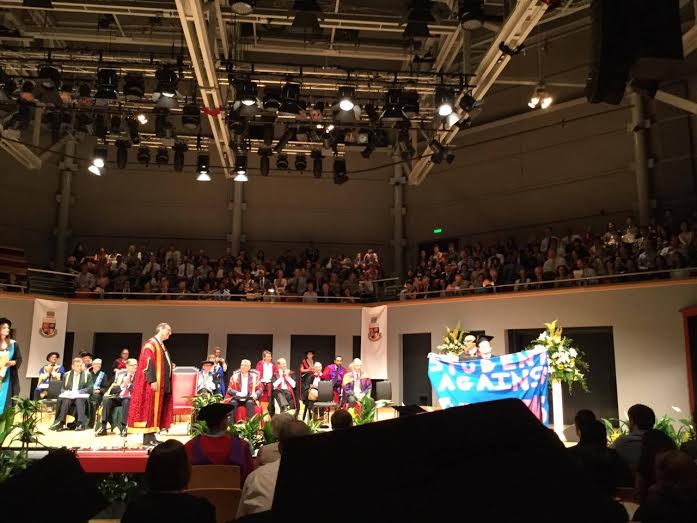 Student protest as graduation ceremony Photo: Warwick For Free Education
Connor Woodman, the protester at the graduation, said: "The High Court injunction is a gross violation of basic liberties
"Direct action is a vital part of our democratic life and, outrageously, such tactics are now illegal at the University of Warwick"
Hope Worsdale, a Maths student and education officer-elect supported Connor's protest, stating: I … commend [him ] for highlighting an issue which impinges on the rights of all students on campus to protest.
"It's about time the University listened to the voices of the Warwick community … [the injunction] has given this university a shameful reputation as an institution which seeks to repress dissent."
The message was vague and I didn't even know about the injunction.
Ali Assad, Economics graduate
However, not all students at the ceremony understood what the protest was about. Ali Assad, a final-year Economics student who was graduating that day said: "I was confused about what was going on. The message was vague and I didn't even know about the injunction."
He added that after he learnt of the reasons behind the protest, he "would like to see the University respond to the open letter from staff and students".
The University have been contacted for a response and this article will be updated with their reply.
Related Posts