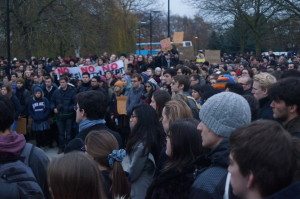 The #CopsOffCampus demonstration today, Thursday 4 December ended with conflict between students and University security after student protesters occupied a room in the Rootes Building and the building was closed off as a result.
The protest follows on from last night's Free Education protest at Senate House, where violence and conflict arose and three protesters were arrested.
The demonstration began at 3.30pm with a reading of statements from last night's arrested protesters, and a series of talks which included those by a Coventry University representative, Warwick's Literature academic Emma Mason and Warwick Anti-Racism society.
Protesters proceeded to march across campus at around and eventually occupied the Rootes Building at about 5.30pm. Students were asked to leave and it was understood that there was a widening participation (wp) training event being held in the building.
An estimated 100 to 150 protesters held a lock-in occupation of the chancellor's suite in the building.
University security closed off entry into the building, which caused commotion by the entrance of the building. The Learning Grid and Rootes Bar were evacuated and closed by about 6pm.
A student who was inside the Panorama room working at the wp event when the protesters occupied Rootes building commented to the Boar: "While I have complete solidarity for the need for the peaceful protest, I am greatly disheartened that the protesters decided to march up to the Panorama Room and around the Rootes Building.
"I was working at a widening participation event designed to help train ambassadors work with young people. The attempts to enter the Panorama Room meant that we were locked in the room. There was quite a lot of tension in the room and later on the occupation of the chancellors suite resulted in the event being stopped.
"This is deeply upsetting because while structures of power within and around the uni need to be challenged unfortunately an honest cause was disrupted."
Dan Goss, third-year Mathematics student and a member of Warwick Free Education, said: "The turnout today was insane. It was unfortunate the circumstances in which it came about. Given what happened, we've reacted really well and Warwick has really shown its true colors.
"We've shown that we are not okay with the way that police are treating people. I hope this is a gateway for some people to become more involved with activism at Warwick. There's a lot of apathy which is completely unnecessary as people really do care about a lot of things."
Katherine Truman, first-year Biochemistry student, was at the demonstration. She commented: "It's unacceptable that people of authority believe they can do what they want just because they are the police. You can tell by the atmosphere today that the students stand in solidarity with each other and that we care about our futures.''
Charly Bower, first-year History and Politics student, also commented: "I think that peaceful protests are a perfectly reasonable human right, but I don't know the entire details. If there was violence towards a guard then obviously the police officers are justified in coming in however the violence shown towards the protesters was completely abhorrent.''
Fourth-year CAS student, Flo Page, said: "The violence towards the protesters seemed excessive, to say the least. I saw Nigel Thrift's statement today, which didn't realise, apologise or show any kind of support for the students, which I didn't think was right.''
Another Warwick student the Boar: "I disagree with any violence towards protests in every possible situation, but I don't think it's necessarily helpful to go around chanting 'fuck the police'.
"I think it's quite misguided in many ways and while I don't have a problem with the focus of the movement, the way the group go about it is intensely problematic.''
A speaker at the protest noted: "The idea of police entering our campus is quite traumatic for a lot of students who have faced violence from the police in their own communities.
"This is a space where we are meant to be learning, challenging, exploring and developing ourselves as well as engaging in conversations through peaceful protest such as the one carried out. For such discussions to be shut down by police officers, in what is meant to be a safe space, is frightening and threatening.''
As of 8.50pm, there are still occupiers in the Panorama Room of the Rootes Building. It has been reported however that some protesters were quitting the room as no one was able to go in and give them food.
The front gates of the Rootes Building has been completely closed, but the fire exits are still open to occupiers.
Updates to follow.
Protesters were filmed to be forcibly opening Senate House through the back doors before entering (Video: Samuel Lovett)
8am Friday 5 Dec
It has been made known that the protesters will be staging another protest today, Friday 5 December, at 2pm. The protest will start at the Piazza.
The protesters submitted a list of demands during yesterday's #CopsOffCampus protest on Thursday 4 December. They have set a deadline for the University's response for January 6.
Their list demands the University senior management to support students affected in Wednesday's violent Free Education protest. It demands the University to retract their claims of an assault unless they can provide evidence for it, and to fund an independent investigation to shed light on what happened.
They have also asked for a written code of conduct to govern campus security, made in consultation with students and that the conditions preventing those from participating in campus activities be lifted.
The list also demands an apology from West Midlands Police and that all bail conditions of protesters be lifted. It called on the police to prevent police brutality from being used as a continuous move to privatise higher education.
The protesters have in addition asked the University to pledge their commitment to free education and for Nigel Thrift to reject any future proposal for £16,000 fees. In a more immediate context, they demanded that the University lower the costs of being a student at Warwick in terms of food, accommodation, Warwick Sport and other living costs.
They also demand that the University work practically to widen participation in higher education, which includes opposing the scrapping of the disability student allowance, waiving fees and creating fairer working conditions for workers.
They expressed concern that the University's characteristic corporate partnerships were increasingly gaining voice and control on campus, while student voices were being silenced. They demanded transparency in terms of corporate interests that are invested in the University, and which part of the University this money is going to.
Related Posts