One student is said to be in casualty, three under arrest, and the student community shocked by events at Senate House, after police showed up to a protest around 4.50pm.
Students holding a "peaceful" demonstration as part of the Free Education movement found themselves in violent clashes with police today, Wednesday 3 December.
Video footage released by University of Warwick students appears to show violence from police against protesters and photos have emerged of students who claim to have been the victims of CS gas use and pepper spray.
Students present at the scene have alleged that police "threatened students with tasers," and "pepper sprayed them right in the eyes."
The Boar has been told that one student was making their way to A&E around 10.00pm due to the effects of pepper spray.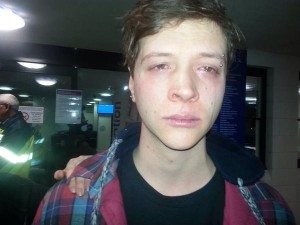 Photos taken of students present appear to show injuries caused by CS gas
It is believed that there were around 25 students taking part in the protest, and four police officers arrived at the scene.
Of the three arrests, it is understood that two were made on suspicion of obstructing police, and the third was arrested on suspicion of assault. There are currently at least three Warwick students camped out at the police station in Coventry, waiting for the release of those in custody. It is believed that there is a solicitor present.
Video footage
In the video, students can be heard screaming, "what the fuck are you doing?", "police brutality," and "get the fuck off him". Other students can be heard shouting at police, "get away from me," "do not touch her," and "help."
Towards the end of one of the videos, one student is heard saying, "We don't feel safe in our own university; how can you let this happen?"
"Why did you have to bring violence to the table?"
The police response has been called "well beyond what was necessary or proportionate." Another video circulating on social media, appears to show a policeman grabbing a student in a headlock.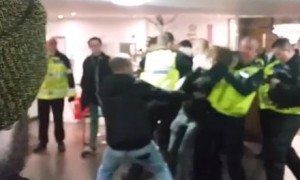 Video appearing to show a policeman with a student in a headlock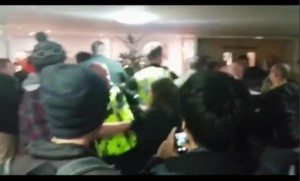 Video footage appears to show a policeman dragging a girl by her scarf
West Midlands police: "we worked to ensure everyone was safe"
West Midlands Police tweeted at 8.52pm saying, "During the disorder a taser was drawn and an audible and visible warning was issued to prevent further incidents. The taser was not fired."
A statement was released by West Midlands police said: "Police were called to reports of an assault at the University of Warwick Central Campus in Coventry this afternoon.
"…Police officers and security staff from the university worked together to ensure everyone was safe. Students from the protest dispute that there was an assault which caused the police to be called."
West Midlands Police later tweeted at 10.42pm saying: "We are aware of a video circulating after officers attended a report of an assault during a student protest, which will be examined."
Students: "we were attacked"
Lily Huggins, who is part of the Free Education campaign, and is camped out at the police station waiting for their release, told the Boar: "we want to be there when they come out so that they're not scared."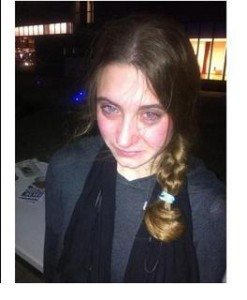 Photos appear to show students' injuries from CS gas
Another student, Helena Dunnett-Orridge, who was present at the protest, told the Guardian how she had been "attacked" by police: "There had been a demo for a free education, then people went into Senate House, sat in reception and had a discussion about the protest. Police came in and we all linked arms.
"They started pushing and attacking people, completely unprovoked. We couldn't say anything because we were being pushed. They pushed people to the ground and grabbed a girl by the throat using her scarf. They also used CS spray in my friend's face and had Tasers. They started physically pushing and carrying people out. They dragged me out with them."
A postgraduate student, Lawrence Green, who claimed police had used CS spray on him, told how "The police came in and started pushing people around. They grabbed my friend by the scarf, and I tried to help her. The police shouted: 'Get back, get back or we'll pepper-spray you'. I was then pushed back while they sprayed my face. They got me directly in the eyes. They also had Tasers and had their batons out."
He added, "They stood on my phone and I think that was to prevent me from filming and to damage any film I already had."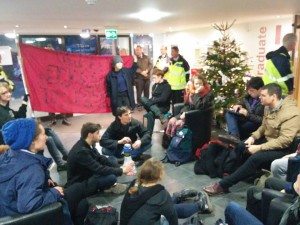 A photo taken of the "peaceful" sit-in before police arrived at the scene
Postgraduate sociology student Craig McVey who was present at the scene said that he was unaware of a provocation for the violence, "They entered the building and started grabbing people and shoving people. They didn't give any reason [for doing so]."
Grace Holme, of the Free Education campaign, told the Boar, "Today our peaceful sit-in for free education was violently attacked by the police. We saw no reason for them to act in such a brutal way, with CS spray, a tazer gun and such intense and frightening force.
"I couldn't stop shaking as it slowly dawned on me how serious the situation was. But we will be back tomorrow, and we will be bigger. This kind of intimidation will not stop us."
Events leading up to the action
An eye-witness described how the group collected in the afternoon outside the Koan.
The afternoon consisted of speeches from students. Proceeding with the sit-in, one group of students entered Senate House while the others sat outside.
Security guards formed an imposing line outside Senate House doors, disallowing students into Senate House. The group sat outside proceeded to chant slogans expressing anger toward how they weren't allowed into their own University building. 
The group of students kept outside moved towards the guards who let them through without any aggression. Once inside, the students joined those who were already sitting in a circle. The group were discussing Free Education while the security guards asked the students to move 'out the way' of the postgraduate hub.
The witness claimed that the group were not disturbing anyone and were talking quietly before police arrived at the scene.
One protester told the Boar that the location of Senate House had been chosen because of its historic symbolism for protests at Warwick.
University: "a shocking and unprovoked act of violence"
It is alleged that the police presence was in response to allegations of violence among the protesters. A spokesperson for the University said, the police had been called following a "shocking and unprovoked act of violence."
The spokesman told the BBC, ""Sadly, on this occasion, for the first time in my memory, the security staff were faced with a surprising and very shocking and totally unprovoked act of violence which required us, regretfully, to call the police."
SU response
Warwick SU has released a preliminary statement as of 8.08pm on 3 December:
"This afternoon, a group were demonstrating for Free Education and entered the lobby of Senate House. The police arrived and an altercation took place, the full facts of which we are still in the process of establishing. Three people were arrested.
"From the footage we have seen of this incident, we absolutely believe that disproportionate force was used against protesters. We stand in solidarity with the Warwick students who were unnecessarily harmed in this action.
"The Sabbatical Team will be attending the peaceful demonstration happening on Thursday at 3.30pm. We will also update students further with a full statement tomorrow."
Students from the Leeds University released a statement saying, "Warwick students occupying a building for free education/ against privatisation this afternoon were attacked by the police with pepper spray and tasers. This is unsurprising, and also unacceptable.
"The right to protest is being eroded within and beyond the university; police violence is for many people an everyday experience. Cops Off Campus is only a starting demand." They plan to hold a demonstration tomorrow, Thursday 4 December at 5.00pm.
The demonstration #CopsOffCampus, protesting against the presence of police in peaceful campus protests will be held outside Senate House tomorrow at 3.00pm.
A petition can be found here. Updates to follow (see below)
Videos can be found below:



00.57am Thursday 4 Dec
The Boar understands that all three people arrested how now been released. A source tweeted "@WarwickFreeEd everyone released without charge. Bail conditions: no entry to Coventry and Warwick uni campus."
11:22am Thursday 4 Dec: Vice-Chancellor Nigel Thrift released a statement:
"For many years the student protests we have experienced at Warwick have been characterised by a spirit of co-operation between protesters and University staff which has helped facilitate peaceful protest and a safe environment for students, staff and visitors to our campus.
"I was therefore disheartened that yesterday's protest uncharacteristically saw an unprovoked assault on one of our security team that gave us no alternative but to ask the police to attend the scene to investigate that alleged assault.
"Let me clear that the police were called solely to investigate the alleged assault on a member of staff and not in response to the protest on campus. When the police arrived our security team still endeavoured to get the individual alleged to have made the assault to fully identify himself before the police engaged directly with the protestors.
"Sadly that individual, and others present, would not co-operate with this request and the police were obliged to intervene directly. I, like many others, have been saddened by the images of what then occurred which saw police and students having to engage in and resolve an unnecessarily challenging situation which led on from the actions of one individual.
"I am sure that the vast majority of our University community continue to wish that campus protests are peaceful and safe for all and also share our hope that this unprovoked act of violence against our security team is an aberration. I am aware that another protest is due to take place on campus today and I very much welcome our Students Union's reference to that planned protest being peaceful."