Thursday's Summit on Protest, the first of its kind, saw 200 members of staff and students gather to hear dialogue between the University management, vice-chancellor, SU, police and Warwick for Free Education (WFFE) in response to protests organised by the latter on December 3 which ended in violence.
The Summit was conducted and organised by co-director of the Centre for Human Rights in Practice, James Harrison.
The University stated its purpose was to answer questions posed by the Survey on Protest, which asked staff and students  for their views on campus protests and how they could be dealt with differently in future.
Issues raised in the survey focused mainly on police and University reactions to protests, though responses also expressed worry regarding the protestors themselves.
One issue raised in the review was that of CCTV footage not being released due to ongoing legal processes, to which University registrar Ken Sloan commented that the management would consider releasing videos once the legal process had concluded.
Mr Sloan told the audience:
"Freedom of expression does not mean the right to deliberately disrupt or upset other members of the University community, nor does it give anyone the right to engage in intimidating or unlawful behaviour."
When speaking about the injunction, Mr Sloan said: "When you consider the eight day occupation of Rootes cost in excess of £31,000 and led to the cancellation or urgent rearrangement of a number of events… I can tell you I believe the injunction was necessary and justified."
WFFE representative Callum Cant, said: "The buying of the injunction is the most profound example of how this university is not interested in negotiation whatsoever."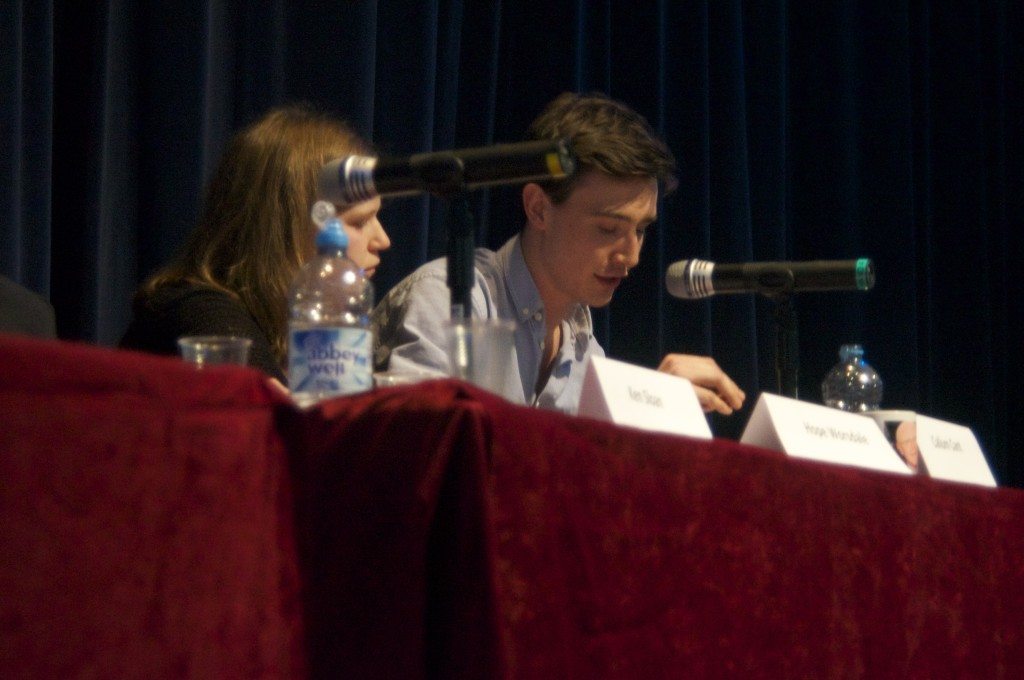 Warwick For Free Education representatives, Mr Cant and Ms Worsdale. Photo: Lily Pickard
Cant's fellow representative Hope Worsdale said the occupation of Rootes building "allowed [WFFE] to apply economic pressure on management who had consistently refused to engage with other tactics."
She justified the wearing of face masks, which was raised as a concern in the survey on protest, saying: "We know that the police keep extensive files on legitimate protesters, labelling them as domestic terrorists… In the face of these threats, protestors understandably decided to protect their identities."
"Disproportionate" reaction
Police response to the incident was condemned as disproportionate by protesters and by Warwick SU alike, and Chief superintendent of Coventry Police Claire Bell made it known that the officers involved did have to justify their actions.
She emphasised that police were unaware of the initial protest on December 3rd, and contrasted this incident to police presence at the accompanying "Cops Off Campus" protest the following day: a protest noticeably without incident.
Ms Bell stated that all officers carry protective equipment for personal safety. This includes CS Spray (the legality of which drew laughter and further negative reaction from the crowd) and Tasers, which selected officers in each team allegedly carry.
Both representatives of University management reiterated the need for protests to be pre-planned and pre-discussed so that the situation can be governed safely.
Advance notice for future protests
Ms. Horsburgh and Mr. Kennell both urged that future protests be discussed in advance in order to keep the protesters, and the larger community, safe. Mr. Kennell stated that: "the University will always support peaceful, safe and legal protests."
The conversation became particularly heated between Mr Kennell and WFFE members in the audience, with WFFE wishing to know why they had not been alerted to police being called.
James Harrison, Chair of the Summit, had to intervene, making it known that this type of discussion was not the purpose of the Summit. The issue was left unresolved.
When the spotlight turned to vice-chancellor Thrift, he stated:
"Freedom of expression doesn't include a license to interrupt the activities of The University or jeopardise the safety it's members or engage in acts of criminal damage."
Regarding the University's email to students following the protests, he added: "I recognise not everyone appreciated the communications that we sent in the aftermath of the events of last term and in retrospect we know that there are all sorts of lessons that we can learn about that."
Monthly Q&A
Current Students' Union president Cat Turhan supported incoming SU president Isaac Leigh's idea for a Q&A with University management and students to increase transparency. Mr Thrift agreed that a monthly question time was a good idea.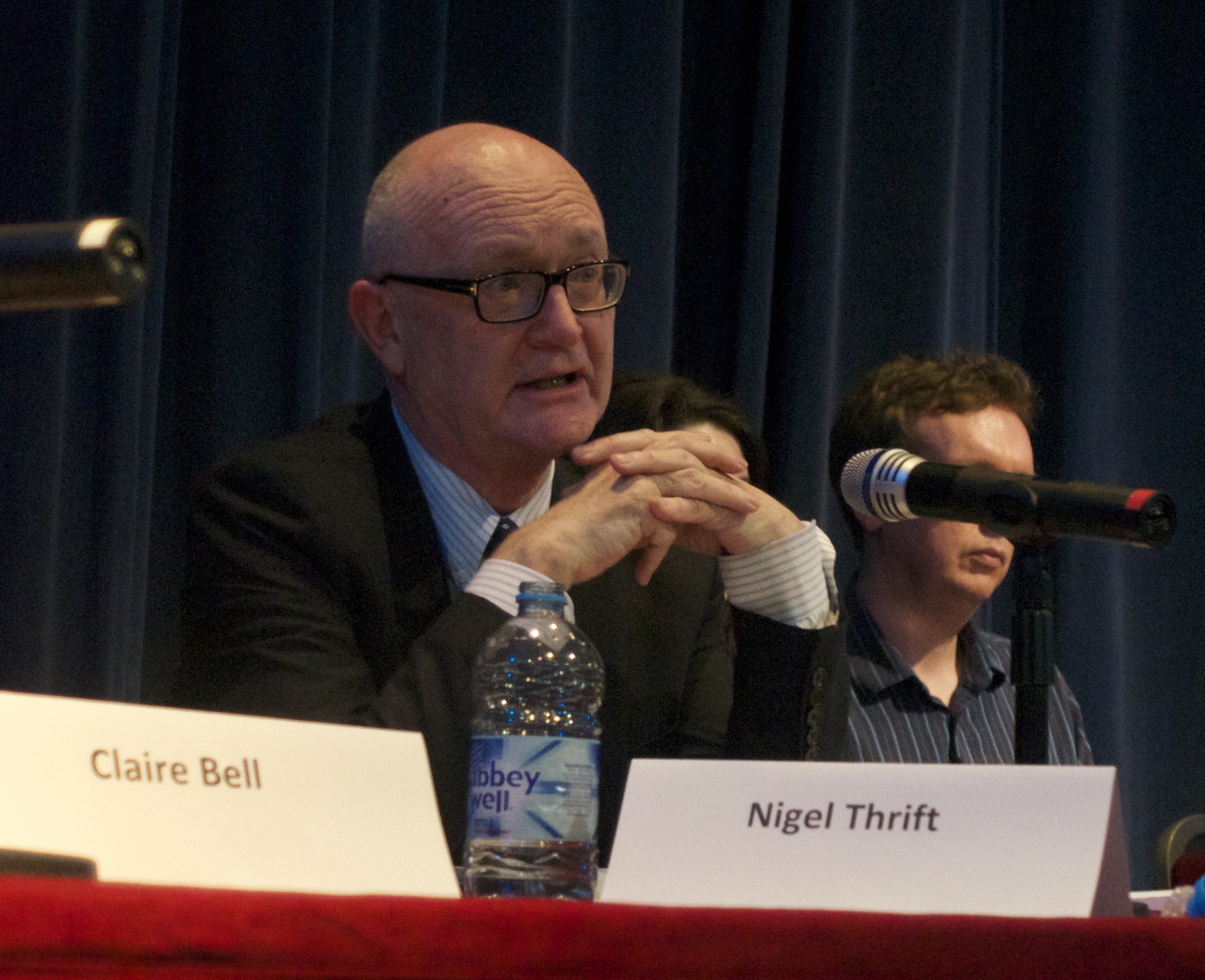 Vice-chancellor Nigel Thrift on Protest Summit panel. Photo: Matt Barker
Some were optimistic about the proceedings: Sophie Crockett-Chaves, a Law postgraduate thought it was "good that people got to express their opinions" and that "there was a healthy dialogue throughout the summit".
One audience member Charles Macdonald, a third-year Film and Literature student felt particularly sympathetic towards Ms Turhan. He told the Boar: "She was stuck between a rock and a hard place."
Another attendee, a second-year English Literature student, said: "While this discussion has been useful to some extent, there is still a clear dismissive attitude from management which does not seem to be dissipating any time soon."