The Big Moon aren't a band built for lockdown. The punk-edged indie rockers were booked to play on a Glastonbury main stage for the first time this year, as well as their biggest ever headline show at London's The Forum. Instead, they're playing the waiting game between London and Brighton, ahead of their delayed nationwide tour, writing new material as and when they can. When I asked bassist Celia Archer what she missed most from touring, her answer came quick:
"Everything? I miss being on tour, I miss the energy, but I guess everyone is missing it, if you love it. That energy of being in a room, feeling liberated in a crowd, and letting go for an hour. It's the best."
Guitarist Soph Nathan echoed this, but while she does "really miss playing live, and having that energy release and that interaction with a crowd of people," she also "can't imagine being in a room of people at the moment."
Nonetheless, the band is as focused as possible. Vocalist and songwriter Juliette 'Jules' Jackson has penned some impressive tracks in lockdown, and although Celia told me "it's not writing with a project in mind", there's a good chance that The Big Moon will have new material sooner rather than later.
They'll want to keep going, too, as their January LP Walking Like We Do was an unexpected commercial hit. Debuting at No.19 on the UK Album Chart is a remarkable launch for a band of their size, and a huge improvement on their first album's position of 66th. Soph was particularly staggered.
"Yeah, with 66, we were like "wow, fucking hell, that's amazing". This time, though, we were all nervous. You get a daily update of the chart, and obviously it can move quite dramatically, but [the album] was staying in a similar place, and we were nervously, excitedly trying to manage our expectations. But it's amazing, to know so many people liked our record enough to buy it, or stream it."
"You think it's not going to, but then you do. You grow up"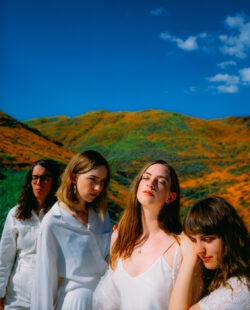 And what an album it is. Their debut Love In The 4th Dimension was a punchy proof of concept, lyrics-wise, but its wit and targeted humour – men who drink pineapple juice for sexual benefit, watch out – won it a deserved Mercury Prize nomination. Walking Like We Do, however, is far more open to anxiety. It's grander in songwriting scope, with less garage influence and more instrumental depth to boot.
The Big Moon have described it as more "grown-up" from the start. The two and a half years to release the album demonstrate this from the band's lyrical attitude to their tight production style. I wanted to know what complicated reason had caused this coming of age, but Celia's answer couldn't have been simpler.
"I guess…two and a half years?" She laughed down the phone. "It just happens. You think it's not going to, but then you do. You grow up."
Soph's explanation was similar, albeit attuned to the threatening global situation.
"There's been a lot of things happening in the world around us. When we started, we were a bit more naïve to it all, and it was exciting. Now, it's just our lives, and we've settled into it, and you're informed by the things around you."
This observation isn't to say that The Big Moon's well-known charm has gone, though. The new record may take fewer shots, but their chemistry shines through on every track. I'd read that, between going to the studio when recording in Atlanta, they'd write and tweak their songs together. As it turns out, that's only half true.
"Well, Jules was writing," Celia told me. "We'd just make her cups of tea and stuff."
"If you're not having fun or genuinely getting on, I don't know how you could do it"
This approach to a creative milieu is classic The Big Moon, whose social media output has always reflected their bond. It's not unusual to see a serious promotional video slotted between random clips and laughs, more reminiscent of Vine than music publicity. Their 'Making of' video for Walking Like We Do may contain track previews and insight, but they're interlaced with the spirit of an outtake reel.
It's tough to describe how they do it, but Celia knew what I meant.
"People always say that about us, like, 'you guys look like you're having so much fun, or when you're playing, you're really interacting with each other.' That was never a decision. That's always the way that we've been with each other, and the way that we play. So, people tell us this, and we're like 'cool', but we don't go 'we're gonna be kooky, or silly, or whatever'. You have to spend so much time with people you're in a band with. If you're not having fun or genuinely getting on, I don't know how you could do it."
"Yeah, you do see the silliness," Soph agreed. "Obviously, there is another side to us. It's a big part of us, but there's a seriousness as well. We had great fun making the album, but it's also challenging, and hard work. In those moments, you're concentrated, but it's nice to have this fun side."
It will, of course, be some time before we see more of The Big Moon. Their tour is slated for 2021, pending the COVID-19 pandemic, but I made sure to ask if either had taken any inspiration from – or just enjoyed – any music released in this time.
"Dream Wife's album came out recently," Soph said. "Which I thought was amazing. Also, Porridge Radio's album came out, and they're amazing as well. You don't know them? Oh, go and stream them the moment we're off call!"
The Big Moon can't wait to tour again, but they only want to do so when safe, and if our financially challenged venues survive the pandemic. And if people can afford to go. There's no commercial undertone. Their wish for 2021 is just to go back to what they love doing, and letting us all enjoy their music where it's meant to be heard.
The Big Moon's 2021 tour begins March 3rd, at Manchester's Academy 2.