Have you ever dreamed of drinking beer by the litre? At Oktoberfest, possibly the world's largest and most well-known beer festival, visitors can do exactly that. The festivities, which take place in the city of Munich in southern Germany and attracted over seven million visitors this year, can be traced back to a horse race that was organised to commemorate the marriage of the Bavarian crown prince to a Saxonian princess in 1810. Oktoberfest has since undergone a radical transformation from a provincial affair to an event of superlatives. Here's all you need to know to make your visit to Oktoberfest a success.
Don't bring a big backpack with all of your prized possessions to Oktoberfest. You won't enjoy lugging them around all day, worrying about pickpockets and you will not even be let onto the premises. Don't forget to bring cash: Oktoberfest is a bit like going back to the dark ages before tapping your phone to pay became a thing. Make sure you have your ID on you as well.
If you are looking to stay in Munich overnight, make sure to book accommodation at least a couple of months in advance as hotels, hostels, and even campsites fill up quickly. And don't be fooled by the name: Oktoberfest actually starts in mid-September and ends in early October.
Beer is sold by the litre, and the price is a hotly debated topic in local newspapers every single year. In case you're wondering what you're actually drinking (and whether it's worth the price), there are specific criteria that breweries need to meet to be allowed to call their product official Oktoberfest beer, the most important one being that the beer be brewed with Munich groundwater. 
Drinking on your own is frowned upon
When in the tents, don't forget to follow informal beer etiquette. Drinking on your own is frowned upon, so make sure to always clink your beer mug with someone else's, look them directly in the eye (otherwise you will risk seven years of bad sex), and say 'Prost!'. It is perfectly acceptable and even encouraged to sit with people you don't know if there is space left at the table, and to cheer and drink with them. This is arguably one of the loveliest elements of Oktoberfest, as people from all over the world flock to Munich to enjoy Bavarian culture and have a good time.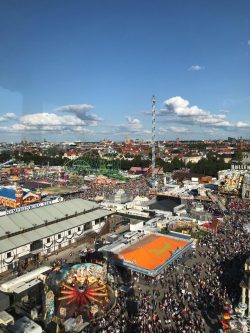 If you're about to beerify your belly, you would be well advised to have a bite beforehand because Oktoberfest beer is strong! Luckily, the festival offers traditional Bavarian food from giant pretzels to pork roast with Knödel dumplings to sweet snacks like gingerbread hearts, sugar-coated almonds, and chocolate fruit sticks. More and more vegetarian and vegan options have also cropped up in the last couple of years.
One of the most common questions about Oktoberfest is whether it's possible to have a good time if you don't drink alcohol. Absolutely it is! In terms of drinks, a range of mixed or non-alcoholic options, such as shandy, apple squash, and lemonade, are available. This year, water fountains with free drinking water were introduced to make the festival more accessible.
The iconic Ferris wheel never disappoints
While beer certainly plays a starring role, there are many other things to do besides drink. Oktoberfest is also a gigantic fair with all of the rides that you would expect: free-fall towers, ghost trains, haunted houses and roller coasters. However, given the long queues and the exorbitant fares, not all rides are worth it. If you only get to do one of them, the iconic Ferris wheel never disappoints. It offers a spectacular view over the festival itself and the Munich skyline. On clear days, you can even see the Alps!
The best part of the entire festival is Old Oktoberfest, a separate retro area that is more family-friendly, less crowded, and where I spent most of my time. In the tents at Old Oktoberfest, you can catch more traditional music, enjoy some room to breathe, and learn how to do different Bavarian folk dances. 
The debate about the authenticity of the festival rages on: is it just a commercialised, kitschy sellout, shamelessly capitalising on regional traditions and preying on innocent tourists, or is there such a thing as a genuine spirit of Oktoberfest underneath it all? There's only one way to find out: Brush up on your German, put on your most comfortable trainers, and see for yourself. Prost