A significant aspect of student life, especially at a campus university such as Warwick, is living in halls. However, the rising costs of such accommodations are noticeably impacting student's abilities to attend their studies without worry. With 38% of students telling Save the Student that they have considered dropping out due to worries over rent, any increases to these costs would clearly have a significant impact on their experience of higher education and the access barriers to university for those from Widening Participation backgrounds.  
Despite this, the University of Warwick continues to substantially increase accommodation costs across campus. For the 2023-2024 academic year, all accommodations are facing price increases of various rates. The cheapest shared bathroom accommodation is still Whitefields at £91/week, up from £85/week in 2022. The cheapest en-suite accommodation, Heronbank, is now £180/week, which has risen from £168/week previously. 
The impact of the cost-of-living crisis and the increasing prices of utilities, particularly electricity, could account for some of this increase. But the fact that some accommodations have increased more than others suggests that popularity and demand have also had some influence over the University's decisions. 
Also, students have not seen the benefit of the £400 energy discount due to most being ineligible. This means that those staying in university halls, which are typically inclusive of bills, are having to take on more expensive rent contracts to make up for the rise in bills faced by the universities. Speaking for Save the Student, Tom Allingham commented: 
"While many people in similar forms of accommodation, such as care homes, have received the funding, 82% of students in university halls have not. Given that rent in at least some halls will inevitably have increased to cover rising energy costs, it's concerning that many students haven't received the necessary support in return." 
The prices, and their percentage increases from the previous year, can be seen in Figure 1 attached: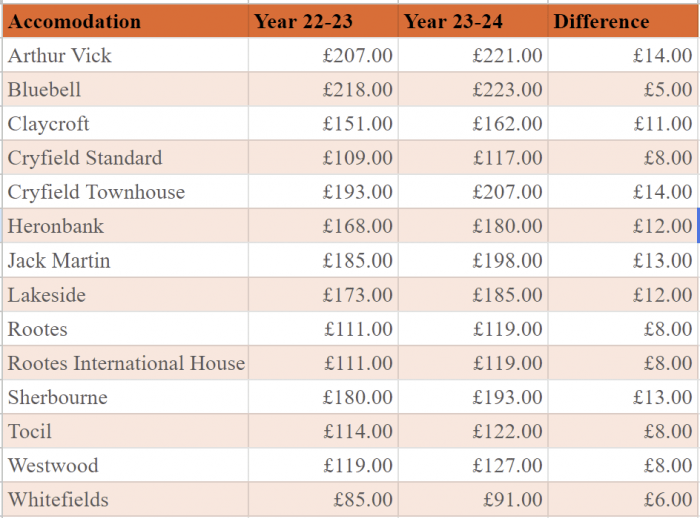 The change has ensured that the costs of most accommodations have increased by at least 6% from 2022 to 2023. Meanwhile, the highest possible student maintenance loans have only increased by 2.8% over the same time period. This is also below the rate of inflation, which currently stands at 7.9%. 
Between Save the Student's surveys in 2022 and 2023, the number of first-year students choosing to live in university halls has declined by 12%, which has led to a rise in those living in privately run accommodations or choosing to stay with their parents and guardians. The concern caused by this is that these additional costs to university life may lead students to take on unsafe loans, additional jobs during their studies, or cause them to sacrifice other necessities such as food. 
To further impact this, the University intends to demolish Whitefields within the next few years to build more en-suite accommodation, which will mean a further rise in the average cost of Warwick's accommodations. 
On top of this, other universities across the country have been facing shortages of student accommodation. Steve West, the former president of Universities UK, suggests: "What we might see is a shift towards a model where students start staying within a particular travel distance. That might mean more students going to their local university (instead of their top choices)."

A University of Warwick Spokesman said: "Unfortunately, we have had to take the difficult decision to increase our accommodation prices as a result of rising costs.
"The University's average unit cost of both gas and electricity tripled in October 2022, with heat and power, alongside other utilities, included in the price of our campus accommodation. Building maintenance and staffing costs have also risen, as inflation hit its highest level for a generation.
"We have worked hard to minimise the price increase by absorbing some of these additional costs ourselves. This represents a significant cost to the University.
"We provide a wide range of accommodation options and ladder of prices to meet different student needs. However, we are very aware of the impact these costs will have on some of our students and their families.
"Last year, we introduced a package of measures to help our students, which included bursary increases of 10% for those from lowest income households. We also have a student hardship fund to support students.
"We would urge anyone who maybe struggling financially to contact us so we can look at how we can help them. Our wellbeing and student support teams provide a range of services and practical support to help our students, which can be accessed here."