Warwick Northern Society has expressed "strong concerns" over a Warwick Conservative Association (UWCA) circle theme.
The UWCA had planned to put on a circle with the theme: "Dress like a leftie." Their post advertising the event also featured various images which can be seen below.
Northern Society said this choice and subsequent post "overtly mocks feminism, Pride, and the working class in a derogatory fashion."
The post publicising the Tory event has been removed from all UWCA social media channels.
Warwick Labour Society has previously run "dress like a Tory" social events.
If the UWCA event goes ahead, Northern Society announced it would boycott its planned circle at the SU and Assembly as a protest. They said: "Both organisations should make sure events in their locations are inclusive."
They are also encouraging all students not to attend the UWCA event in order to "protest this unacceptable behaviour."
It is unclear whether the event is going ahead. The Boar has asked the UWCA but has not received a response.
UWCA's post featured a series of images including a protest and a man wearing a flat cap.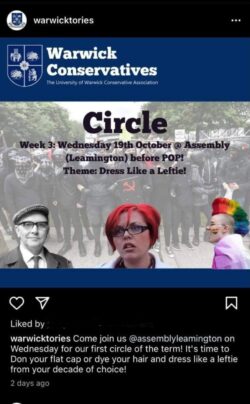 Warwick Northern Society's executive committee told The Boar: "We're not a 'political' society, but our exec felt that the post targeted people unfairly for their identity as feminist, LGBTQ+ or working-class.
"The aim of our statement was to show support for our members who identify as such, and to do our bit to ensure that Warwick is a safe space for all."
UWCA were contacted for comment.