Castle and Falcon, Birmingham, Tuesday 21st September
"That can't be it," I remember saying in disbelief, as we stood on the edge of an industrial estate outside what Google Maps told us was Billie Marten's concert venue. The Castle and Falcon looked like a small independent pub – definitely not anything like Birmingham's other, much larger music venues.  I was too quick to judge.
The concert itself was held in a separate room at the back of the pub. Still small, yes, but that just made Billie's performance feel so much more intimate. The crowd felt familiar: dungarees, corduroy, cute dresses – I was definitely here for an indie singer.
Will Blackaby, a charming solo artist, opened with a set of quirky songs from his new album. Funnily enough, he wasn't even originally scheduled to perform, but his concert at the other end of Birmingham was cancelled. He had messaged Billie on Instagram that evening and she told him to come and play here. This moment certainly set the stage for the rest of the concert: a friendly, funny vibe.
Conchúr (pronounced "Connor" – he spelled this out in case we had trouble finding him online) White followed, again keeping to the light-hearted vibe with witty interjections between his songs. He told us how his debut album was unfortunately released a week into the first lockdown – the timing was a real shame, because, like Will, he's an artist that deserves more recognition. Although I didn't come to the concert for the support acts, they really added to the night and I wasn't disappointed at all. 
While it's a tragedy how hugely underrated Billie Marten is as an artist, at least it means we get to be a part of her lovely, intimate concerts
After a short break following these support acts, Billie Marten, accompanied by a drummer, guitarist, and bassist, made the stage come alive. It was magical to hear her songs performed live. The lighting was noticeably effective too – switching from bright, vivid colours to organic, natural lighting between each song while she and the band changed instruments or tuned. In these brief moments, we could see her clearly and how genuinely happy she looked to be here. It was easy to feel the same way.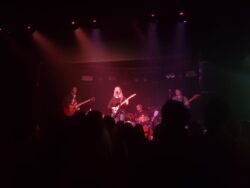 At one point Billie struggled a bit to tune her guitar – but even this felt somewhat purposeful, allowing her to engage more with the crowd. They were hooked on her every word. An audience member asked how she was feeling, and she replied a "seven out of ten." At the end of the night, she changed this to a "nine out of ten." Overall, the event felt calm, welcoming, and I didn't feel at a distance from the artist as I would with other larger concerts.
Midway through her set, the band left the stage for an instrumental break, where Billie asked the crowd for acoustic song requests. I always think it's so important for artists to engage with their audience during a concert – otherwise, I might as well be at home listening to Spotify – and Billie definitely didn't disappoint. Her voice is so soft, even when she isn't singing, and it was so lovely to just hear her talk. The concert felt like a long conversation between familiar, old friends: Billie communicating through her beautiful songs and witty between-song comments or anecdotes, and the crowd singing along, bouncing off her energy.
After the concert finished, she left the stage to meet the crowd. We were so lucky to get the chance to talk to her personally and have our vinyl signed with our names as well. Billie's interactions with her fans were really genuine and she seemed so grateful to everyone (at one point she thanked and introduced each member of her backing band, even the sound guy). 
While it's a tragedy how hugely underrated Billie Marten is as an artist, at least it means we get to be a part of her lovely, intimate concerts.