Here's an experiment for you: stick Carpool Tunnel's debut album Bloom on Spotify (or on your gramophone if you're that way inclined) for somebody and ask them when they think that record came out. Chances are, they'd be inclined to guess the sixties or seventies, and their logic wouldn't be hard to fault. Spend some time with the quartet's sun-soaked, bluesy surf rock and you can practically see them drinking pina coladas under the heat of a blazing California summer with The Beach Boys.
As much as Carpool Tunnel would like to have you think it, Bloom didn't come out in the seventies. In fact, it came out in February 2021. Though they're bringing a flavour of the past into the twenty-first century, the story of this band, whose members aren't much older than the majority of the students at this university, is very much a modern one. Naturally, it all started with an app.
"We all met on an app called Vampr," explains drummer Danny Stauffer. "It's similar to Tinder, but for musicians." After seeing an advert for it while scrolling through Instagram one day, he took this as an opportunity to find likeminded people to start a band with. On the day he put out an advert, he swiped right on guitarist Brad Kearsley, and the connection was instant. A few days later, they found singer Ben Koppenjan and met in person. "We went to a nice beach and played acoustic guitars on the cliffside," recalls Danny. "And then Ben and I went to Brad's house and at that point the chemistry was very organic, so we were able to write a song in the first sitting." A couple of weeks later, they found bassist Spencer Layne, and their line-up was complete.
What made them so attracted to the sound that they have? "Growing up, I hated mainstream music," explains Brad. "To me, the seventies were the peak of music because it was the era where technology had been around for recording music for a decade or so. There wasn't any digital processing or stuff like that and the musicians couldn't hide behind [certain] sorts of production or any gimmicks. All the music that came out of the mid-seventies, like The Eagles or Fleetwood Mac, sounds incredible."
If this can bring joy to anyone I'd love for it to make any difference that it can
Bloom, Brad and Danny reveal, was a long time coming. Some of the songs were written as long ago as 2017, during the band's infancy, while others, such as early single and album highlight 'Dreaming Still' were written days before the band entered the studio in 2019. Some songs, much like the band members themselves, grew and changed into the versions you hear on the record over the space of a year through them testing them out on a live audience. The magic of live music was something they wanted to capture even on studio recordings of their music. "We wanted our album to sound like we're playing in front of you at a show," says Brad. "We wanted to capture the live energy because that's what I really value in music and what we really value as a band."
Indeed, while Carpool Tunnel have been finding their sound, they've simultaneously, even synonymously, been finding themselves. Lyrically, Bloom bears witness to the quartet's process of coming of age, which has been frozen in time and set to music. "[Our] songs are going to be like a snapshot in time of our spiritual place in our lives, our emotional centre and all the things we like in music, all of our tastes and influences," explains Brad. The grooving, bouncing 'Dreaming Still' muses on the tendency to lose yourself in the fantasies of the future constructed in your own imagination, while the dreamy waltz of 'Empty Faces' reflects upon the traces of relationships between distant people that are preserved exclusively through social media. 'Better Now', meanwhile, emerged from "a moment of such distress" within the band house and looks back at that distress from a place of hindsight reached only after a process of healing.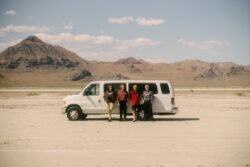 They've been coming of age in a very different way others their age might, living life on the road while their peers were in college. That more conventional path was one they might have travelled down in a parallel universe, and that was almost what happened in this one. Trying to make the band work while still in education, all while living together, wasn't to be. Brad dropped out of college after a month and got a job to pay the bills, while Danny did the same thing shortly after. "It would be way different if, for example, we were living on campus in a dorm surrounded by students and building relationships and a network of friends in class," Danny says. "That was something that we all sacrificed because when we're at home, we're building a network with other bands and learning about music and ourselves."
Brad says he might try and get a college diploma in a way that fits around Carpool Tunnel's life further down the line, but for now, music will be the priority, especially when they can get back out on the road after a "crazy" year and a half since Bloom's completion. It was not just a crazy year and a half, but naturally, given the interference of COVID-19, a slow one, with the band sitting on the album till a better time came to release it. Though, with touring still off the cards, it might not have been perfect timing, but in spite of that, Carpool Tunnel wouldn't have had it any other way.
"If this can bring joy to anyone I'd love for it to make any difference that it can," says Brad. "We wanted the album to be an experience that the listener can have, where they go into it feeling something, they could be worrying about something, and then come out on the other end [feeling] better, [able to] move past whatever [was going on]. I personally struggle with a lot of anxiety and sometimes the best way to get through that is by acknowledging the anxiety is there, [sitting] with it and trying to move on."
In that case, it sounds like Bloom was an album worth dropping out of college for.
Related Posts