"If I had carried on, I would have had three albums", Heather Baron-Gracie says of writing her upcoming record Who Am I? for her band Pale Waves. She chats to me over Zoom, only a radiator visible from her London home. She'd spent Christmas with her parents back home in Preston – "I didn't want to come back down to London – the cases are so bad", Heather told me. Later that night the U.K. was plunged into a third lockdown.
Who Am I? may be living up to the difficult second album reputation – at the beginning of last year, several of the band's members were involved in a major, but luckily non-fatal, crash in Berlin; a few weeks later, all of their recording was put on hold as the world shutdown due to the coronavirus pandemic. 
"We can't go out and engage with fans in person", Heather lamented. "I do feel like I'm missing a lot of the elements of a normal album campaign and it's just unfortunate that it has landed in the middle of a pandemic but, you know, there are bigger things going on right now – people are dying."
Despite ongoing restrictions and the world's impending doom, Who Am I? is a breath of fresh air, telling not necessarily of a pre-pandemic world, but of the hope and determination we deserve in the new one. It's a tender, optimistic record, packed full of nineties nostalgia and progressive lyrics on queerness, with Heather asserting that "sexuality isn't a choice" in feel-good banger 'Tomorrow' , a track that could easily pass as the theme tune to any retro sitcom. 
"I hit 25 and I had that kind of realisation like, oh shit, I need to get my act together"
The three singles released so far have already had great success for the Manchester-bred band, formed of lead-singer Heather, drummer Ciara Doran, guitarist Hugo Silvani and bassist Charlie Wood. 'Change' debuted on the Annie Mac show as the Hottest Single In The World; the euphoric 'Easy' mixes goth-rock with poppy lyrics on love; while the 'She's My Religion' music video sees Heather and her girlfriend Kelsi racing like Bonnie and Clyde through the English countryside.
"I didn't ever want to be in a video with another person or actress because you can't fake chemistry. That's why on the first album [2018's My Mind Makes Noises] I would use dolls or silhouettes because I hadn't found someone I'd felt comfortable enough to be on camera and act intimately with."
"We just enjoyed creating it [the 'She's My Religion' music video]. During the car drive scene, we were laughing so much because she's American, so she was driving on the wrong side of the road and freaking out, nearly driving off the road. It was a lot of fun rather than intense pressure. This has been like mine and Kelsi's project, which is interesting because the vast majority of it is about her."
"It's an album I would have always wrote – it was just a question of when it was going to come out"
As the name may suggest, finding yourself is a big theme on the album. The title track closes the record with emotive, piano-led questioning, while the defiant feminist anthem 'You Don't Own Me' bewails the stereotypes placed on modern women to be ladylike: "I'd rather pull out my teeth/ Than be who you want me to be".
"Since the first album, I've had the time period to really grow up," Heather continues. "If anything, I was really neglecting myself and finding temporary happiness in things that were toxic. I hit 25 and I had that kind of realisation like, oh shit, I need to get my act together."
"I desired to be a better version of myself, whereas before I was content with just getting fucked up every night on tour. I was like, 'This is not sustainable. I don't want to be this kind of person anymore'."
Who Am I? joins a number of albums released during the pandemic that look back to previous decades for inspiration – in Pale Waves' case, the 90s. Unlike My Mind Makes Noises, which took inspiration from 80s gothrock from the likes of The Cure, Who Am I? experiments with shades of pop-punk and modern rock.
"That is just the music I adore. Ciara is very influenced by eighties music and rap and hip-hop, whereas I love alternative and country music."
Ciara and Heather, after meeting while studying at Manchester British and Irish Modern Music Institute, have always written Pale Waves' music together: "We were trying to write Who Am I? for a long time and it just wasn't happening. Touring isn't the environment I feel most inspired by [they toured with Halsey in 2019]. We took some time away from writing with each other, we needed some space to breathe. I got the freedom to write whatever I wanted to write as we didn't have to conform to one another's personal artistic tastes. It's an album I would have always wrote – it was a question of when it was going to come out."
"I've worked so hard for this album that I wasn't going to let this pandemic defeat me"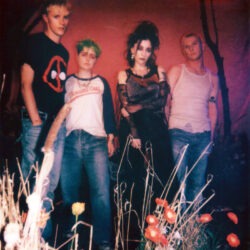 The majority of the album was written and recorded in Los Angeles, where Heather spent the beginning of her lockdown in a cottage by the beach, waiting for her producer to give her the go-ahead. What got her through the uncertainty? Country music, of course.
"Kacey Musgraves released Golden Hour last year, and that was my soundtrack. There's a time period of like two months where me and Kelsi would just sit inside this tiny beach house, and that was the soundtrack to our pandemic, our lockdown. It was such a nice time – even though there was chaos in the world, I finally got time to myself."
"The second half of the album was mainly done with me and the producer in masks, gloves and with social-distancing. It was so strange – the only time I could take my mask off was when I was doing vocals. It kind of sucked the life out of it but I've worked so hard for this album that I wasn't going to let this pandemic defeat me."
With ongoing restrictions, it's hard to see a world where music can go back to normal. Pale Waves' dates for their world tour have been pushed back from the end of February, just after the album's release, to later in 2021. However, in a future where musicians can perform for fans again, Heather predicts the industry will be bigger than ever.
"People are going to want to be playing shows constantly. There's been a time period of no live performance – everyone's gonna be dying for it even more, to the point where there's gonna be too many options for people to pick from." Imagine that.
Who Am I? will be released via Dirty Hit Records on 12th February 2021.
Related Posts