After recently carrying out a survey among Warwick students to find out how much they knew about female and non-binary specific health issues, I realised how little discussion there is surrounding these concerns in our society. These are all problems that women and non-binary people experience in their daily lives, meaning that we all have a responsibility to start conversations about these issues.
The survey opened my eyes to the lack of knowledge and stigma that surrounds the discussion of these topics. Anecdotes ranged from feeling pressured to go on birth-control, judgemental remarks in doctor's appointments and shame when experiencing such health concerns. It quickly became clear that this is a topic that is in desperate need of attention. 
What is also problematic is the frequent exclusion of non-binary people from these conversations
Earlier on in the term, The Boar carried out a survey to find out how much Warwick students know about contraception. I was utterly shocked by how little I knew, especially since I have been taking the contraceptive pill for the last three years. After realising my own and many other students' absence of knowledge, I began to question my awareness of female health altogether. It became apparent that I was frankly clueless on matters like cervical cancer, breast cancer, UTIs and bacterial vaginosis, as I had never experienced them myself, or had much exposure to them. This led me to wonder if others share a similar lack of awareness like me. 
The survey had 50 respondents and was open to people of all genders. 88% of people identified as female, 8% as male, 2% as non-binary and 2% as CIS female. My intentions before starting the survey involved learning more about female health issues but I soon realised how non-binary people are often not allowed to even join in on discussions of female health problems. Not only is there a lack of exposure around female-health issues in society, but what is also problematic is the frequent exclusion of non-binary people from these conversations. 
This was a common feeling amongst non-binary patients
Charities such as Outlife have websites to inform non-binary people of potential health issues they may face. However, this information is not as readily available in mainstream society as it should be. In an article by NBC, one non-binary person commented that "general health care — physical or mental — I'm even more uncomfortable with due to the likelihood of being misgendered and experiencing miseducation as a patient." Moreover, a study by the Journal of LGBT Health said this was a common feeling amongst non-binary patients. Clearly, there needs to be more education on such topics, so that non-binary people feel that healthcare services are safe spaces for them to access the healthcare they need. 
Despite 80% of respondents in my survey rating their knowledge on birth control as high, just 16% knew that there are 14 types of contraception available. Those that defined themselves as having less awareness often claimed this was because of incompetent sex education lessons in school and not feeling comfortable to speak about it other than with close friends and partners.
In the contraception survey, it was discovered that 40% of respondents knew more about the contraceptive pill than any other method of contraception. I have tried the implant and had an incredibly negative experience while on it, and I was then urged to go on the contraceptive pill, despite my reservations. So, this was a result I expected and highlights the need for a more significant attempt to make people aware of all options available as all bodies are different.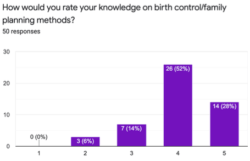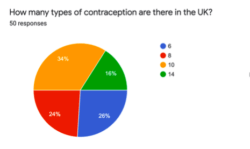 46% of respondents scored themselves as being extremely comfortable when conversations around female and non-binary health arise. This suggests we are welcoming discussions on the topic, and there is not as much embarrassment as some may assume. Of course, this can be context-dependent, but it shows if more exposure was available, and we were encouraged to have more open conversations, it would generally be well-received.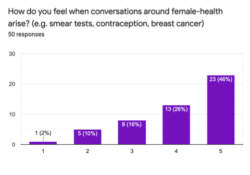 Another positive result was that 74% of students said they had checked their breasts for lumps. Many did so because of family members that have sadly had experiences breast cancer as well as seeing Coppafeel campaign posters in school and university. Coppafeel has an excellent Instagram page, full of light-hearted advice and anecdotes, and you can sign-up to get texts from them to remind you when to check your breasts, which is something that is important for people of all genders. If you haven't heard of them before, I recommend you check them out.
However, just 8% selected the correct symptoms for breast cancer. The symptoms that people chose were incredibly mixed and the only sign 100% of respondents got correct was a lump in the breast. There are lots of ways to learn more about breast cancer awareness and it is so important that we all do. Have a read of a previous article by The Boar for Breast Cancer Awareness Month or head to Coppafeel's website for some more detailed advice.
Swab and smear tests are another procedure related to female health concerns that are often deemed as a taboo. There have been several online attempts to raise awareness, such as Zoe Sugg producing a video for her YouTube channel, in which she documented the entire process. 46% of respondents in the survey recognised that reaching the age of 25 meant that you should begin having regular tests, but 26% were unsure. Again, this is a high percentage of people unaware of the specifics surrounding such an important issue.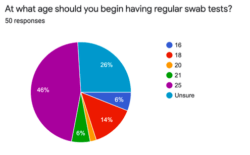 Health websites and YouTube videos were the most common outlets for students to receive their exposure to female and non-binary health issues, which is interesting for those running campaigns to consider when exploring how their audience interacts with information.
These are all examples of people going out of their way to find out information as it is often not made general knowledge or shown enough through the mainstream media, besides occasional storylines in television shows or discussions on female-dominated audience talk shows. Students may feel more comfortable researching their concerns or symptoms rather than seeking face-to-face interaction. Though, since many expressed that they felt comfortable talking about such matters, I question whether the issue may lie in experiences with health-care professionals.
21% of students sadly ranked their experiences of visiting their doctor's surgery with a female or non-binary health-related concern at the lowest point of the scale in terms of satisfaction and their expectations being met. Merely 7% rated it highly, and most people ranked it in the mid-range – implying encounters have primarily been mediocre or inadequate.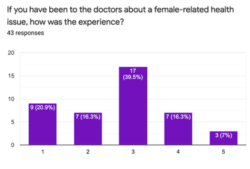 19 people commented on a moment with a health-care professional that they wanted to raise, and I was astounded at the amount of negativity. Students reported emotions of anxiety, humiliation and judgement. Several felt like they were forced into taking medication, rather than solving the problem at hand. Also, some recounted anecdotes of nurses assuming they were in a relationship because they were on birth control.
Ultimately, this survey indicated to me that there needs to be a broader range of exposure to female and non-binary health issues in the mainstream media to educate people, whatever their gender, on such matters. 90% of students agreed and said there needs to be a more considerable effort to do so. If this exposure improves, experiences with health-care professionals could also progress as we would all have a greater knowledge of what is available to us and how it can be treated.
The most reassuring aspect of this survey was that all genders involved tended to rank themselves as being comfortable when female and non-binary health is brought up in conversation. So, if we're ready to start talking, we need to use our voices to raise these issues.
Related Posts