A group of students at the University of Warwick from Hong Kong have erected a "Lennon Wall" at the Piazza.
Lennon Walls are mosaics of post-it notes, flyers, posters and signs and function as symbols of protest through "unobstructive, peaceful" means.
Speaking to The Boar, a second-year undergraduate Warwick student from Hong Kong explained: "The Lennon Wall is a colorful display made up of protest statements through the form of messages, lyrics, poems, and memes.
"In the 2019 protests, it has emerged as a potent symbol of defiance against an extradition bill that undermines Hong Kong's judicial independence and endanger dissidents. It allows for free expression in a more creative and quieter way."
He stated: "By putting up the Lennon Wall at Warwick, we aim to raise awareness of the Hong Kong police brutality and promote the idea of democracy."
The wall at the Piazza beside Curiositea displays information regarding the ongoing protests in Hong Kong. A collage of post-its form a pixelated pig wearing a yellow helmet with its hands up in resistance; the symbol was popularised through stickers used in the encrypted messaging app Telegram.
Other materials put up include informative black-and-white posters of the protests with an accompanying QR code. One sign read in all-caps, "stop police brutality in Hong Kong".
Post-its also spelled "stand with Hong Kong", alongside posters carrying titles such as "police took my eye", "conscience for sale", "state-funded terrorism" and "framing the innocent".
The Boar approached Jackie (not her real name), one of the Hong Kong students at Warwick involved in the creation of the wall, for further information.
The first-year student explained that the idea of the wall "dates back to the 1980s" and "symbolises freedom of speech". She added: "I believe it now serves to inform as well."
When asked what she hopes the University's or Students' Union (SU) would do about the situation in Hong Kong, she said: "The Guardian has recently reported on foreign countries' influence over UK universities. Any academic institute that encourages critical thinking and intellectualism should encourage people to speak up and speak their minds."
She hopes students at Warwick would "give Hong Kong a search and read papers that reports in details, papers that are independent and strong on fact-checking, not just big papers".
"I would've expected the University to take on more of an active role instead of a passive and silent stance when it comes to helping students ease their worries for issues back home, especially when the city 'back home' has a colonial background," she added.
Any academic institute that encourages critical thinking and intellectualism should encourage people to speak up and speak their minds

– Jackie
In emails seen by The Boar, the University delayed responding to a request for space to be up a Lennon Wall, submitted on 10 October. Students expressed their frustration at the lack of administrative efficiency, with one commenting: "My city is not a joke to you."
The University replied to the request on 3 November stating that a space is approved "only on 6th November from 9am to 5pm" due to the "popularity of the Piazza and Benefactors Place", which means "bookings for prolonged periods" are not approved and "all material must be removed at the end of the booking time".
The University also required students to "commit to having all posters etc. written in English only". Campus security was also made aware for "the safety of all concerned".
Multiple universities across the UK have seen clashes between pro-Hong Kong and pro-Beijing students. At the University of York, Hong Kong students were told to remove their Lennon Wall display at the Freshers' Fair following complaints from the university's Chinese Society.
At the University of Sheffield, students clashed during a demonstration which saw the arrest of a Chinese student, who allegedly threw a beer bottle at the protesting group.
Today, the House of Commons' Foreign Affairs Committee reported that there has been "alarming" evidence of Chinese interference in universities, including attempts by the Chinese embassy to "stop discussion of topics sensitive to China" through cancelling speakers, monitoring Uighur students and confiscating papers mentioning Taiwan.
Overseas in Australia, Chinese students at the University of Melbourne played their national anthem at a pro-Hong Kong protest, which saw attendees chant "free Hong Kong" and tell Chinese students to "go home".
Students at universities in Hong Kong have taken to boycotting classes and erecting Goddess of Freedom statues, while student leaders at various local institutions have been arrested.
The city's protests stemmed from the now-withdrawn Extradition Bill that could have allowed local police to arrest fugitives for countries such as China, which the city does not have an extradition agreement with.
They have now expanded to a movement calling for five demands, including an independent inquiry into police brutality, the resignation of Chief Executive Carrie Lam and for protestors arrested to be released.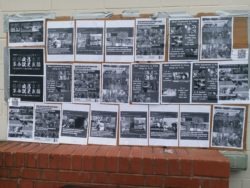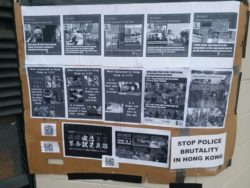 Close-up of parts of the display. (Image: Anonymous Warwick student)
UPDATE (6/11/2019 12:20PM): Campus security has arrived on scene following complaints from students that the pig made of post-it notes is "racist". The display was eventually taken down by campus security.
Screenshots of a WeChat conversation seen by The Boar also show messages in simplified Chinese saying that the display was made by "cockroaches", "the retarded movement has began", "let's tear them down", "we're going to start fighting, how exciting". One message in English read, "hongkong liars".