A multi-million pound investment project into redeveloping the Warwick Arts Centre will be taking place within the next few years, alongside the construction of a new humanities building and sports facilities .
The development project is scheduled to take a total of three years to complete, beginning at the start of the next academic year and ending in Autumn 2020. While the building, Butterworth Hall and the Helen Martin studio will remain open during construction, some venues will close temporarily and a temporary theatre will be set up onsite.
The new Arts Centre will see a similar aesthetic to the Oculus building, with floor to ceiling glass panels running along the entire front section of the building. The project will involve "essential upgrades" to the buildings alongside three HD digital auditoria and a "large ground floor gallery," designed to exhibit "some of the very best contemporary art, sculpture and photography".
The building is planned to be fully accessible and environmentally sustainable.
Plans include "spaces for eating, drinking and socialising," but have no specific provision for study space, despite ongoing crowding issues in the Library and Oculus. Similarly, it is unclear whether there are any plans to expand the car park.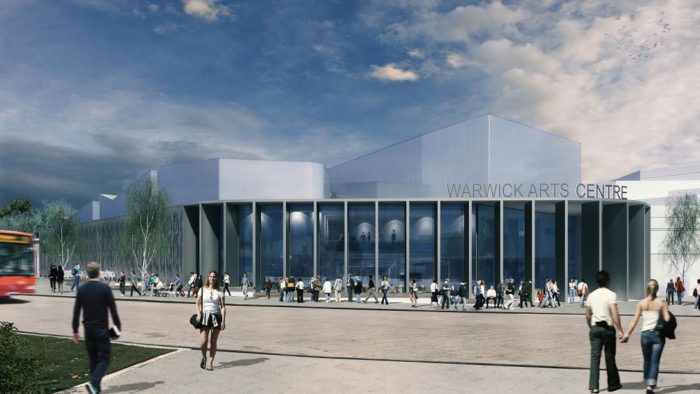 Image: Warwick Arts Centre / Artist impression
Furthermore, there are as of yet no concrete provisions for a new bookshop, as the existing outlet does not feature in the plans for the new development.
Second-year French student Chloe Bourner commented: "This will cause difficulties for accessing material for our courses, especially since the university is quite isolated from towns to quickly purchase books in."
Project Director Andrea Pulford described the renovations as vital, since "parts of the existing building do not meet modern day building standards."
"The finished venue will benefit not only our local communities, students, teaching and support staff on campus, but will enable Warwick Arts Centre to become a major cultural provider in the region and also make a positive impact on the UK arts industry as a whole."
Arts Centre Director Alan Rivett added: "Our commitment to our diverse audiences within Coventry and Warwickshire and further afield has always been at the heart of everything we do. The next three years will see exciting changes and by autumn 2020 we will be a much bigger and better Warwick Arts Centre."
The status of the Warwick Koan has yet to be confirmed.