England Rugby team
One hero was simply too hard to pick, so I chose fifteen. Merely one year ago, the England Rugby team suffered World Cup humiliation, getting knocked out in the group stages at home. For a while it seemed that rugby fans and spectators no longer associated and respected England in the sport. Fast forward 12 months and England were coming from behind to beat Australia for the fourth time this year, securing a 14 match win record – equalling the form of the 2003 world champions.
The transformation of the England Rugby team has been absolutely phenomenal. They currently sit comfortably in second in the world rankings, just five points behind World Cup holders New Zealand. Eddie Jones has taken England from their lowest and returned them to one of the greatest Rugby Nations in the world. The quality of world class players in the shape of Ben Youngs, Mike Brown, Owen Farrell and many more has solidified England's dominance in international rugby. For the fans and the players, belief in your country is greatest when you're winning and damn have the England Rugby team been winning this year. They've not only restored the reputation of English Rugby but also regained the faith of their fans once more.
Su Collins
Andy Murray
I've never been Andy Murray's biggest fan, but this year he has been absolutely superb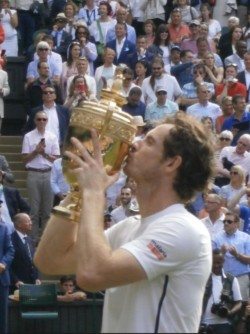 . I can't think of anyone who is more deserving of their place as a sporting hero of 2016. He won a considerable number of titles – weeks after his second Wimbledon crown he jetted off to Rio to defend his Olympic title (the first person ever to do so) and win yet another gold medal. He plowed through the year, winning his last 24 consecutive matches and his last five consecutive tournaments. To top it all off, he finished the year by finally achieving his dream of becoming world number one, the first Brit ever to achieve this feat. Throughout all of this, he remained as humble and low-key as ever.
He's won Masters 1000 events, Grand Slams, Olympics medals, and he breezed through them all – 2016 has been an absolute stand-out year for Andy Murray and I look forward to seeing what he pulls out of the bag next year.
Reece Goodall
Peyton Manning
Peyton Manning is certainly an all-American hero and to finish his extraordinary career with a win in the 50th Superbowl gains him a position on this most highly competitive of lists. Carolina Panthers were comfortable favourites going into the fixture, and with MVP quarterback Cam Newton in his way, it could easily have been a definitive and subdued 'out with the old' conclusion for Manning. Instead, he left on a high – winning his second Superbowl nine years after his last, a month before his 40th birthday and retirement, his legacy as the defining player (or, at least, one of the two defining players) of his generation secured. He then found time to quite brutally insult Ann Coulter too, which is always welcome.
Alex Jennings
Virat Kohli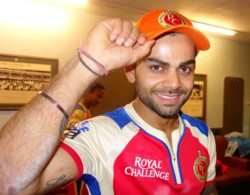 Sometimes even the obvious choices need some recognition for how astonishingly talented they are. This choice may be ever so slightly biased (not really, it's fully biased) due to my Indian origin, but there can be no doubt that in the world of cricket, 2016 has been the year of Virat Kohli. The statistics are frightening and you wouldn't believe that any human (yes, even Sachin Tendulkar) could perform with this excellence. 965 runs in tests, 739 runs in ODIs and 641 stunning runs in T20s don't even tell one per cent of the story. His magnetic presence and ascent to becoming the most important player in the team makes him arguably the best athlete in the world today. Most impressively, his success as test captain this year has restored India to number one in the world. Every Indian now looks to Virat to win matches for the country, and most surprisingly, he welcomes and thrives on that pressure. Hang onto your seat belts, folks: we might be about to see a cricketer reach a peak never seen before in the history of the game.
Yashas Mudumbai
Claudio Ranieri
It's tempting to view the fairytale of Leicester's season as just that – a tale of folkloric magic unthinkable to doubters, unfathomable to optimists – a moment to make the sporting world believe. For Claudio Ranieri, it was all about pizza.
"What we are doing here is like a pizza. To do well you have to have the right ingredients." Ranieri, with typical charm and an infectious geniality, was, of course, correct. Alongside the "first ingredient" of team spirit, a base of hard work was topped with tomato (the fans), and a seasoning of "luck".
It was, perhaps, Ranieri's good fortune to inherit a pizza doused with the quality of Jamie Vardy and Riyad Mahrez and, after a miraculous escape that saw Leicester win six of their last eight matches, palpable confidence.
Yet odds of 5000-1 reaffirm that this was Ranieri's triumph – an unlikely hero for the unlikeliest of tales. Dismissed by Greece, Ranieri was once more favourite for the sack. Branded 'tinkerman' for his tactical caprice, Ranieri's appointment, at best, raised eyebrows. Gary Lineker was less diplomatic: 'Claudio Ranieri? Really?'
But with a warming affability and considerable drive, Ranieri made dreamers of cynics. Opting for a back four despite Leicester's previous success with three-at-the-back, Ranieri exploited his squad's best assets in a settled starting eleven that belied his reputation. Off the pitch, he demanded belief: "Seek that fire, don't be ashamed of it."
Leicester's Premier League triumph marked twelve years since Ranieri was ousted from the Chelsea hot-seat. His return to Stamford Bridge as a champion of England, then, could have been one of retribution. Yet that is not Ranieri's style. Instead, he remained as gracious as ever: "It's emotional. I hope my old fans are happy with me." Having masterminded one of the greatest upsets in the history of sport, all with genuine humility and an irrepressible smile, how, Claudio, could anyone fail to be?
Matthew Richardson
Laura Kenny
Has there ever been a more down to earth Olympic champion than Laura Kenny? Her husband and fellow Team GB cyclist Jason is perhaps her only challenger to this particular title, but serious competition has been a rarity for Kenny in 2016. The Rio Olympics brought high expectations but she delivered, and then some. Gold medals in the Omnium, finishing in the top two in five of the six events, and the Team Pursuit, including the mandatory world record, perfectly mirrored her London 2012 performance. Oh, and she's now also the most successful British female Olympian of all time.
But it's not just about the Olympics for Team GB's cyclists – Kenny also won double gold in the world championships, triumphing in the Omnium and the Scratch Race. As if this wasn't enough, she married Jason in September to cap surely the best year of her life so far.
James Roberts
Conor McGregor
In March 2013, just a week before his first bout in the Ultimate Fighting Championship (UFC), former plumber Conor McGregor collected a €180 cheque from his local social welfare office in Dublin, Ireland. Fast-forward to the end of 2016 and the charismatic, trash-talking Dubliner has become one of the most successful and highest paid athletes in the world.
McGregor entered 2016 as the UFC featherweight champion, after a devastating knockout victory against the then pound-for-pound number one José Aldo. The fight was over in an astonishingly brief 13 seconds. This was, and still is, the quickest title fight in the company's 22-year history.
But 2016 was not all plain sailing for the Irish superstar. McGregor made the unprecedented decision to move up not one, but two weight-classes, to fight the highly skilled Nate Diaz in March. The world was shocked when the Irishman was submitted in the second round, and fans, fighters and pundits alike doubted his ability to overcome this humbling defeat.
But overcome it he did. Six months later at UFC 202, McGregor avenged his defeat to Diaz in a five round war that would go down as one of the all-time great UFC contests. "You all doubted me. Doubt me now!" McGregor shouted, whilst hobbling back to his locker room on crutches after the battle.
However, the Irish megastar was by no means done. After a flawless display against lightweight champion Eddie Alvarez in November at UFC 205, McGregor become the first fighter in UFC history to hold two belts simultaneously.
2016 was an incredible year for McGregor, but it seems the Irishman is only getting started. With rumours of a potential cross-discipline fight with boxing great Floyd Mayweather and confirmation that he will feature in the seventh season of Game of Thrones, the sky really is the limit for the 28 year old. As the man himself said in January: "2015 was my year. 2016 is also my year. Every year is my f***ing year."
https://youtu.be/PXuHTPGiumg (McGregor vs Aldo)
Liam Stafford
Related Posts