Warwick Students' Union (SU) societies including RaW, WTV and the Boar provided live coverage of the US Presidential Election overnight, where Republican Donald Trump was announced as the new President, beating Democrat Hillary Clinton.
The evening consisted of panel discussions and interviews, hosted by Henry Riley, RaW Head of Speech and Jack Abbey, RaW Head of News.
Us here at the Boar also live-tweeted, including a range of student views.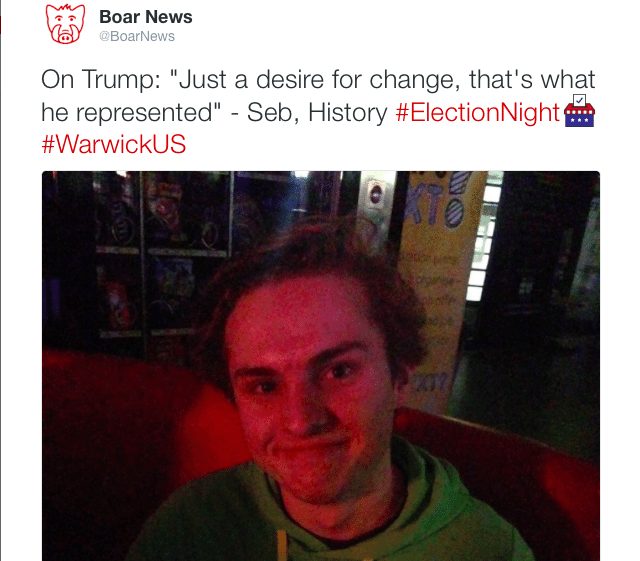 The event, open to all students, saw a big turn-out with numbers dropping as the night went on.
Both pro-Clinton supporters, and people in the Trump camp, were present throughout the night. Some people even wore "Make America Great Again" merchandise.
Both the Bread Oven and Terrace Bar were open for the evening, selling a range of American-style foods.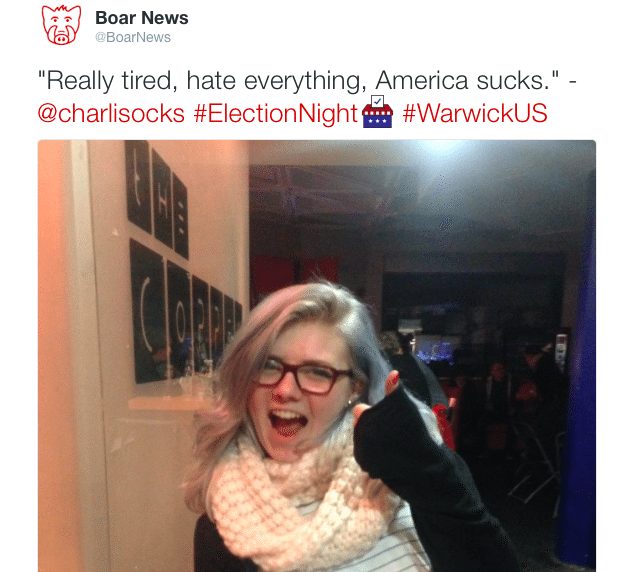 Amongst the opinions expressed on the night came from RaW Station Manager and History finalist, Nick Harris, who said: "I didn't think Brexit would happen but it did."
Outspoken second-year student and Trump supporter, Jack Hadfield, commented before Trump's victory: "It's been tense so far but now Trump is taking back the leading so feeling more confident."
Whilst tensions were high at points, no fights broke out, unlike at Manchester SU.
You can check out some more student opinions from the night here.
Related Posts