Chloe Wynne, Welfare and Campaigns Officer at Warwick Students' Union (SU), has recently set up a new wellbeing stand in the foyer of POP! which both promotes the importance of student welfare and mental health.
 
The stand offers students condoms, sanitary products and advice cards, along with other free goods. The stand also connects students with the Advice Centre and Nightline.
The free confectionary items being given away are being funded by security due to Mark Kennell's, Head of Security Services, involvement with the project.
Despite POP! Being one of the busiest club nights on campus, Chloe was able to engage with around 300 students during the night.
 
The launch of the wellbeing stand also coincides with the brand new "Are You OK?" campaign run by the SU which aims to make mental health a regular topic of discussion amongst students.
 
Events for the "Are You OK?" campaign include a free and confidential gum clinic, mindfulness and meditation class as well as a talk on transitioning into a veggie lifestyle.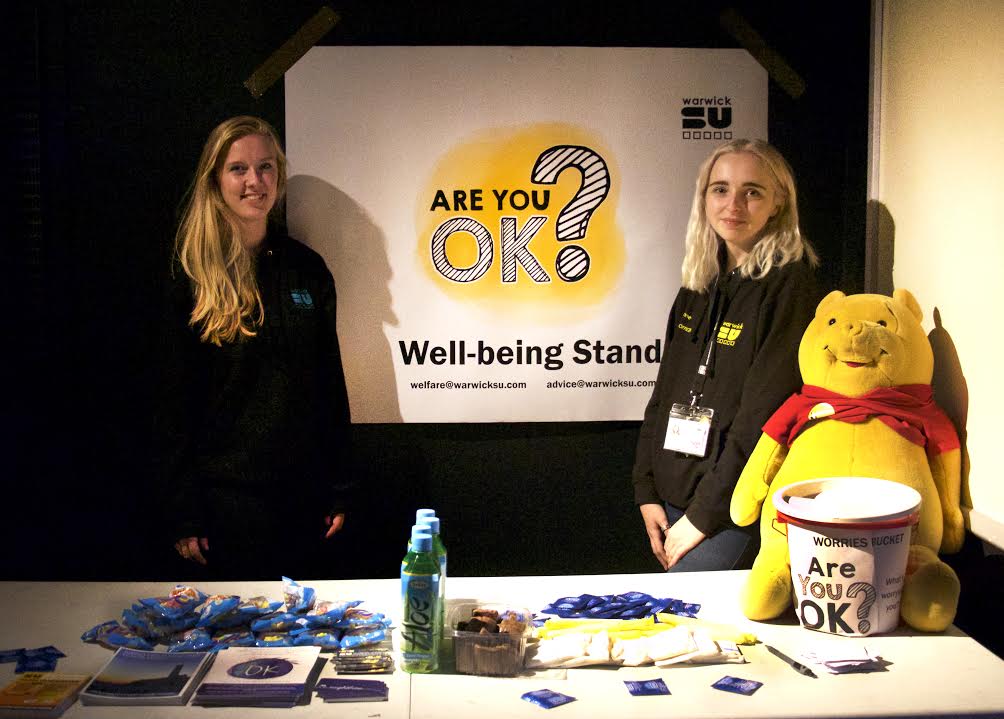 Members of the Sabbatical Team will work the stand. Photo: Sandhya Dhawan
 
Before taking her role in office, Chloe shadowed venue staff during POP! This highlighted for her the importance of the well-being of students at the event, and decided to introduce a completely new element to the SU night.
 
She stated: "Statistics show that students desperately need more investment into counselling services, as well as more preventative campaigns to destigmatize mental health so that we can sort out problems before they manifest in crisis situations.
 
"We had a lot of engagement with the freebies, a huge amount of conversation with students about their problems, and we also got people to write down something they were worried about, to cathartically throw it into a worries bucket, which was then made into a collage."
 
However, there were doubts on the effectiveness of the stand, with an anonymous first-year Engineering student commenting: "I don't think people will notice it enough because they will be too drunk and not enough people care because they want to do other stuff on club nights out."
 
Bryony Wells, a fourth-year French studies student, said: "I am pretty impressed with the overall care for wellbeing at POP! The security team always seem pretty on top of any issues and with the new stall at the entrance I now feel as though both my safety and welfare are covered if I need them to be.
"The people working at the stall are also extremely friendly and happy to have a chat, even with drunk students."
Related Posts