UPDATE: Protest has now ended, the road has resumed normal operation
Warwick for Free Education are currently blocking University Road whilst protesting to keep student grants. 
The group are leading the protest on the road outside the SU building and have caused disruption to traffic trying to leave campus, including buses. The buses have been diverted.
Around 50 people are currently attending the protest, including 3 Warwick SU sabbatical officers.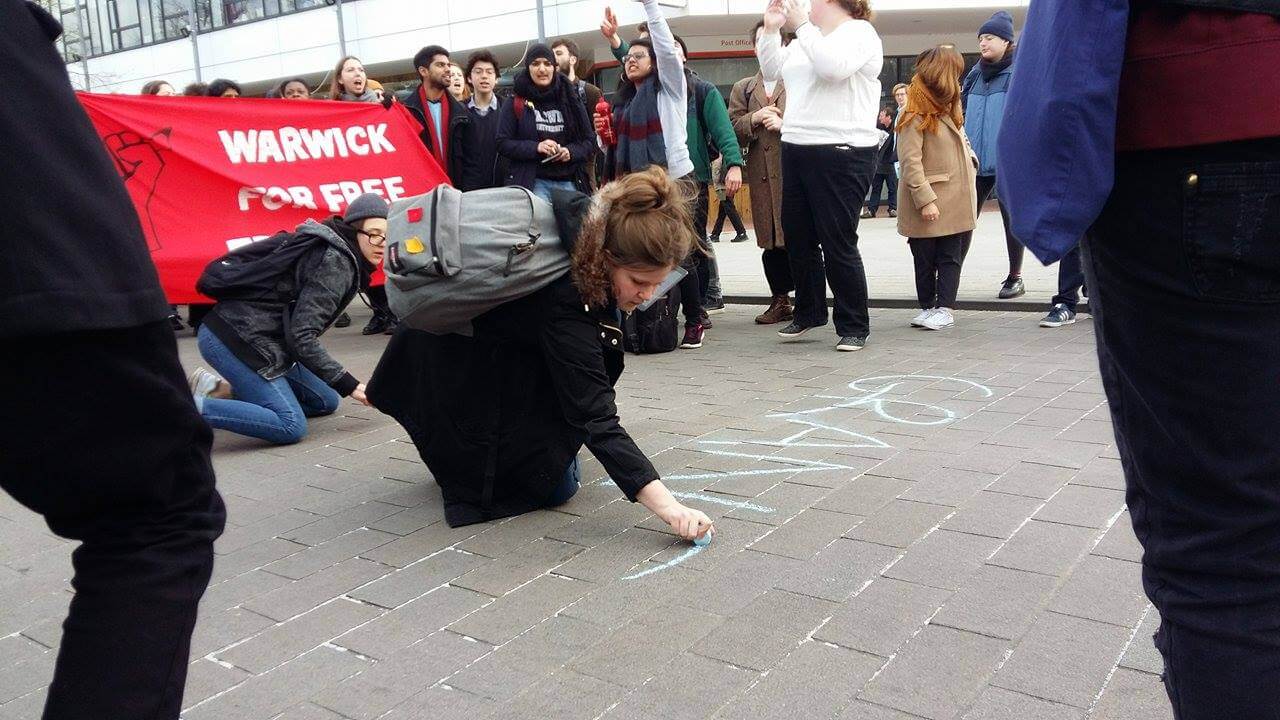 The protest started outside senate house before the group marched around campus chanting. The group then blocked the road outside the SU building.
Whilst standing in the middle of the road, some members of the group wrote on the ground 'grants not debts'.
However, this led to a buildup of traffic, including buses which were trying to leave campus.
Eventually Warwick security arrived a diverted the bus route so to minimise disruption.
Hope Worsdale, Warwick for Free Education member said: "we're here today to protest against prevent, the draconian use for the injunction against protest and mainly about the planned government cuts to maintenance grants."
She added: "We intend to protest in these disruptive ways to show how angry students are. In week 9 the University intends to take an official stance on maintenance cuts and we want them to know how strongly we feel and care about this issue."
However, not all students were supportive of the Warwick for Free Education protest. Alex Shaw, who was working in the library at the time was disrupted by the protest. He said: "Pathetic that this group of vandals believe they speak for students. Less than 100 people turned up out of a population of well over 20,000 students."
Peter Dunn, director of press and policy at the University commented the protest had an impact "on vehicles travelling through campus and in particular the buses. We continue to monitor the situation."
Photos and video: Cath Lyon and Lily Pickard