Results at a glance: 
19 Wins, 17 Losses, 6 Draws 
Results of the week: Women's Basketball with a phenomenal 76-4 victory, Men's Tennis with a double 12-0 win, Men's Football 1st with a great 6-0 finish Sport has never felt so important at Warwick.
Sport has never felt so important at Warwick. With the new revamped Varsity on the horizon a number of Warwick's first teams looked to ramp up their preparation for the big showdown with Coventry. Form is of the essence as the clock runs down. Off the back of a swanky new promo video on the piazza screen and a week of huge sports related talks and events, one can palpably feel the pressure rising. Taking a trudge through campus on the latest BUCS Wednesday was the most intense midweek fixture run yet.
---
Warwick Men's 1's down Derby to continue their march to league title
At a splendid Cryfield, the football 1s demolished Derby 6-0, with the pick of the goals being a rocket of a free kick from star man Andreas Kyprianou. While Warwick did put in a very strong performance, Derby somewhat dug their own graves. Things didn't look good from the moment they stepped off the bus, wearing an orange and blue kit which fully resembled a lower division Sunday league side I faced at Under 13. Disintegrating in the first half, the second half brought no more respite, as their substitute turned linesman handed Warwick a goal by keeping his flag down despite a blatant offside. Bizarre, but certainly greatly appreciated. Although Coventry will provide a tougher test at Varsity, the 1s are producing some excellent football, and will be hoping their form carries them to a win in a fixture just two weeks from now. A victory there and a potentially table topping season would be a fitting end to a brilliant campaign.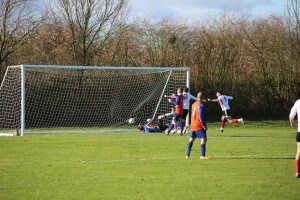 Men's Rugby 2's slump to defeat against Trent 2's, but this sports writer saves his life…
The Men's 2s faced Nottingham Trent 2s at Cryfield on an unusually sunny afternoon for this time of year. At the risk of appearing to make excuses, it is unlikely that the Warwick players welcomed these conditions. Two late Trent tries put the finishing touches to a 27-8 defeat, in which the glare of the sun made relatively straightforward tasks much more difficult. The hazards resulting from the mid-afternoon sun were not limited to those on the pitch. With the game nearing its conclusion, the lack of visibility meant I only saw a ball skidding towards me at the last second. To my complete surprise, I not only stopped the ball, but trapped it dead. Years of playing football and my best touch ever was with a rugby ball.
Tennis 1's looking to continue Varsity torment
I made my way out to Westwood in search of a quick peak at one of most consistent Varsity sides: the Men's Tennis 1st team. Over the years their superior racket wizardry has seen them ride their serves and groundstrokes to win after win over the old enemy. Unfortunately for all my troubles, the side captained by Second Year History Student Will Spencer were not in action. Seated on the balcony watching the second team in action Spencer was on hand to assure me that Coventry would be in for a walloping once more. Last year with the Warwick TV camera crew in attendance they cruised to victory with the captain himself as the centrepoint, dropping scarcely a game in his singles and doubles outings. On Saturday the 27th we'll be in safe hands with the tennis boys at Westwood.
Picture of the Week
[related_posts_by_tax columns="4" posts_per_page="4" format="thumbnails" image_size="medium" exclude_terms="34573"]