'Warwick Squash makes you as a person. Amazing.'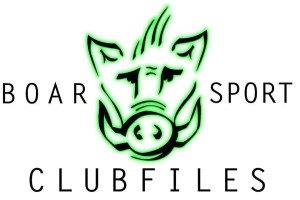 Advice to incoming freshers 
Bring your fancy dress box!
Targets for next season
After winning British sports club of the year 2013/14 and University of Warwick sports club of the year 2014/15 we are at the peak of our game. Our aim for this year is to stay at the top! Although we are already renowned for our social scene we intend to make it bigger and better to accommodate for new social and team members.
Training times and venues 
We run multiple training sessions throughout the week to cater for a wide range of skill levels. The most important is our fitness session and club night Tuesdays and Thursdays 5:00pm-9:30pm every week for any ability from 1st team to newbie is welcome to attend this session.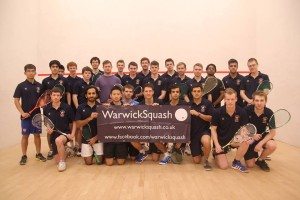 Club President 
Martin Thompson – Been with the club 5 years so he knows his stuff!
Number of members 
243
[divider]
Teams and Competitions
Number of teams 
We have four mens teams currently in a range of different leagues and two ladies teams. There is also a squad for both genders.
Squad captains 
Team captains have not yet been allocated. Our vice president of sport, Declan O'Callaghan (pictured), will be the most important person until captains have been decided. So make sure you hunt him down and be extra friendly to him.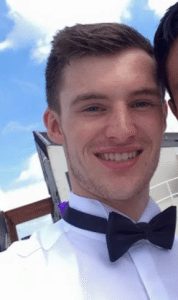 [divider]
Social 
Biggest club social 
Easily Warwick SquashAcademy. We run it on Term 1 week 3 in which all our pupils dress up in their school uniform and attend lessons (aka drinking games) in groups with our exec members teaching them a thing or two. It is an amazing night, the perfect way to meet our exec and other members and get your first true taste of purple.
Club BNOC 
100% Martin. Just say his name anywhere and guarantee at least 10 people will try to talk to you. He also has a pretty big rep with the netball ladies!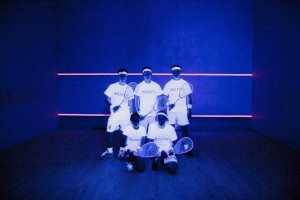 [divider]
Charity
We support a local phab charity through multiple tournaments and quizzes. It is a great charity worthy of every penny. We also did our first event donating blood. Our biggest charity achievement saw a group of members partake in the three peaks challenge in which they climbed the three highest peaks in England, Scotland and Wales in 24 hours to raise money for right to play. To summarise the experience it was ''A fantastic challenge with a fantastic club''.