Advice to incoming freshers 
Be prepared for a challenge, no matter your previous experience. Seasoned pro or excited newbie, we can help you push your riding to the next level! Don't forget to visit us at Sports Fair on 6th October! Advanced warning: our Exec is pretty charming.
For those harbouring competitive ambitions, trials for our teams will take place on Wednesday, 7th and Wednesday, 14th October. Be there or be…well, not on the team!
For new recruits, we'll be hosting taster sessions on the first weekend of term. Why not give riding a shot? It's a great sport, and we really are a friendly bunch!
Targets for next season 
Competitively, we'd love to see both our 1st and 2nd teams qualify for the BUCS regionals. Back home, we want to share our sport with as many new members as possible! We'll be putting on a host of demos and socials, and offering equestrian qualifications to shake up your academic life!
Training times and venues 
Moor Farm Equestrian Centre, just a stone's throw from campus. A first-rate facility complete with indoor and outdoor arenas, a x- country course and more than 50 top-notch steeds. Team training takes place every week. We also offer a dedicated lessons programme for riders of every level, with sessions held at times to suit even the most hectic schedule.
Club President 
Ben McClatchie. A Fourth Year History & Politics student who guesses his way around Show Jumping courses.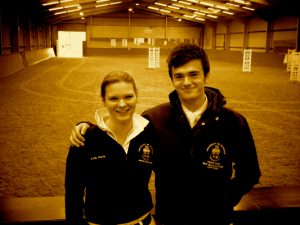 Number of members
Last year, 115. Next year, we're hoping to top 150. You could help us! Or you…or you!
[divider]
Teams and Competitions 
Number of teams 
4! Our 1st and 2nd teams compete in the BUCS leagues. Both have sent riders to the regional championships over the last two seasons. Next year, our 3rd team will be competing in a brand new, nationwide friendly league, which our Captain Elenya is working hard to establish. Finally, our Development Squad offers first time competitors the chance to hone their newfound skills, before making their debut on the big stage!
Captain
[divider]
Social
Biggest club social
Our annual tours are always a hit. In 2014, UWRC hit the streets of Barcelona at full gallop (no horses required). Last year, our riders swept away the revision cobwebs with a day trip to Wales, for a white knuckle trail ride across the beaches.
[divider]
Charity
Last year's highlight was a Charity Masquerade Ball, held in collaboration with Warwick's Polo Club. We raised money for RDA, a charity which provides riding sessions for disabled people. Since we're big fans of all things on four legs, we also supported SPEAR – a local animal charity. Cake sales have always been a big hit, so have your loose change ready when we come calling with more homemade treats! Next year, the Club will also be fielding volunteers on a weekly basis, to help run RDA sessions at Moor Farm!
Hugely successful taster sessions yesterday. 70 people to riding school back & on horseback! – So happy to have met lots of friendly faces!

— Warwick Riding (@WarwickRiding) October 6, 2014