I started racing go-karts. And I love karts. It's the most breathtaking sport in the world. More than F1, indeed, I used to like it most. – Ayrton Senna da Silva, 1986.
Facebook – https://www.facebook.com/warwick.motorsport
Members Group – https://www.facebook.com/groups/225264704155724/
Twitter – https://twitter.com/WarwickMsport
YouTube – https://www.youtube.com/user/warwickmotorsport
Email – warwickmotorsport1@gmail.com

Advice to incoming freshers
Get involved!! Come along to as many of our events as you can. It doesn't matter if you've never driven a kart before or if you're a professional racing driver, we are open to all levels of experience, and make everyone feel equally welcome! If you don't have much experience, you will be amazed how quickly you gain ability and your lap times fall. Obviously, practice makes perfect, so the more events you come to, the quicker you will become! If you have any questions or want some tips on your driving, just ask us! You don't even have to come karting with us if you don't want (though why wouldn't you – karting is great!!) – we watch most F1 races, hold regular socials, go out for meals, go on trips to watch various motorsport events, and are generally just a good fun club to be a part of!
Oh yeah, don't forget to come and see us on Arrivals Weekend and at Sports Fair! Make sure to check us out on Social Media and join our Members Group too.
Targets for next season
To come in the top 10 in the BUKC Main Championship premier class, to win the BUKC Rookie Championship and to retain our Varsity crown. Also, we want to become better known as a club on campus and get as many people participating in motorsport as possible!
Club President 
Callum Brewell
Training times and locations 
We don't "train" as such, but usually we hold our fun karting events and Driver Development Programme (DDP) days on Wednesdays. Fun events are held at various locations around the West Midlands, and our DDP days are held at Whilton Mill Kart Circuit near Daventry. We will be announcing which BUKC test days we will be attending very shortly, and the full BUKC calendar can be found on our Facebook page.
Number of members
60
[divider]
Teams and Competitions
Number of teams 
4
[divider]
Social
Biggest club social
We circle at Pop whenever there is no karting on a Wednesday (and quite often after karting too), and are looking to revive the infamous Pub GP, which in previous years has always been our best social! We also held a 24 hours of Le Mans social last year, which we are looking to make even bigger this year.
Club BNOC
That would be our Pub & Merch Officer and resident Italian Goofy Pirro (motorsport fans – does that surname sound familiar?), rarely seen at Pop without a number of girls desperately trying to cling on to him. He's also successfully made friends with most of the BUKC grid, and showed his commitment to the club by attending pretty much every one of our events last year!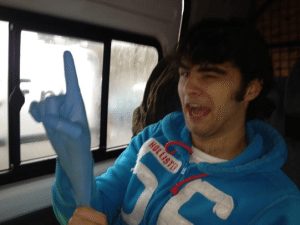 [divider]
Charity
We lent a driver to Brighton in BUKC once and he won his race…
But on a serious note, we realised we haven't been doing enough for charity in the past couple of years and want to start doing some proper charitable work this year, and as such we have some fundraising ideas in the pipeline, so watch this space!