"Lift people not weights"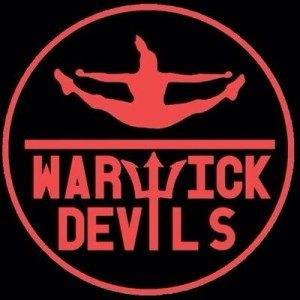 Advice for incoming freshers 
After waiting so long for the Warwick term to begin, don't hold back once it arrives! Above all else, Freshers week is meant to be fun! Try everything that catches your attention, the quickest way to settle into uni and make friends is to get involved in as many different societies as you can, there is no way you won't come across friendly, like-minded people!
Sports teams are effectively campus families, so getting involved with a sports team is a must! Though if you're on this page, you probably already agree with us. All of our members agree that their favourite part about being in the club, is the friends we've all made here!
Targets for next season 
Last season was one of the club's most successful, with multiple squads coming home National Champions in their respective categories at Nationals, our main target is to keep the ball rolling – it's onwards and upwards for the Devils!
Last year we are very proud to announce that we doubled our charity fundraising figures, we're hopeful that the new season will see these numbers on the rise again!
Training times and locations 
The Warwick Devils have a total of eight different squads – so we train a lot! Not everyone is in every squad, so individual training times vary!
Sunday's are the club's busiest training days – all four of our competitive stunting teams train in Westwood Games Hall, as well as our non-competitive Fixtures squad that is open to all levels of experience! Stunters also have conditioning and gymnastics training once a week.
Our Dance squads train once a week in Westwood Dance Studio, extra trainings may be arranged but this is dependent on coaches and upcoming performances.
Exact timings are still being confirmed.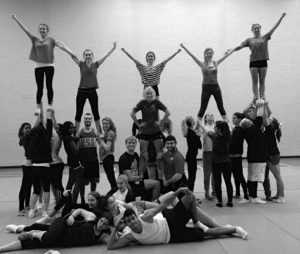 Club President 
Izzy Coomer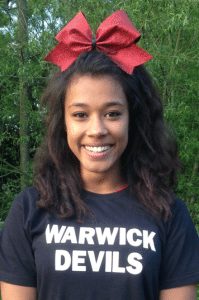 Number of members 
77
Teams and Competitions
Number of teams 
We have 7 competing squads, and one non-competitive Fixtures squad.
Fixtures is an open squad that welcomes all levels of experience and capabilities – this is the squad that performs at Varsity, One World Week. They have featured on various ITV shows like the X Factor and Britain's Got Talent in the past as well.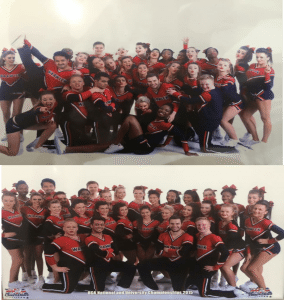 Our largest competitive squad, with 25 – 30 athletes, is our Co-ed Large Stunt. Last season we won the Co-ed Open Cheer Level 3 University National title!
We also have three Small Stunts, each with 5 athletes.
This year we will have a competitive All Girl Level 2, Co-ed Level 3 and a Co-ed Level 4/5. Last year our All Girl Level 2 came second place at nationals, and our Co-ed Level 4 were also crowned National Champions.
We also have three dance squads: Pom Dance, Hip Hop and Jazz. Pom also won the title of National Champions this year and Hip Hop placed 2nd at Future Cheer! Our Jazz squad performed at the annual dance show, Pizazz in Leamington Spa!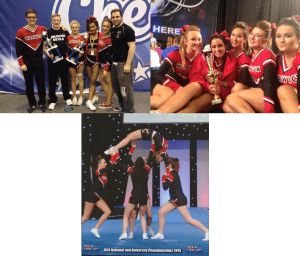 Small stunt coaches:
[divider]
Social
Biggest club social
TOUR.
Tour is definitely our social highlight. It is the ultimate bonding experience. Every Devil will happily agree that Tour was one of their best experiences at Uni, with lots of embarrassing stories for everyone involved! Last year we rented a 30-man villa in Alicante with a pool, Jacuzzi and a BBQ area…. this year's tour is already being planned!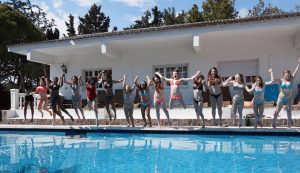 Club BNOC 
Nick Emery.
Nick is our BNOC (Because Nick's On Campus). Nick is president of tricking and free-running club and a prominent member of Warwick Snow and Warwick Surf. Nick is well known across campus for being loud and embarrassing, and almost permanently injured – but we still love him!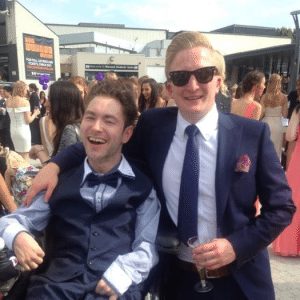 [divider]
Charity
Our charities are important to us. We've held multiple fundraisers such as our annual auction and quiz night, we have held taster cheerleading sessions in the local community (at St Bart's Academy and at PHAB youth club) and we performed on the start line at the Legacy 10k Run.
As mentioned before, this year we managed to double our fundraising figures and we hope in the future this number continues to rise!