Tae Kwon Do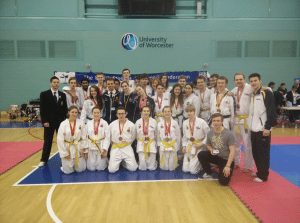 [dropcap]F[/dropcap]or an event featuring 42 universities and 387 competitors, it's forgivable to believe that a team may struggle to stand out at the British Student Taekwondo Federation (BSTF) national competition. Yet the 29 plucky fighters who represented Warwick University battled their way to an impressive 39 medals and a commendable 2nd place during their day at Worcester Arena. Bounding past last year's 3rd position, the 2015 team brought home 13 golds, 11 silvers, 15 bronzes to cap off an impressive competitive season. The competition was characterised by Warwick domination at the lower levels, with the newer members of the squad obtaining clean sweeps in the C class categories. Fewer competitors in the higher belt categories meant that the team's access to medals holding a greater points value was limited.  As the competition drew to a close, anticipation reached a fever pitch. Whispers of Warwick victory thanks to an early influx of medals infected the camp. Yet with more points awarded to black belt victories, Warwick's spectacular start was not enough to overcome pressure from Cardiff University, and Warwick dropped to 2nd place. Incoming captain and first year black belt Kieran Guffick, however, was eager to avoid undermining the day's successes. "There were many exceptional performances. It's an amazing position to build from and certainly bodes well for a successful year to come." Warwick came out kicking and didn't stop until the day was done. Words- Ryan Lee Watts
[divider]
Motorsport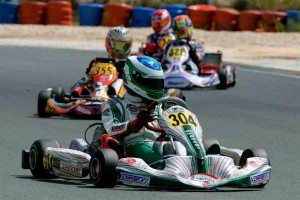 [dropcap]T[/dropcap]his past season has been one of Warwick Motorsport's most successful in years. The results speak for themselves: 3rd place in our National Championship, five podiums from nine rounds, 6th overall with individual race wins in the Rookie championship, and finally a crushing 5-1 victory over Coventry during Varsity. We have accrued a mountain of (plastic) silverware across two very fruitful terms, but there are a few results that warrant special attention.
Qualifiers are one of the most important events on the calendar for us. They not only count towards the championship result, but also dictate the shape of the rest of our season depending on how many teams we are able to qualify. A tough morning put us on the back foot, but the team rallied and put in strong drives in the afternoon. When the sun set, Warwick Motorsport were stood on the top step of the podium.
Varsity was held at Birmingham Wheels against a very strong Coventry team, who were the reigning national champions. Daniel Ryle won a gripping B final with a last lap overtake on the final corner, inspiring a 1-2 finish from Warwick drivers Sam Cobb and Ben Walker in the A final. Words- Sam Binfield
[divider]
Men's Football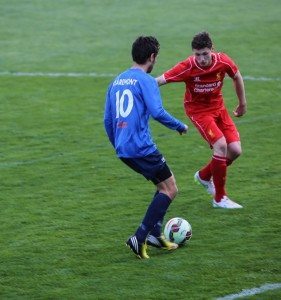 [dropcap]S[/dropcap]at in the dressing room at half time, 1-0 up against the Liverpool youth team, it was all a bit surreal, there was a real belief amongst the squad that we could go out in the second half and get a result. Although it wasn't to be, with Liverpool's superior fitness ultimately proving to be the decisive factor, it was a fantastic occasion to be part of. The game plan was to defend the width of our penalty box, and play on the counter-attack, something we executed extremely well in the first half. We were disciplined, diligent in our defensive duties, and capitalised on the opportunity that came our way. The second-half begun as the first ended, Liverpool enjoyed the bulwark of possession as we worked tirelessly to prevent them creating any openings. It did not take them too long to finally break us down however, admittedly with a very well worked goal. Two minutes later however, it was bedlam as Mark Claremont restored our advantage, although this joy was relatively short lived. Liverpool eventually ran out 4-2 winners, albeit aided by a questionable penalty, but the game represented a fitting end to the wider Widening Participation as a whole. It was a brilliant two days, and a huge amount of credit has to go the PAIS department for organising it. Hopefully, it will become an annual event, and next year we can go one better. Words- Alex Roberts 
[divider]
Men's Rugby Union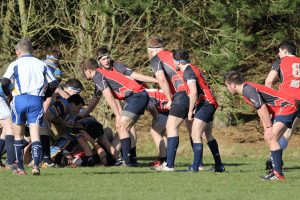 [dropcap]T[/dropcap]he Men's Rugby Union club have had a strong playing season, with the 1st XV finishing runners up in Midlands 1A. Also, the 2nd and 3rd XV's secured comfortable mid-table finishes in Midlands 2A. Highlights for the 1s include a 45-17 thrashing of third place Leicester early in the season and a bonus point victory over a strong Loughborough outfit. The 3s avoided relegation in a very competitive league comprised mainly of 1st and 2nd teams, a 58-0 mauling of Derby 1s on Cryfield was particularly memorable. After a disappointing start to the season, the 2s went from strength to strength, and ended up finishing third. Highlights include a bonus point victory over Nottingham Trent away from home, as well as beating league winners Coventry (thus preventing them from winning the league at Cryfield and delaying their celebrations – always a pleasurable outcome.) Both the 1s and 2s won their Varsity fixtures, silencing the travelling poly supporters. The 2nd XV dispatched their rivals easily in a 27-8 hammering. The 1st XV then reclaimed their varsity crown after last year's last-minute loss with 20-5 victory. Words- James Gwatkin 
[divider_top]
 Boar Sport now has a Facebook page! For all the latest updates on both world and university sport give us a cheeky like.