A Freedom of Information request by the Boar has revealed that between 2013-2014 the number of reported sexual assaults in Leamington Spa increased, yet the number of charges show no substantial change.
The request to Warwickshire Police shows that the overall number of sexual offences reported – including rape – rose from 207 reports in 2013 to 290 in 2014. However, the number of these reports resulting in a caution, charge/summons, or community resolution did not reflect this rise, only increasing from 64 to 66.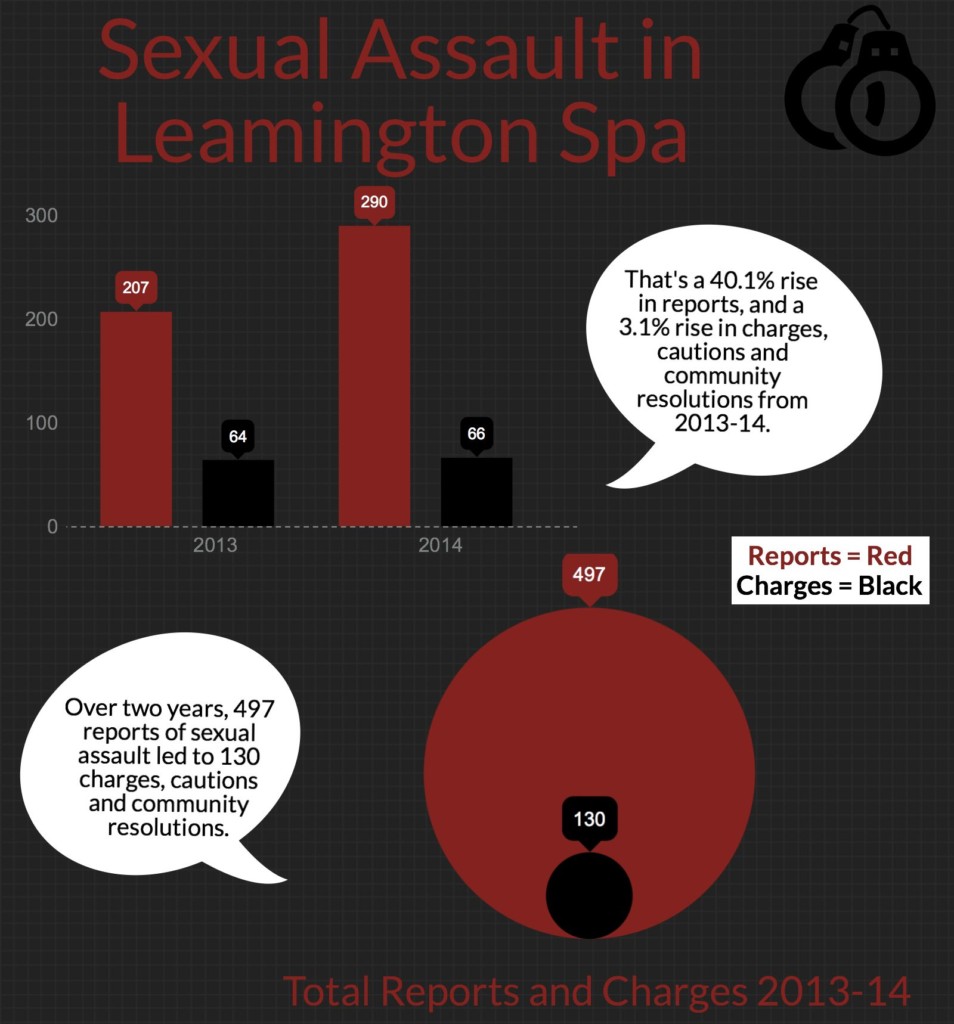 This means that a 40.1 percent increase in reports has been experienced, with only a 3.1 percent increase in charges.
The number of those charged specifically for rape fell from fifteen charges or summons in 2013, to just three in 2014, despite there being 60 reports for the crime.
In total, 129 reports of rape ended in just 18 convictions over the two years.
Shula Kombe, president of Warwick Anti-Sexism Society, responded: "The staggering low figure of charges and summons brought give an insight into how poorly the justice system serves victims.
There are numerous cases of victim blaming and mistreatment, both by the police and in wider society, that lead to victims dropping charges."
Ms Kombe went on to say: "Given that the Crown Prosecution Service studied all allegations and found that only 0.01% of reports filed were false over a 17-month period it's clear that false reports are a complete myth and that there's a gap between coming forward to police and eventually seeing your attacker sanctioned."
She finished: "Also, I find it disturbing that so many police departments treat rape with a cold and criminal approach without guiding victims to Rape Crisis centres or offering these welfare services themselves. They truly make a huge difference."
The staggering low figure of charges and summons brought give an insight into how poorly the justice system serves victims.
Shula Kombe
First-year History of Art student Caroline Watson also commented: "In an atmosphere where it is generally acknowledged that reporting sexual assault is a highly difficult and emotional experience, it appears to be a positive step that more and more people are coming forward to the police.
Ms Watson added: "However, if these reports are not ending in police action, then what difference is being made?"
In response to the Boar's FOI, Detective Chief Inspector of South Warwickshire, Anthony Love, said: "Sexual assaults are taken extremely seriously by Warwickshire Police and all reports have and will be thoroughly investigated.
"The reporting of sexual assaults has increased which is in line with national statistics and is directly related to the increase of historic reports of sexual abuse and high profile investigations. We feel the increase in reporting is a positive thing and highlights confidence in Warwickshire Police."
"Being the victim of a sexual assault is undoubtedly an extremely traumatic experience and we are keen to reassure anyone who has been a victim that they can contact the police and they will be treated in a caring and sensitive manner. Together with our partner agencies, we will give them all the support we can.
"We will work hard to prosecute those responsible whilst also considering the wishes of the victim."
Detective Chief Inspector Love also added that anyone affected by sexual assault can contact the Blue Sky Sexual Assault Referral Centre which is located at George Eliot Hospital in Nuneaton. The centre can be contacted on 02476 865 505 or through their website.