Voting has closed and results have been announced. Read our report here.
SU elections candidate question time took place on Monday and Tuesday evening this week at the Atrium.
Candidates for president, democracy and development officer, postgraduate officer, education officer, societies officer, welfare and campaigns officer and sports officer were questioned (click to jump to section). The event had each candidate give a two-minute campaign speech before answering questions submitted and questions from the floor.
There was an average turnout of 38 throughout both evenings.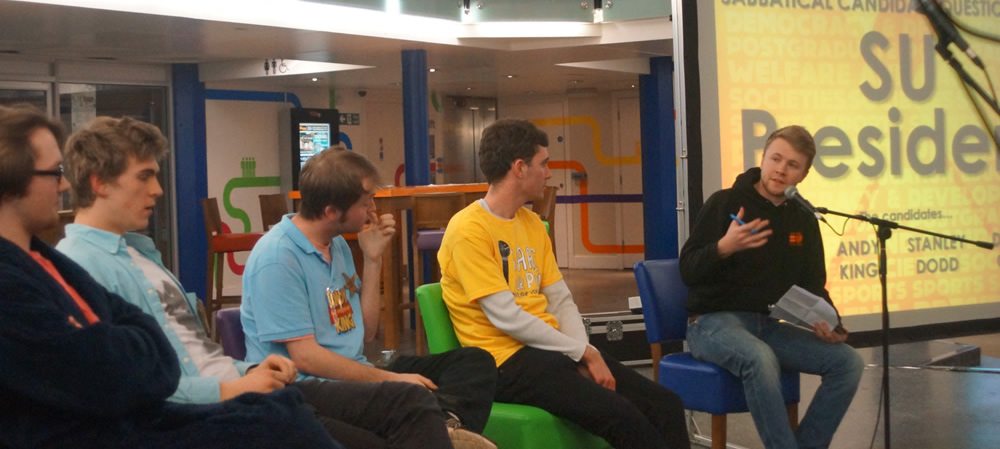 An all-male line-up for president this year were: Isaac Leigh (current societies officer), Andy King (current RAG president), Stanley Dodd, and Daniel Goss (current environmental and ethics officer).
Mr King and Mr Dodd focused on the idea of building positive bridges; Mr Goss and Mr Leigh focused on ways to deal with the vice-chancellor.
All four prioritised issues of transport – particularly the bus system – as well as a fairer living cost on campus. There was also focus on making sure that Warwick students engaged in SU politics and that they are heard.
"I want to tackle the current bus situation by offering a refund for students whose busies are over 50min late." @IsaacLeigh

— Boar Live (@BoarLive) February 24, 2015
"I want to mobilise the SU because it is an inherently political device and I think we should utilise that." @gosspol — Boar Live (@BoarLive) February 24, 2015
"I think it's really important students are given a fair deal across campus..justifying costs where they have increased." @AndrewEKing

— Boar Live (@BoarLive) February 24, 2015
Democracy and development officer candidates
Candidates for democracy and development officer were current Council chair Oliver Rice, Cayo Sobral, Katie Bergstrom and Tom Diamond.
In their opening speeches, Mr Sobral revealed his priority in making democracy easier to get involved with by creating an online forum; Ms Bergstrom also stressed her priority in getting students involved in policy-making; Mr Rice focused on the cost of campus accommodation; and Mr Diamond wanted to make international students feel more at home with international cultural events.
Student engagement in Union democracy were one of the issues raised. Mr Rice prioritised making Student Council meetings more accessible, as did Ms Bergstrom. Mr Diamond suggested that if the Union made society budgets more transparent, students would become more interested in the politics behind it. Mr Sobral reinstated his policy for an online forum.
The last question asked candidates how they could make society elections fairer. Mr Diamond suggested a rethinking of the system and make sure people knew how they worked. Mr Sobral suggested that society elections should be moved online to ensure that more people vote in them. Ms Bergstrom however suggested that societies could move to interviews instead.
"5 years fixed rent at the rate of inflation for on-campus accommodation" @VoteRice4DDO

— Boar Live (@BoarLive) February 24, 2015
"I want to make democracy easier to get involved in at Warwick by creating an online forum for discussing issues" @Cayo_Sobral

— Boar Live (@BoarLive) February 24, 2015
"I want to have more cultural events to make international students feel more at home and increase diversity on campus" Tom Diamond

— Boar Live (@BoarLive) February 24, 2015
"Getting students involved with the policy-making process is important" Katie Bergstrom

— Boar Live (@BoarLive) February 24, 2015
Postgraduate officer candidates 
Candidates for postgraduate officer were Prisca Wharton, Nat Panda, and – standing for re-election – current postgraduate officer Andrew Thompson.
The three focused on specific postgraduate issues: the housing crisis at the start of the year (unlike undergraduates, postgraduates are not promised accommodation either on- or off- campus), postgraduate funding, helping postgraduates with mental health issues, and reaching out to international postgraduate students.
All three were eager to create an environment where postgraduates are made to feel welcome. 
"I'm standing for re-election because I love this job..I'm still pushing for extended study spaces." @AJ_Thompson_ — Boar Live (@BoarLive) February 24, 2015
"Fairer pay for postgrad teachers… Warwick accommodation give postgrads a very bad deal." @NatForPG — Boar Live (@BoarLive) February 24, 2015
"We need recorded lectures. For postgrad students the level of lectures is high, this is why it is one of my main policies." Prisca Wharton — Boar Live (@BoarLive) February 24, 2015
Education officer candidates
The candidates for Education Officer were Maisie Hallam, Charlie Hindhaugh and Jasmine Jones. Mr Hindhaugh gave his proposed 'Rate My Module' website, online submission and feedback for all assessments and welfare stand in the library as the top reasons that students should vote for him. Ms Hallam outlined a seven-point plan to improve education at Warwick. Meanwhile, Ms Jones stressed the importance of ensuring good quality feedback, a 24-hour library, and expanding the Open Education series.
Questions to candidates focused on fees, accessibility to higher education, feedback, and student participation and representation at Warwick, particularly of minority groups.
In response to questions from current education officer Maahwish Mirza, all candidates promised to continue to address issues of discrimination if elected.
On undergraduate tuition fees, Ms Hallam said the most important thing is giving students value for money under the current system. Mr Hindhaugh however argued that the undergraduate fees system is unsustainable and he would prioritise campaigning for an increase in higher education funding. He also wants to see international tuition fees capped, as does Ms Jones. Ms Jones added that the high tuition fees discouraged students from going to university. All the candidates promised to campaign against the new fees introduced for Warwick students going on Erasmus.
Maisie Hallam – @MakeItMaisie "I think that the uni should not be focusing on the fees but what we get for those fees" — Boar Live (@BoarLive) February 23, 2015
"Making sure no matter who you are you can get to University. It's financial, it's getting to campus, accessing the library" @Charlie4Edu — Boar Live (@BoarLive) February 23, 2015
"I campaigned against Islamophobia and I will continue to do that." Jasmine Jones – @jas4edu — Boar Live (@BoarLive) February 23, 2015
Societies officer candidates
Candidates for societies officer were George Creasy, Aaron George, Emi Meakin and Jesal Sheta. The opening speeches of the candidates addressed issues such as the acquisition of sponsorship, particularly for smaller societies, the development of a societies calendar to synchronise society events, and the improvement of the societies webpage.   
Questions posed to the candidates included how hall societies should be developed and changed. Mr Creasy, Mr Sheta and Ms Meakin were keen to boost the presence of hall societies in order for residents of halls to get to know each other better. However, Mr George felt that residents of halls were already well acquainted with one another.
Questions taken from the floor were concerned with the organisation of the resources room for societies, the societies federation fee and the frequency of socials that do not involve drinking alcohol.  
Aaron George – @zuniva "I want to make events calendars for all the societies so everyone can see what's going on" — Boar Live (@BoarLive) February 23, 2015
George Creasy – @GeorgeCreasy "About sponsorship: we should hook up small businesses with societies." — Boar Live (@BoarLive) February 23, 2015
"promote sponsorship like the opportunity fund. workshops including social media training. Freshers fair is priority" @eminotame — Boar Live (@BoarLive) February 23, 2015
"I want to meet all society presidents so I can solve and sort out all problems" @sociohistorian — Boar Live (@BoarLive) February 23, 2015
Welfare and campaigns officer candidates
Running for welfare and campaigns officer are Sam Parr, Bambi (aka Brogan Pierce) and Luke Pilot.
Ms Pierce said university is about an entire lifestyle; she proposed welfare support drop-in sessions, compulsory welfare training for personal tutors, support for students undertaking a year abroad and dedicated office space for student campaigners.
Mr Pilot wanted to encourage students to have an impact in the local community and internationally.  He identified mental health as the most important issue saying he would push for training for personal tutors and better support services.
Mr Parr encouraged students to read his campaign leaflets.
Questions to the candidates concerned off-campus safety, initiations and adoptions, housing problems, sexual health provision campaigning and mental health services.
With regard to housing problems, Mr Parr argued that the current Housing Days are at inaccessible times and wanted to change that; Ms Pierce proposed that the SU make stronger links with letting agencies; and Mr Pilot said a big issue was lack of consistency across different estate agents and proposed working on a code of conduct.
"Some of my biggest priorities are welfare sessions in libraries, training personal tutors to deal with problems" @broganrose94 — Boar Live (@BoarLive) February 23, 2015
"I think mental health is the most important issue." @ColorBlindPilot — Boar Live (@BoarLive) February 23, 2015
Sam Parr: "There's not a lot of support if you're in leamington and can't make it to campus… we need welfare provision there" — Boar Live (@BoarLive) February 23, 2015
Sports officer candidates
Alex Roberts was the only candidate for the role of sports officer. Mr Roberts pledged to enhance Warwick's already positive sporting reputation. He presented the idea of a sports science degree at Warwick and a varsity showcase during term one.
Questions posed to Roberts involved whether more alcohol awareness was needed among sports societies, what could be done to improve the provision of sports for the disabled and whether a sports science degree should be introduced at Warwick.
"If you bring in a sports science degree, you go way up in the league tables." Alex Roberts – @ARobforSports — Boar Live (@BoarLive) February 23, 2015
"Universities like Bath have such degrees. It makes the uni more sport focused and it will improve our standings in sport" @ARobforSports — Boar Live (@BoarLive) February 23, 2015