[dropcap]W[/dropcap]riters throughout history have been inspired by the joy, food and family which surround Christmas. But who's penned the most festive of celebrations? Four Books writers discuss the fictional Christmas they would most like to join in with…
---
How the Grinch Stole Christmas by Dr. Seuss
I know that the mere title How the Grinch Stole Christmas may not instantly scream festive cheer, but bear with me.
To spend Christmas in Whoville would be a mighty fine Christmas present in itself. It's clear from the sheer amount of goodies stolen by the Grinch that the Whos know how to throw a proper holiday shindig. Plus, there's nothing like a little holiday drama to spice up the season, and there's no holiday drama like waking up to find that the whole holiday has been, apparently, stolen.
If nothing else, it's certainly the most memorable Christmas in Whoville to date
And what perfect festive companions the Whos must be! Completely unfazed by material obstacles, they plough on ahead with Christmas because, heck, December 25th is going to happen anyway, and it's better to make the most of an unorthodox situation than to spend all day moping. Either it's the resounding triumph of the Christmas spirit or a Marxist fantasy in action, but the Whos prove that you don't need rampant consumerism to have a cracking time come Christmas Day.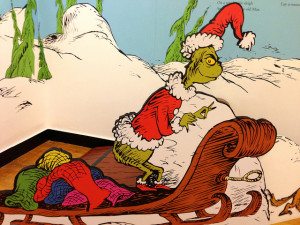 To my eyes, the fact that the Grinch brings all the presents back in the end is neither here nor there. The Whos would have been perfectly happy singing together "without any presents at all!" – it was the icing on the Yule log that they were able to teach the Grinch something about the true meaning of Christmas, and mere sprinkles that they got their gifts back too.
This brings me onto the Grinch himself, who undoubtedly gets to experience the best Christmas of his life. The seasonal gifts he receives are priceless and plentiful: the mountaintop misanthrope is treated to acceptance by the kindly Whos, even after attempting to spoil their day; he is given a crash course on how "Christmas means a little bit more" than first thought; above all, he is miraculously granted a free and potentially life-saving heart expansion operation (how he even survived in those high altitudes with a heart two sizes too small for so long is beyond me).
I maintain that Christmas in Whoville is one of the finest to grace literature, and my most desirable winter holiday destination for sure.  Come down off your mountain and start carving that roast beast.
Phoebe Demeger
---
The Harry Potter series by JK Rowling
When reading the Harry Potter series, I was always jealous of the world these characters lived in. At the age of eleven, part of me wished I could receive a letter inviting me to attend Hogwarts. I felt particularly envious whenever Christmas came around in the wizarding world, since the whole affair seemed far more spectacular than a mere muggle Christmas.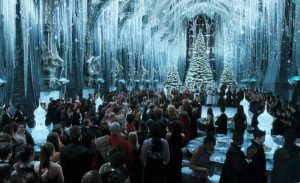 Part of the reason I would like to attend a Harry Potter Christmas is the food and decorations. When it comes to decking out the castle for the Christmas period, Hogwarts goes all-out. The Great Hall is filled with twelve huge Christmas trees with real live fairies flying around them. Throughout the castle other decorations can be seen, including everlasting icicles and dry snow and, as well as this, the suits of armour sing carols when you walk past. The food also tops anything muggles serve on Christmas day, with the tables in the Great Hall being filled with meats, potatoes and vegetables, and wizard crackers producing gifts like non-explodable, luminous balloons and wizard chess sets.
Sorry, but these Christmas dinners beat anything you can buy at M&S
From sweets like Bertie Bott's Every Flavour Beans to useful objects like omnioculars, presents in the wizarding world are far more magical than Xboxes or I-Pods. Harry in particular gets some fantastic presents, including a firebolt broomstick and his invisibility cloak. The present at the top of my Christmas list, however, would be a knitted jumper from Mrs Weasley – Ron hates them but I think they sound fantastic.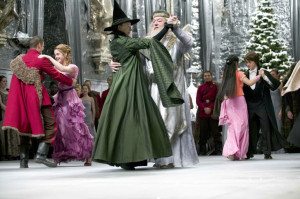 Christmas celebrations in Harry Potter also feature in my reasoning for wanting to attend this fictional Christmas. All Christmases at Hogwarts are wonderful but, if I had to choose one to attend, it would have to be fourth year when the Yule Ball takes place on Christmas day. The day seems pretty perfect to me: presents, a snowball fight and the Ball in the evening which involves an especially lavish feast, drink, dancing and the famous wizard band The Weird Sisters. I can't really think of anything better and, if I could apparate to Hogwarts for Christmas, I would without question.
Lucy Skoulding
---
The Hundred and One Dalmatians by Dodie Smith
It's Christmas' Eve, and the Dearlys are listening to carols and mourning the disappearance of their seventeen pet Dalmatians. Then, incredibly, a hoard of ninety-nine sooty black dogs appear, roll all over the carpet, and reveal themselves to be the lost pups (with some additions). This – as anyone who has seen the Disney adaptation will know – is how Dodie Smith's The Hundred and One Dalmatians is concluded.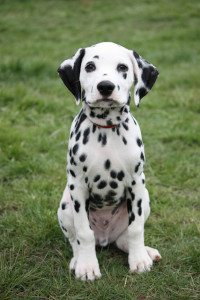 As a dog-lover, I cannot picture a better Christmas Day than the "absolutely wonderful" one that follows: the Dearly family is reunited at last; Cruella de Vil is revealed for the wicked animal-abuser that she is; and eighty-two homeless puppies find for themselves a cosy new life in the Dearlys' house on the Outer Circle of Regent's Park. Just imagine the joy! Just imagine a Christmas spent in a house of happy puppies!
Even for someone who is less interested in dogs, the human characters of The Hundred and One Dalmatians would also make for delightful company. Mr and Mrs Dearly are "gentle, obedient, and unusually intelligent" – at least, in the opinion of their dogs – and their domestic staff, Nanny Cook and Nanny Butler, seem an amiable pair of old women. A day spent with the household, singing carols and strolling through London's parks, would certainly be charming.
Besides all that, the Dearlys' Christmas Day spares no expenses. Instead of laboriously cooking a Christmas Dinner himself, Mr Dearly sends for the best hotels to provide them with a prime steak for every dog.
Who hasn't dreamed of a Christmas Dinner catered by the Ritz?
Moreover, as a "wizard of finance" who single-handedly solved the problem of National Debt, it is safe to assume that Mr Dearly is pretty well-off. If he can afford such a lavish meal without batting an eyelid, then the presents which Smith mentions are under the tree must surely be quite something. It may be shallow, but the promise of expensive gifts is bound to make any Christmas Day worth attending!
Carmella Lowkis
---
A Christmas Carol by Charles Dickens
Drumroll please!  If I could fill my Christmas belly in a fictional setting, it would have to at the Cratchits' residence in Charles Dickens' classic A Christmas Carol.  Who can ever forget the family's festive spread? I'm confident having read the novella several times that if I knocked on humble Cratchit's door, cold, hungry and with nowhere to go on Christmas Day, the family would welcome me with open arms and make space for me at the dinner table.
This is the archetypal fictional Christmas dinner, filled with a gourmet feast of the meagre Christmas treats they can afford and a large dollop of poignancy.
Who can forget the family's excitement over the goose? Dickens' description captures the meaning of Christmas because of this content family. Whether through the Disney cartoon, the Muppets, the musical, or Scrooged with Bill Murray, A Christmas Carol is the ultimate choice for a Christmas meal.
However, should the Cratchit's establishment not convey this generosity, I would continue on with the Spirit of Christmas Present, put on my best dancing shoes, and hit the dance floor at Fred's (Scrooge's nephew) with a grand Christmas banquet to follow afterwards.
In fact, the whole novel is a food lover's cornucopia. The section opens with a throne made of food and the arrival of the Spirit of Christmas Present. Here's a reminder of what Scrooge sees:
"Heaped upon the floor, to form a kind of throne, were turkeys, geese, game, brawn, great joints of meat, sucking pigs, long wreaths of sausages, mince-pies, plum-puddings, barrels of oysters, red-hot chestnuts, cherry-cheeked apples, juicy oranges, luscious pears, immense twelfth- cakes, and great bowls of punch."
There never was such a goose indeed!
Lubjana Matin-Scammell
---
Image Credits: Header (Flickr/Kiuko), Image 1 (Flickr/Sarah_Ackerman), Image 2 (benjaminpan.com), Image 3 (thesnitch.co.uk), Image 4 (Flickr/Stefanie), Image 5 (victorianweb.org).
Related Posts