Alice's Adventures in Wonderland – Lewis A Carroll
[dropcap]A[/dropcap]  bedtime book should never be dull. As much as we want to relax and watch as the print fades into the page while snuggling up and preparing for sleep, we would only be mad if we settled for anything less than the fantastical. Because whatever sticks in your mind has ample opportunity to revisit you in your dreams. We've all, on occasion, been in the situation, surreal but intriguing, of finding parts of our reality folding into night fancies. But I admit, I've a bit of a taste for the potentiality of dream-shaping, and nothing carries so well into my sleep as the weird and wonderful Alice's Adventures in Wonderland.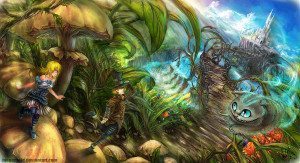 As hard as I try to discover a similar gem, it is pretty apparent that Lewis Carroll struck the teapot on its head – there is, and perhaps never will be, anything like Wonderland. The majority of us have tumbled down the rab- bit-hole in some shape or form, sat beguiled at the table of the maddest tea party (ever – it's official), wishing this topsy-turvy world  were our reality, where riddles need not have answers and croquet is played with flamingos. As an older reader now, I can still laugh, perhaps more so, at the novel's silly surrealist humour, the endless reams of sophisticated word plays and unabashed mockery of modern mathematics.
Late at night, beneath lamplight, it does what it is meant to do – it sets the imagination running wild. In dreams I have replaced Alice many a time, chasing rabbits and painting roses red – Through the Looking Glass had me holding aloft the Vorpal Sword to the snarling head of the Jabberwocky. The small disappointment I can't help but feel as I wake puts me in mind of Caliban's lament for the dream world.
Why not let Wonderland play havoc with the unconscious landscapes of your mind? That's half the fun. Take the time to delve into Wonderland before bedtime, and you may just believe as many as six impossible things before breakfast.
[divider]
The Blue Castle– L.M. Montgomery
In my opinion, there is no book better at making you forget about the stresses of the day than The Blue Castle, one of Anne of Green Gables author LM Montgomery's only book for adults. The story follows shy Valancy Stirling, who is twenty-nine, unmarried and still living with her mother. Her only escape from her monotonous existence is the books she reads and her fantasies about a castle and its romantic inhabitant.
When she is diagnosed with a terminal heart condition, Valancy decides that it is time for her to stop dreaming and seize the day. She scandalises her relatives by her new outspoken behaviour and "loose ways" (this book was written during the social upheaval of the Roaring Twenties). When helping a dying friend, one who has been ostracised by society for having an illegitimate child, she encounters another outcast – one who owns a home on an idyllic island much like the blue castle of Valancy's imaginings.
The Blue Castle is the perfect book for bedtime because it is escapism of the best kind – funny, heart-warming, comforting and romantic. You can spot most of the plot twists a mile away, but that's not the point. What makes this book so great are the likeable and eccentric characters, and Montgomery's warm, humorous style. It's a joy to watch Valancy blossom from an awkward, self-doubting girl victimised by her mother to a confident girl actively pursuing her own dreams.
As you might expect, a happy ending is guaranteed, but as the book states, it's not the destination which matters but how you get there. The Blue Castle is an absorbing and charming story, the literary equivalent of a cup of steaming hot chocolate, and the per- fect read to give you wonderful dreams and a great night's sleep.
Emily Rose Nabney
[divider]
The Perks of Being a Wall-flower – Stephen Chbosky
For me the best books to read before bedtime are the ones which are impossible to put down, the ones that block out any awareness of the world around you and engulf you in their fictional paradise. Of course these are disastrous for tiredness levels, but this aside, the way I tell if a book is good is by looking at the clock and realising it's 3am and an incomprehensible amount of time has passed whilst I have been engrossed in what I am reading.
One such example which fits this description is The Perks of Being a Wallflower by Stephen Chbosky. I read it in one sitting, taking it up to bed with me and planning an early night but not getting to sleep until the early hours because I was simply astounded by this novel. Narrated by 15-year-old Charlie, it is formed of a series of letters spanning his first year of high school. This was a starkly real story of an introverted teenager who overcomes his problems and is able to find himself with the help of the true friends that he makes. What I love about this books is the fact that it does not glorify anything, but nor does it mask anything. It is all about real life, and in fact Chbosky based Charlie loosely on himself. All the characters have problems: Charlie's love interest, Sam, has a dark past and Patrick is bullied for being gay. This is why the novel is so believable to me – as Charlie says, it is "both happy and sad" and Chbosky has got the combination just right.
Perks is undoubtedly one of my favourite bedtime books because it pulls you into the story and holds you there until the very end. It is one of those novels that makes you think and makes you feel a little bit changed after reading it. I felt it taught me some important lessons, one being that, "Things change. And friends leave. Life doesn't stop for anybody."
Lucy Skoulding
[divider]
Moby Dick – Herman Melville
Most of my friends will attest to the fact that I never miss an opportunity to talk about how much I love The Whale or Moby Dick – so all aboard as I finally put in writing why I love it and why it is, in fact, the perfect bed- time book.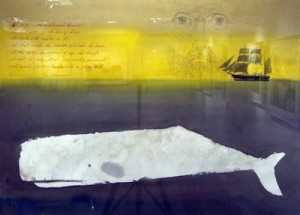 You've probably heard that this epic American novel is about a boat, a crazy captain and a slightly pale fish. Well I guess that cov- ers the basics but it really is so much more. Whilst its size may be intimidating, the book is broken down into so many chapters, mak- ing it the perfect novel to read in installments each night. More importantly, it deserves to be read slowly. Melville uses a lot of words to tell this 500 page story but boy does he choose them well. The language in Moby Dick is lyrical, philosophical and drenched in meaning. But this does not mean to say that it is a particularly challenging book to read; the sentences ebb and flow as beautifully as the sea upon which the Pequod sails.
Putting aside the linguistic majesty of Melville, the subject matter and imagery is enough to make this a fantastic bedtime read. What more could you want before going to bed than to be inspired by beautiful imagery of the sea and fantastic descriptions of the most mysterious and magical of sea animals? Add to this a host of eccentric characters and you have the perfect storm. Captain Ahab, the monomaniacal captain of the ship (and arguably, the novel) is an utterly compelling literary character. His impassioned speeches and imposing figure will literally haunt your dreams and leave you thinking about him well into the next day.
What I love most about Moby Dick is that you will get out of it as much as you want to invest. You can take the experiences of your day (and life) and work them into the sym- bolism, revealing hidden depths and making the story your own. So give this classic a go and you will not regret it!
Poppy Rosenberg
[divider]
The Happy Prince– Oscar Wilde
My perfect bedtime story is one of Oscar Wilde's short stories. Wilde is most commonly known for his satirical plays and his only novel, The Picture of Dorian Gray. Sadly, his fairy tale-like stories are quite often overlooked. The most well-known collection of Wilde's short stories is The Happy Prince and Other Tales. One might suppose that these short stories were meant for children, however having read The Happy Prince as a child I would argue it is much better suited to adults! His stories read like fairy tales, yet include much darker endings than the 'happily ever after' that a child might expect.
The Happy Prince is about a beautiful gold statue that is constructed in memory of the late Prince. The statue of the Prince, however, is far from happy. When a swallow befriends the statue, the Prince asks him to pluck out the jewels he is decorated with and take them to the poor and suffering families that he sees across the town. Winter arrives and after carrying out the Prince's final request to pluck the jewels from his eyes, the swallow dies. In the morning the town's people are shocked to see the shabby statue and declare 'as he is no longer beautiful, he is no longer useful'. They melt down the statue, leaving his lead heart in the dustbin alongside the swallow. This short story, much like Wilde's later work, criticises the materialistic attitude of the aristocratic class and the importance they place on beauty, whilst ignoring those in poverty.
If you enjoy reading any of Wilde's more famous works you will also love his short stories. The Happy Prince, as well as other tales in the collection like The Nightingale and The Rose, give a short example of Wilde's famous satire and social criticism. They leave a lasting message with the reader are a perfect quick and thought-provoking read before bed if you're not in the mood to tackle a full novel.
Jodie Marsden