On February 2nd American actor, producer and director, Philip Seymour Hoffman passed away in his Manhattan apartment at the age of 46. Both the film and theatre world have suffered a major blow. Hoffman was widely considered one of the greatest talents to grace our screens and stages. He carved plenty of magnificent roles for himself as a renowned character actor, proving time after time he could easily outshine his own films. If there were ever a reason to buy a ticket, it was because of Philip Seymour Hoffman. To pay homage to the late great man, our writers have presented their favourite roles below.
Caden Cotard in Synecdoche, New York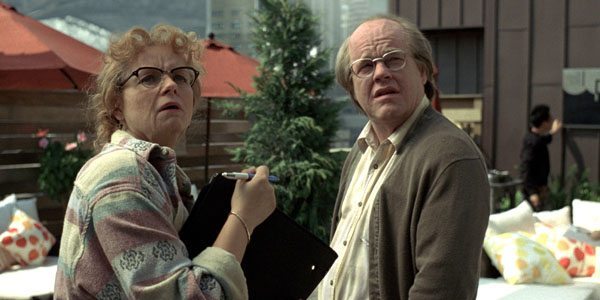 Synecdoche, New York  found Philip Seymour Hoffman portraying a New York theatre director in his attempts to stage a play, which involves building a life-size replica of the city itself to recreate the stories within it. Hoffman crafted Cotard extremely carefully, displaying the little woes and cracks within the grand director with immense humanism. And therefore he created a synecdoche himself: a character, worried by time, death and love. A synecdoche for every little person is all the cities of the world. And that is exactly what Hoffman demonstrated within his career: masterfully created roles of the depths and the highs of the human soul, often found in the most understated of people. That is exactly why this master of cinema will be missed. He already is missed.
Paulina Dregvaite
Freddie Miles in The Talented Mr. Ripley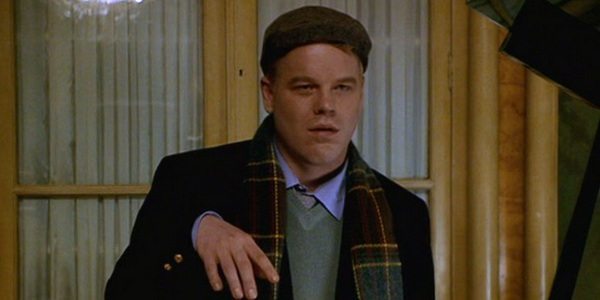 You have to wait over half an hour for Hoffman's arrival in Anthony Minghella's  The Talented Mr. Ripley but when he does, in this humble fan's opinion, it is well worth the wait. From the moment he thunders on screen – hurtling into the Piazza Navona in Rome in a bright red convertible – Philip Seymour Hoffman dominates the magnificent ensemble cast as the larger-than-life aristocrat Freddie Miles. Playing the polar opposite to Matt Damon's straight-laced sociopath Tom Ripley, Freddie Miles is a haunting presence in the film; reminding Ripley through his sneering eyes of everything that he will never be. Such is his prowess that he turns Ripley's serial killer into a likeable person by comparison, and his lack of screen time is only further testament to an unforgettable performance from a truly memorable actor.
Patrick Jack
Allen in Happiness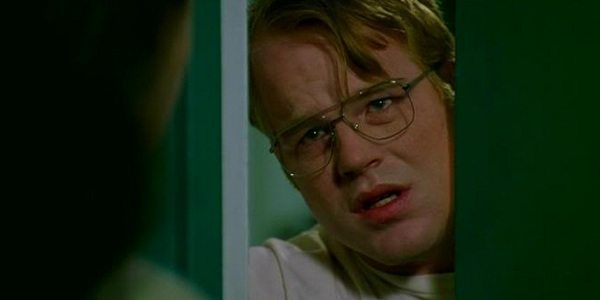 Philip Seymour Hoffman took on a number of challenging roles in his career, and effortlessly made a number of deplorable characters instantly likeable. His role in Todd Solondz's Happiness, as an ostensibly ordinary man who attempts romantic relation to his neighbour by making obscene phone calls to her apartment, ranks among his most remarkable achievements to this end. Aside from his renowned performances of blockbuster villainy, this is the Hoffman role I would say best demonstrates his unfailing ability to lend likeability to morally perplexing characters. The pornographic fantasies Allen describes to his therapist are suitably difficult to take, but his resignation to being too plain to realise them evokes great sadness. Hoffman was one of Hollywood's least two-dimensional character actors, and his absence will be sorely felt across the industry.
Jacob Mier
Owen Davian in Mission: Impossible III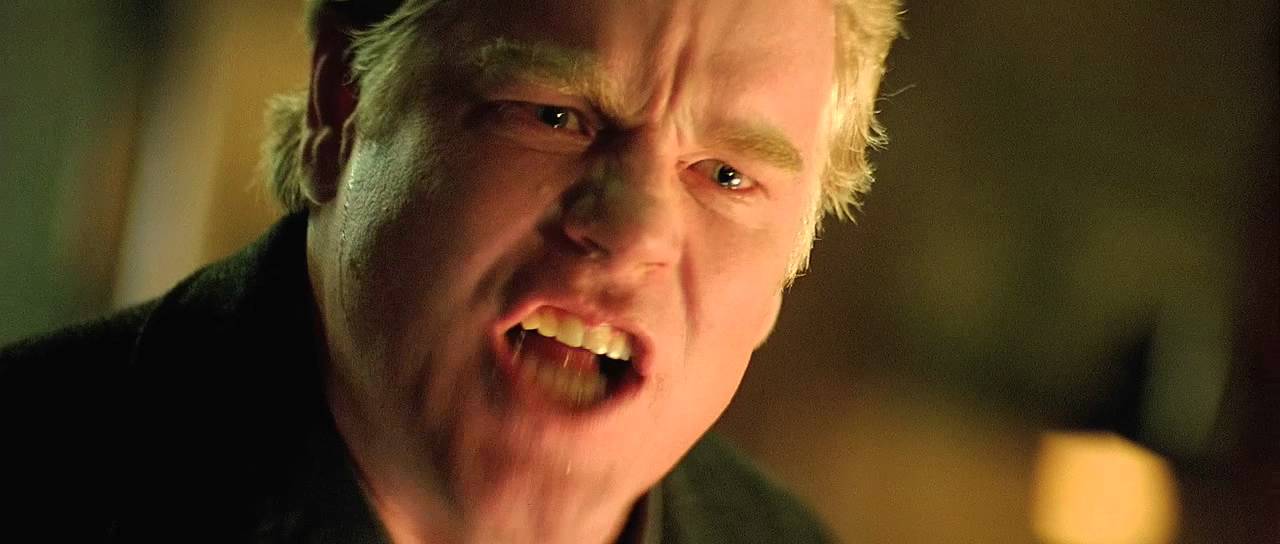 "I'm gonna count to ten. You're gonna tell me where the rabbit's foot is. Or she dies." We're barely a minute into Mission: Impossible III and already we're made brutally aware of the stakes. Barely blinking as he counts, Owen Davian's effortless manipulation of his adversary mirrors Hoffman's complete dominance over the third entry of the spy franchise. Foregoing the histrionics of his Big Bad predecessors, Hoffman boils his performance down to subtle facial tics and understated vocal patterns until, without warning, his true ferocity boils over. It's the ruthless restraint that lends these violent explosions such resonance, imbuing even seemingly benign scenes with utter menace. Most would phone-in a role like this; Hoffman completely elevates his material. And he makes it look easy.
Joshua Glenn
Gust Avrakotos in Charlie Wilson's War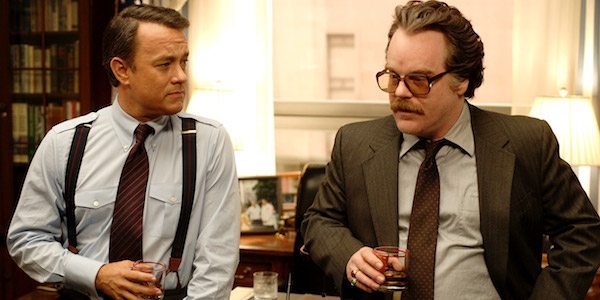 In Mike Nichol's account of US Congressman Charlie Wilson's efforts to aide the Afghan forces in Russia during the conflict in the 1980's, Hoffman portrayed the real-life figure of CIA Agent Gust Avrakotos, and proved once again how deft he was in comedic roles. Much is always made of Hoffman as a dramatic actor, but one must pay note to his wicked sense of humour and delivery in the likes of this and Along Came Polly. He wrangles with Aaron Sorkin's dialogue with aplomb, easily coming out on top in a cast which also includes Tom Hanks, Julia Roberts, and Amy Adams. Coming away with the only Oscar nomination for the film's cast; Charlie Wilson's War is simply another showcase of the late great's immeasurable talent.
Andrew Gaudion
Truman Capote in Capote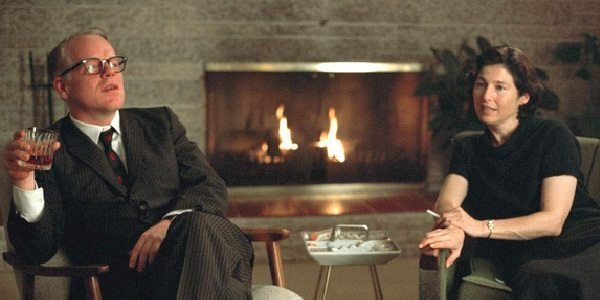 Truman Capote was one of the most unique personalities of his time and the transformation Hoffman underwent in order to become Capote was nothing short of remarkable. The film centres around the murderers at the centre of Capote's ground-breaking novel In Cold Blood, and follows Capote and Harper Lee (played by the always fantastic Catherine Keener) in their investigation. I love films that manage to explore the criminal without losing sight of the humanity of its characters, and this film achieves that, even going so far as to delicately explore the fraught relationship between Capote and the killer Perry Smith. It should stand as a testament to Philip Seymour Hoffman that his best performance is also the one where you almost forget that he's even there at all.
Dan Mountain
Scotty J. in Boogie Nights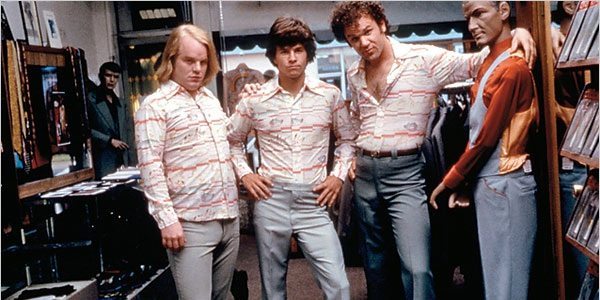 Paul Thomas Anderson's Boogie Nights is a timeless mediation on fame, period and family, with a distinctive pornographic varnish. The cast headed up by Mark Wahlberg and Burt Reynolds is a true ensemble, and tucked away neatly amongst this talented array is one of Philip Seymour Hoffman's best performances. To explain the character would be to undermine his craft, but watching the titan essay vulnerability, confusion and tender loyalty with such clarity and measure is joyous. His highlight is a shared moment with Wahlberg, a surprising spike in the narrative during which Hoffman communicates heart-breaking desperation with delicate honesty. I think it's also the precise instance in his filmography where he became a star.
Daniel Kelly
Plutarch Heavensbee in The Hunger Games: Catching Fire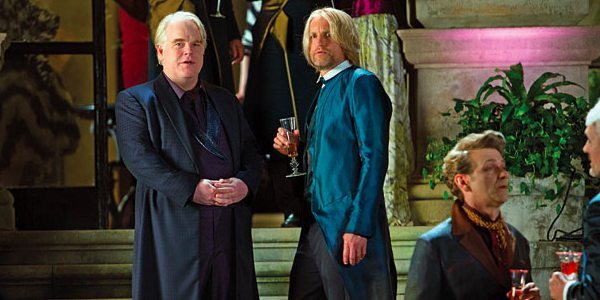 When I first read Catching Fire, I had just seen Philip Seymour Hoffman in Doubt and my very first thought was that I wanted him to play the enigmatic Plutarch Heavensbee. When I saw him doing just that four years later, I knew my ecstatic reaction at his casting was justified. In a universe littered with highly emotive characters, Hoffman had the unenviable task of taking a deeply understated – and, arguably, underdeveloped – part and making him memorable. His was a master class in acting, perfectly portraying Plutarch's calculative and ambiguous loyalty right down to the shocking reveal of his true intentions. That his last wide release during his lifetime is a role I wanted to see him in for years is more bittersweet for me than I can say.
Ibtisam Ahmed
Jacob Ellinsky in 25th Hour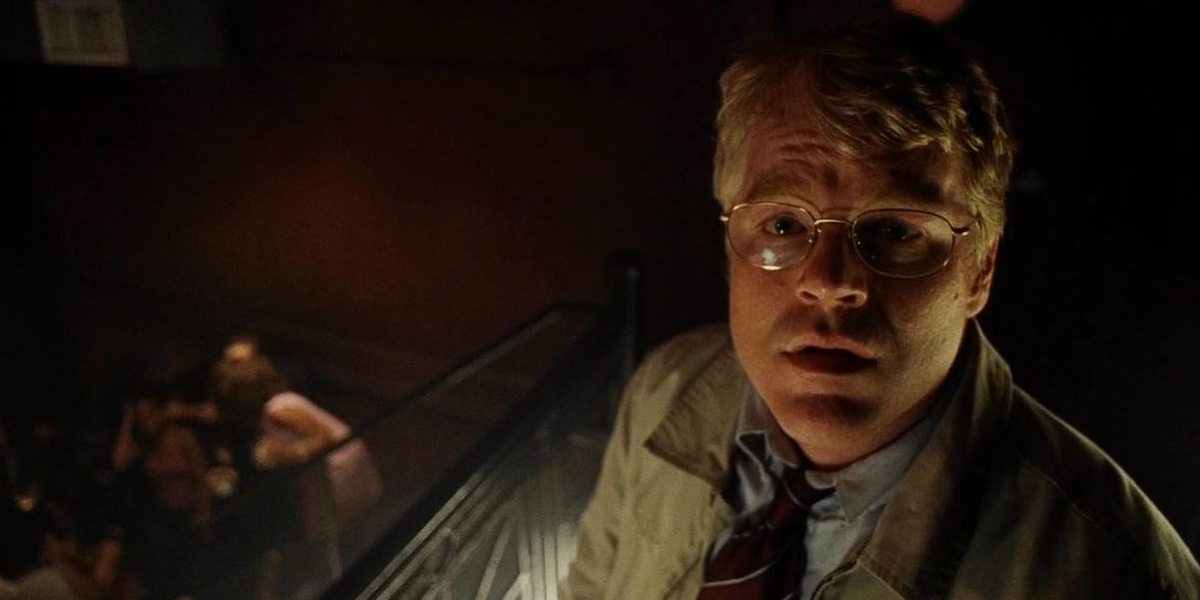 In 25th Hour, Philip Seymour Hoffman does quite the remarkable trick of doing the wrong thing, yet entirely winning our sympathy. In his supporting role as Jacob Ellinsky, the sensitive English teacher we wish we all had, he falls under the spell of one of his provocative female students. In all of Hoffman's supporting roles he managed to convey the feeling of being entirely caught up in the moment, regardless of the moral consequences, and his fall from grace here is captured with such empathy that we cannot help but feel for him. He truly was a master of his craft, finding the enduring humanity in any character he played. 
Redmond Bacon
Lancaster Dodd in The Master
The most tragic element of Paul Thomas Anderson's The Master is the realisation that the master referred to in the title is not cult leader, Lancaster Dodd (Philip Seymour Hoffman) but instead troubled war veteran, Freddie Quell (Joaquin Phoenix). Dodd's desire for control is displayed beautifully by Hoffman, conveying angst and frustration at his inability to tame the wild Quell. The most powerful scene in the picture comes towards the end when Dodd becomes aware that Freddie is no longer a puppet for 'The Cause' to manipulate and bursts into a melancholy rendition of 'Slow Boat to China'. Despite the supporting role, Hoffman is omnipresent throughout the film; a testament to his acting power and his towering legacy as one of the greatest character actors in modern motion pictures.
Tom Hemingway 
Jon Savage in The Savages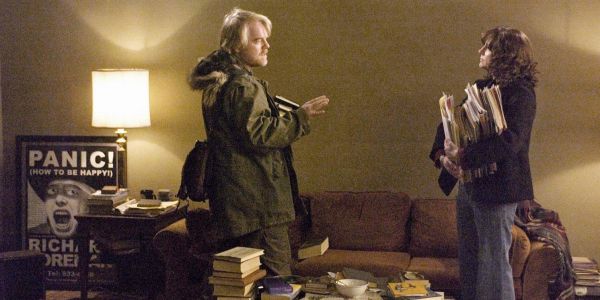 Tamara Jenkins' The Savages gives us an uncomfortably frank look at the nagging truth of mortality. When Lenny Savage slips into dementia, it's up to his two estranged, emotionally stunted children to find him a nursing home that's nice and comfortable to "obscure the miserable fact that people die". It's also pretty damn funny, thanks in no small part to its two guilt-ridden leads and the laugh-so-you-don't-cry tension created by their psychological hang-ups and bitter jealousies. While Laura Linney is intriguingly hysterical, Hoffman brings to the role a sense of restraint which feels intentionally forced, as if his sensible façade is concealing a whirlwind of grief, despair and fear of his own fragility. In siblings Jon and Wendy Savage, we see the worst impulses of everyday, self-involved people and we can only wish that we couldn't relate.
David Pountain
Max Jerry Horovitz in Mary and Max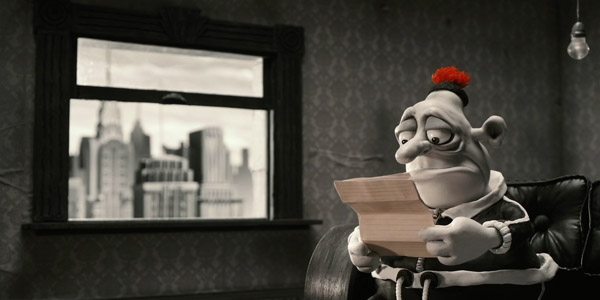 The chameleon that Hoffman was means that I saw the delightful stop motion black comedy drama Mary and Max multiple times before realising that is was Hoffman who voiced the endearing Max: a 44 year old Jewish New Yorker with Asperger's. The characters long distance friendship with an eight year old Australian girl is one of the most heart-warming stories you will likely see. Hoffman's voice work is exquisite, balancing a cartoonish broad New York accent (matching the films comedic aesthetic) with a warm heart and sentimental attachment that clashes perfectly with his crushingly literal world view that his mental health creates. The film was animated in its entirety before Hoffman began his work so this is not the kind of animation where you will swear you can see Hoffman waddling about on screen, but the conflicted heart and confusion he delivers with voice alone offer a compelling portrayal of the confusion at the heart of his character.
Patrick Gill
Dean Trumbell in Punch-Drunk Love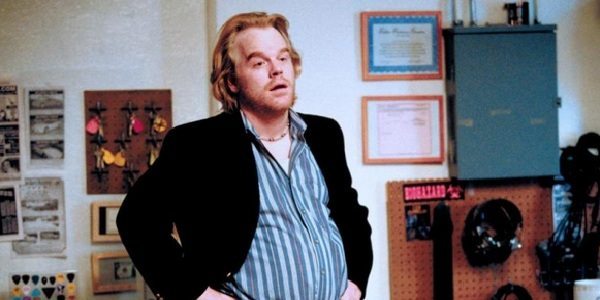 Punk-Drunk Love displays many of the reasons why Philip Seymour Hoffman was one of the greatest actors of his generation. It shows his momentous range as an actor well as an ability to steal a film with a fleeting appearance. This is Adam Sandler's movie through and through, but Hoffman as a crooked mattress salesman is able to perfectly capture his character's rage and ridiculousness while never descending into parody. Punch-Drunk Love marks Hoffman's third collaboration with Paul Thomas Anderson and while it is his smallest role, there is an inspired uniqueness to this role that makes you want to replay his few scenes over and over again. Philip Seymour Hoffman was both one of the best character actors and leading men of this generation and his death will undoubtedly leave an irreplaceable hole in the film world.
Matthew Kent
(Header Image Source, Other Images: Whatculture.com)