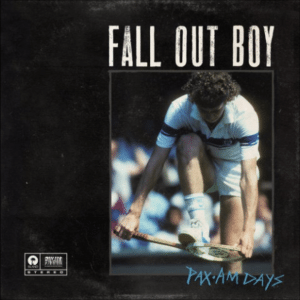 Fall Out Boy were born out of the Chicago punk scene of the early noughties, and a decade after their debut album landed, they have returned to their roots with their latest EP: PAX AM Days. Recorded in two days with producer Ryan Adams, PAX AM Days is clearly for the fans who have been attentive from the beginning, due to the stark contrast with the band's previous releases drawing more of a similarity to 2003's Evening Out With Your Girlfriend.
The most recognisable facet of Fall Out Boy's music lies in the combination of Patrick Stump's soulful vocals and Pete Wentz's lyrics. However, on the group's latest effort, such strengths occasionally come close to being drowned out by Joe Trohman's fast chords and Andy Hurley's pounding drums. Amidst accusations that Fall Out Boy have conformed to the cultural mainstream, PAX AM Days seems to further demonstrate how the band refuse to be bound by genre restraints.
'We Were Doomed From the Start (The King is Dead)' is a promising opener, packing a fun-yet-gritty riff which demonstrates the band returning to their punk roots, yet without forgetting their decade-long journey through pop-punk. This is then continued with 'Hot to the Touch, Cold on the Inside', which seems to have already established itself as a fan favourite due to its radio-friendly style, and a chant that was made for arena crowds. 'Love, Sex, Death' then returns to the authentic punk ambience previously established, which somewhat resembles The Ramones. As Stump shouts his way through Wentz's sharp lyrics in 'Eternal Summer', it is evident that it is one of the least polished songs, although that's arguably how it should be on a punk record. Nevertheless, some fans have been left questioning whether Stump's voice is a little out-of-place on such an aggressive EP.
These bursts of raw energy establish that, following their four-year hiatus, the band are still as passionate about making music as ever before.
Less notable tracks – including 'Art of Keeping Up Disappearances' and 'Demigods' – continue with the guitar-driven aesthetic: an element generally missing from the group's previous two albums. 'American Made' is then less frantic, featuring the lyric "I just want my childhood back", which stands out as one of the moments which truly aids in conveying the conventional punk-rock feel. Final track 'Caffeine Cold' feels very much like a conventional Fall Out Boy song, again with a more melodic, less clumsy style, while still retaining the raw energy present throughout the EP.
PAX AM Days – which lasts no longer than 15 minutes – will definitely not please everyone, and could well be seen as lacklustre to those who have been waiting for this record for years. However, the bursts of raw energy will be reassuring to many others, since they establish that, following their four-year hiatus, the band are still as passionate about making music as ever before. PAX AM Days ultimately proves to be a well-written and welcoming addition to Fall Out Boy's back catalogue for those worried that the band had lost touch with their beginnings.
Similar To: Blink-182, Descendents
MP3: 'We Were Doomed from the Start (The King is Dead)', 'Eternal Summer'
Related Posts