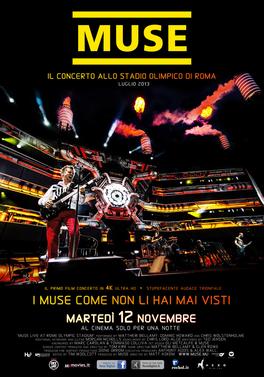 It would be fair to say that Muse, with their monicker as "one of the greatest live bands of our generation," have a lot to live up to. Their latest release, a 90-minute concert film taken from a spectacular stadium show in front of 60,000 people, goes some way to justifying this title.
Shot in 4k (which offers four times the detail of regular HD), the visuals of the gig are spectacular to say the least. Muse have grown a reputation for pyrotechnics and bombast, all of which seems finely suited to the highest available level of picture quality. The music itself is as professionally delivered as ever, although older fans will miss the intimacy of occasional rare gems which have now been replaced by hits from the band's latest two albums.
Nevertheless, the likes of 'Plug in Baby' and 'Knights of Cydonia' still offer an incredible example of the power Muse now possess, and the panning 4k camera shots truly capture the chaotic crowd in a way that makes you feel like you're in the front row. At times, frontman Matt Bellamy becomes absorbed in his own ego, venturing into the crowd to wild applause and screams. If anything, though, this confidence adds to the charm of the performance – and he of all people has earned fame through talent.
This live DVD is another strong showing from the Teignmouth titans and a sign that rock, far from the murmurs of a dying genre, is still alive and moshing.
The concert film will be released on December 2nd, 2013.
Photo: flickr/Lee Gwyn