From my earliest years when my parents would occasionally put me in front of a VHS (usually Mr Men), to the present day in which I'm TV editor of the Boar, I have watched an awful lot of TV. And no matter how much I might still enjoy discovering new shows today, it can never quite compare to the innocent and far less critical enjoyment of TV that I had when I was younger.
Children's TV for me was habitually tuning into CBBC (or occasionally CITV) after school and on Saturday mornings and so these are the shows which I remember fondly – I never had Disney, Nicktoons or any of the American channels. There are many shows that I could list off, so I've decided to pick just one for each genre to demonstrate what I think to be some of the best and most fondly remembered children's shows out there.
Live shows – Blue Peter
It's perhaps a rather obvious choice to begin – but who didn't used to enjoy Blue Peter? In particular, I used to like the craft ideas and various competitions which provided great inspiration. But I think the incredible thing about Blue Peter is its longevity. It's a British treasure that is remembered across generations and, although it probably isn't as widely watched, it's even still going today.
Honourable mentions: Dick and Dom in da Bungalow, TMI
Game shows – Bamzooki
My choice for game show is perhaps more obscure. Bamzooki was a show that felt incredibly futuristic at the time. Teams of kids would design animated 'zooks' on a computer at home and these zooks would then compete in a number of challenges hosted by Jake Humphries. My brother and I got so into this particular show that we even created our own zooks and made a video to send in and go on the show (which we never actually submitted).
Honourable mentions: Best of Friends, Jungle Run, Raven, Trapped
Drama – The Sarah Jane Adventures
I don't think I can overstate how great The Sarah Jane Adventures is. For me, this show was a gateway to watching and loving Doctor Who, but it's also a brilliant show in its own right. It was funny, exciting and told great stories. The untimely death of Elisabeth Sladen which cut short the series was truly tragic, and I wonder what might have been had the show been able to continue.
Honourable mentions: The Story of Tracy Beaker, M.I.High, Intergalactic Kitchen
Comedy – Me and My Monsters
On the face of, Me and My Monsters doesn't seem like a particularly remarkable example of children's TV, especially seeing as it came on at a time when I was getting older and slightly more critical. The premise is about three monsters who live in the basement of an ordinary family, which doesn't sound much like TV gold. What makes this show great, is that it is actually consistently funny (even for adults) and the characters all have a genuinely affectionate chemistry which makes the family believable and fun to watch.
Honourable mentions: Bear Behaving Badly, The Basil Brush Show, Horrible Histories, ChuckleVision
Animation – The Secret Show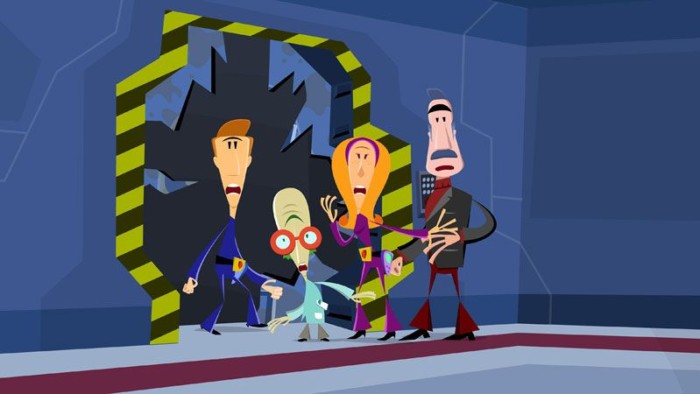 I've saved the best until last. Not only were animated shows generally the ones I liked best, but The Secret Show without a doubt stands up as the best show from my childhood. In fact, I'd go so far as to say that it's probably the best show I've ever watched – I could write a whole article eulogising about it. The Secret Show is fast-paced and hilarious, with episodes that take absolutely ridiculous ideas (racing with monuments, snuffing out the sun, paying the Earth's rent etc.) and make them into twelve minutes of action and excitement. The show was also interactive, with countless running gags, Easter eggs and an engaging website that allowed you to join either UZZ (the good guys) or THEM (the bad guys). If you don't remember it then you probably just took too seriously the show's trailers which repeatedly told viewers not to tune in.
Honourable mentions: Arthur, Top Cat, Time Warp Trio, Animalia, Scooby Doo, Pinky and the Brain, Watch My Chops
These are just some of the many great kids shows that I enjoyed, and you'll probably have your own preferences. I think I should probably just end with the disclaimer that, although I enjoyed TV, I didn't spend the whole of my childhood in front of the box. Rather, these shows often inspired activity beyond the screen from arts and crafts inspired by Blue Peter, to playing games about The Sarah Jane Adventures with my sisters, to writing many Secret Show episodes of my own. And that, I think, is what the very best children's shows should do.
Related Posts