"Warwick Tramps, we are fine……"

Website: http://warwicktrampoline.wix.com/warwicktrampolining

Facebook: https://www.facebook.com/University-of-Warwick-Trampoline-Club-107959899238894/timeline/

Twitter: https://twitter.com/WarwickTramps

Instagram: https://instagram.com/warwicktramps/
Advice to incoming club freshers
Get involved! University is a big step and can be daunting at first. The easiest way to settle in is to join clubs and societies as you'll meet loads of like-minded people and quickly make friends.
Don't be afraid to try something you've never done before! Most people who join our club have never done any trampolining, but by the end of the first year have gone up at least two grades and have learnt to somersault as well.
Our club takes everyone, whether they've never got on a trampoline, have bounced at school, or are national level. We also hold weekly socials and go abroad on tour at Easter, so there's always something fun going on!
Come find us at sports fair and go to our free taster sessions in the first two weeks of term!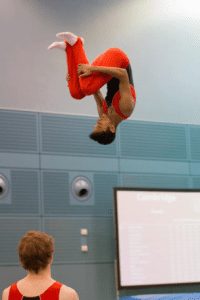 Targets for next season
We've had a successful year this year as we won the most BUCS points ever with our men's team coming 5th at the BUCS trampoline championships; we have more qualified student coaches than ever before and more qualified at higher levels as well; we joined the Southern Universities Trampoline League and so had more opportunities to win medals; and we continued our volunteering programme, 'Project Bounce', where our members taught trampolining to children in local schools.
We want to build on this success in the upcoming season! Our main targets are:
Charity – We want to raise £1500 for charity – This is a goal we have already started on with our 12 hour bounce for Breast Cancer UK.
Participation – We want to increase our overall membership but also increase the amount of members bouncing at an elite level – This is something that will begin to happen now with our increased amount of higher level coaches.
Equipment – We want to host a competition for the Southern Universities Trampoline League (SUTL) and we also want to obtain two new 4×4 trampolines for our club, which is the higher level, competition standard equipment – We have found out recently that our bid to host a competition for SUTL was successful, meaning that our annual Warwick Competition will now be attended by even more competitors! We also have bought one 4×4 trampoline and are beginning the process to apply for funding to get another one.
Training times and locations 
We train in Desso Hall on the following days:
Monday            15:30-17:30
Tuesday           13:30-16:30
Wednesday       11:30-13:30
Friday              17:30-19:30
Saturday          13:30-15:30
We also have a conditioning session in the Studio on the 2nd floor of the Sports Centre:
Saturday          15:30-16:30
Club President
Darren George (below)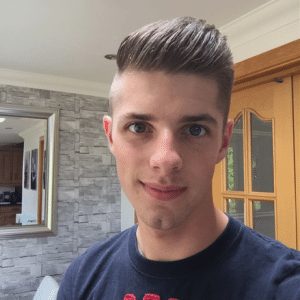 Number of members
80 members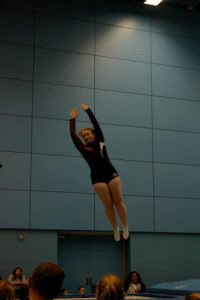 [divider]
Teams and Competitions 
Number of teams
Anyone can compete for us, we don't have teams! Our competitions have different grades from Level 6 Novice to Level 1 Uber Elite, so when we go to comps we aim to bring as many people as possible so that we have a better chance of getting more medals!
[divider]
Social
Biggest club social
Warwick Comp! This year will be our 22nd annual competition here at Warwick and we'll have more competitors than ever, with pizza and our brilliant social after the event. Everyone enjoys the comp as it's a chance to compete in our own hall, on our own trampolines and we often have members compete who've never been to a competition before.
We also have our annual Tour! This is another massive event, where we spend a week exploring the place we're in, sightseeing, going to the beach and enjoying the local nightlife. Past locations have been: Tenerife, Lanzarote, Morocco and Barcelona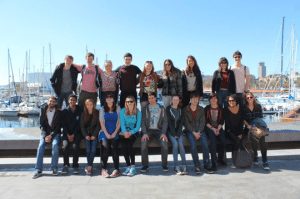 Club BNOC (Big name on campus)
Polly Watson (below), our vice president, as she won Sportswoman of the Year at Sports Ball this year.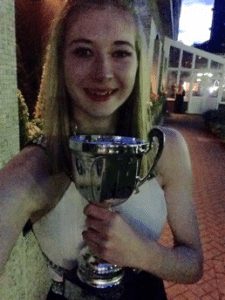 [divider]
Charity
As part of the Warwick Student Arts festival in term 3, we set up two of our trampolines by the Koan, outside the Arts Centre. We decided to take this opportunity to hold a charity 12 hour bounce for Breast Cancer UK and ended up raising over £500.
We also raised £413 for the Cystic Fibrosis Trust at Warwick Comp 2015, with some of our brave, male members getting their legs waxed!
Our members have also individually raised money for many different charities including Action Against Hunger, Cancer Research UK and Medecins Sans Frontieres.