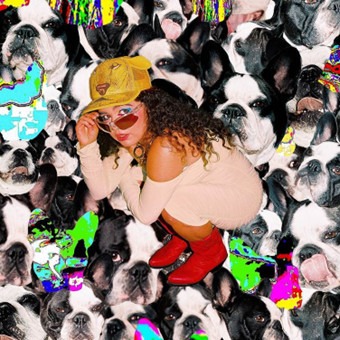 Day 25
Juno (2021) – Remi Wolf
I did go to see Chicago on its UK tour on this day, but I have seen that show before so it wouldn't be in the spirit of the ancient tradition of Album-pril to count it. So instead, I listened to this. It's a bit of a wild choice for so late in the game, when I'm trying to expand my palette a little, but when a housemate and friend of 4, and 6 years, respectively, gives you a recommendation, you listen.
Remi Wolf is actually slightly older than me but this gives such 'Gen-Z vibes'. I don't have a huge amount to say about it. You can probably guess how it sounds from the album art. I added 'wyd', 'Quiet On Set', and 'Buzz Me In' to my playlist for this month, but none of them blew me away. Based on Spotify, it seems 'Sexy Villain' is the most popular, but I found that one kind of boring. I might just be a bit saturated with funky alternative/indie music this month.
Cover art: 7/10 it totally fits with the whole thing she's got going on, but it also looks like my very talented cousin Aidan whipped it up in 45 seconds.
Album name: 7/10 it's a cool name but I don't really get it or how it relates to the content. I feel like she should have gone all in on the meme culture.
Bangers: 3/13
Overall vibe: Straight out of Tumblr, to be honest. I might be too old for this.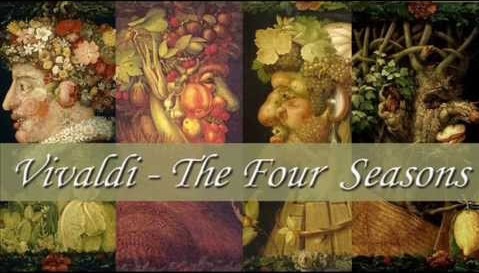 Day 26
The Four Seasons (1725) – Antonio Vivaldi
I wanted to make sure I covered a wide range of music and there was a giant 18th-century instrumental hole in my list so far. I'm not sure if just these four concertos technically constitute an album, but the entirety of The Contest Between Harmony and Invention was way too long, so this segment will have to do.
I've been informed the accompanying sonnets technically make it one of the earliest concept albums. While most Baroque music tends to blur together to my ill-educated ear, if you like Baroque/Classical/Romantic-era symphonies then this album is a good listen. Easy to zone out to, but equally good to hum. Spring is the best, obviously, and everyone will recognise 'Violin Concerto in E Major, Op. 8 No. 1, RV 269 Spring: I. Allegro' (if not by name), its first movement, and opening to the whole collection. I generally prefer the allegro movements across all four concertos to the adagio/largo middle movements. While I'd happily play the whole album if the mood hit me, the only other piece I added to my playlist was 'Violin Concerto in G Minor, Op. 8 No. 2, RV 315 Summer: I. Allegro non molto'.
Cover art: Not really applicable, I'm not sure they had album art back in the day (correct me if I'm wrong!). I've put here the art from the YouTube video I watched, which I'll give a solid yet creepy 7/10
Album name: 10/10 it risked being basic but manages to just be classic, possibly due to how early they grabbed it.
Bangers: 2/12 but I wouldn't skip anything.
Overall vibe: Classic FM but without all the garbage early-20th-century Expressionism.
Next time: 2020 albums from an English indie rock band and an indie folk duo I discovered through a Netflix original series.