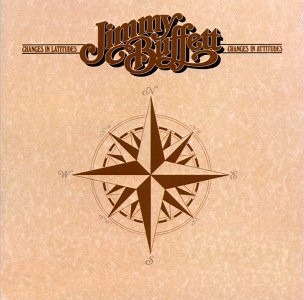 Day 13
Changes in Latitudes, Changes in Attitudes (1977) – Jimmy Buffett
I think I only know Jimmy Buffet from the episode of It's Always Sunny in Philadelphia where they're excited to go see him in concert and hope he performs 'Escape (The Piña Colada Song)', which most of the gang mistakenly attributes to him. Having heard some Buffett now, I can understand their confusion. It's definitely that kind of vibe. It's also a way better song than 'Margaritaville'. I chose this album of Buffet's in particular because of its brilliant name, but ended up not being that impressed.
I ended up adding a fair few tracks to my Album-pril 2022 playlist but I think I just appreciated that they were good examples of the genre, rather than actually being songs I liked. Oh well. They were 'Banana Republic', 'Changes in Latitudes, Changes in Attitudes', 'Margaritaville', and 'In The Shelter'.
Cover art: 7/10 tenuous reference to latitudes but not an attitude in sight. Sick font though.
Album name: 10/10 in theory, brilliant. Can't get enough.
Bangers: 4/10 nobody is more surprised than me; if I listened again, I'd probably cut some.
Overall vibe: Pre-smart phone beach party.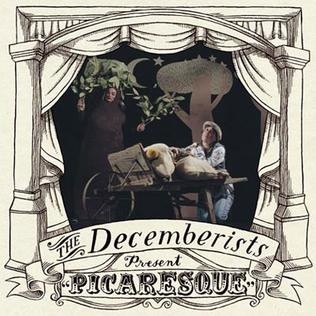 Day 14
Picaresque (2005) – The Decemberists
I think one of my housemates was playing 'The Mariner's Revenge Song' in the house one day and I immediately added it to the list. It was just so different to the music I'm typically exposed to; I have no idea what genre this is but it's pretty cool. I think I'm going to call it indie folk but I'm not sure if that's how they would describe themselves. I don't have much to say about it but 'The Infanta', 'We Both Go Down Together', and 'The Mariner's Revenge Song' are my three favourites from this album. They seem to tell such rich stories, each one feels like it has a beginning, middle, and end – directly flying in the face of the two-line chorus repeated dive times of some modern pop.
Cover art: 7/10 I really like the stage vibe and the pencil proscenium arch but I'm not really sure what's on the stage or how it relates to the music.
Album name: 10/10 I think this is a very cool word and it actually applies to the stories in the songs on the albums, so what more can you ask for?
Bangers: 3/10 but my system is flawed because I compare them to other tracks on the album, so bad albums end up with a 'banger' that's worse than a non-banger on a good album. I really did like, enjoy this, I swear.
Overall vibe: Plundering voyage?
Next time: A recently revived musical's UK tour and a cover album from the winners of season 21 of 'The Voice'.