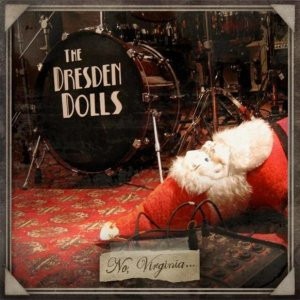 Day 5 
No, Virginia (2008) – The Dresden Dolls
Amanda Palmer is killing it right now, and I find her absolutely fascinating. She is one of the most transparent and emotional human beings I'm aware of, and this is rewarded by her prolific crowd-funding. I initially discovered her through her 'Ukulele Anthem' (back in another life when I was president of a student ukulele society), and even the weirdness of that number doesn't quite prepare you for her old Brechtian punk cabaret duo with Brian Viglione. I knew I wanted to do a deep dive into her entire discography, so I didn't spend any time selecting an album to listen to for this, I just clicked on No, Virginia.
I initially wasn't sure about it, but the opening track 'Dear Jenny' quickly grew on me and I added it to playlists before its 3:07 was even up. Other numbers I particularly connected with include 'The Gardener' (although I still have no idea what it's about, it is nice and creepy with a simple but bass part) and 'Lonesome Organist Rapes Page-Turner' – a song that came to be thanks to Palmer's ability to imagine horrendous headlines about a guy she went to university with (the one-man band, Lonesome Organist, who is not best pleased with being the inspiration for such a dark song).
Cover art: 6/10 I have absolutely no idea what is going on here. Initial thoughts are why is Santa there, this album was released in July!? But the more I stare at it the more weird stuff I notice and maybe I do kind of like it after all. But I resent having to think this much about an album cover. Cool fonts.
Album name: 6/10 I probably should have listened to Yes, Virginia first, so I can't really comment. Being self-referential is cool though.
Bangers: 3/10
Overall vibe: Sit in a dark room and think about how messed up everything is but maybe also light a candle and read a really long work of fiction (perhaps Neil Gaiman.)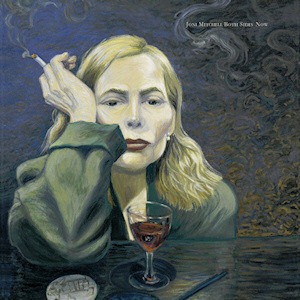 Day 6
Both Sides Now (2000) – Joni Mitchell
A true concept album, (although not on Spotify, classic), Mitchell manages to take songs by a variety of artists and cover them in a way that weaves every track into a seamless journey of emotion and vibes, with the titular 'Both Sides Now' being the only vocal standout. The original recording of this song was released as a single in 1968 and then on her album Clouds, before being re-recorded and re-released for this album decades later. I obviously chose this album because of the 2003 film Love Actually, and because I hoped it would teach my cold English self how to feel. I think I'll grow into the emotions it stirred up in me – truth be told, I don't feel quite ready for them yet.
Cover art: 9/10 iconic. Would be a 10 but when I saw it in the early 2000s I was expecting a gold necklace and I'm still not over it.
Album name: 8/10 if you insist on naming the album after one of the tracks, make it the best one. Although this is a re-arrangement/re-release, she clearly learnt her lesson and it's sort of cheating because she already knew it was a great name/song, plus the original Clouds is a deceptively good album name).
Bangers: 1/10 but the entire listening experience is seamless – this is what albums are for!
Overall vibe: I am a strong independent woman who just needs a brief cry because I have been cheated on despite me being one of the most endearing characters and actors in the history of British film. Very emotional, instantly transported to that very unrelatable scenario
Next time: two of the biggest rock/heavy metal albums in existence.