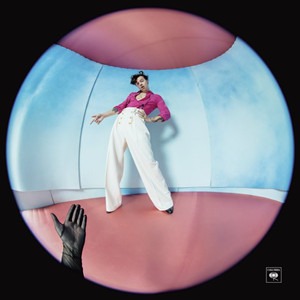 Day 3
Fine Line (2019) – Harry Styles
Although it's been years since I've rewatched a compilation of the One Direction members' X-Factor journeys, I still respect Harry Styles a lot (despite me allegedly having referred to him at times as "a poor man's Billy Porter"). The only solo Harry Styles song I really knew was 'Sign of the Times'  – an absolute unit of a tune, but I didn't want to choose two albums by one artist and the album that track appears on was not the one recommended by my housemate. This one was.
'Watermelon Sugar' (which I recently learned is not about vaping) has been so overplayed these last few years that I didn't particularly enjoy listening to it again, despite its undeniable BBQ-vibes – the same is true of 'Sunflower, Vol. 6' (and where are the first five volumes?). I was pleasantly surprised by 'Canyon Moon', which I'd never heard, and also 'Falling', which I had but hadn't quite clicked that it was Styles. The last track, which the album is titled after, is kind of weird; it gives me musical finale vibes at points, which is no bad thing.
Cover art: 8/10 instantly recognisable but very round considering the album is supposedly about lines. Explain yourself, Harry.
Album name: 4/10 continues the odd trend of artists naming albums after one of the worst tracks on the album (here's looking at you, Ariana Grande's Sweetener).
Bangers: 4/12 I've been generous and included two I didn't love because it's not their fault they're overplayed bops.
Overall vibe: In the background of a BBQ – NOT to be played indoors under any circumstances.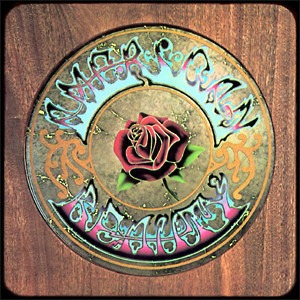 Day 4
American Beauty (1970) – The Grateful Dead
Gatekeepers won't like this but I kept getting ads for Grateful Dead merch, some of which I thought looked really cool, but I don't want to wear merch I don't understand, so here I am trying to understand it. I chose this album almost at random from their discography and maybe I made the wrong choice because I wasn't super impressed with any of it. Apparently, they were very good live (ironically) but most tracks on this album didn't even stand out enough for me to comment on. 'Friend of the Devil' is okay but I don't think it's anything The Charlie Daniels Band doesn't do better. Guess I won't be buying that merch after all.
Cover art: 4/10 kind of a cool design though not the ideal font in terms of writing legible words. The bigger issue is that it looks like they made a cool piece of art, slapped it on a table, and then took a picture with a Daguerreotype camera. Showing its age perhaps.
Album name: 5/10 ya basic. I don't care if it was 1970, you should have considered search engine optimisation.
Bangers: 1/10
Overall vibe: Maybe if you're doing some dusting but you can't listen to a podcast because people keep trying to talk to you, you could put this on quietly in the background.
Next up: a compilation album from a duo with a cult following, and a concept album my generation may recognise from a rom-com.