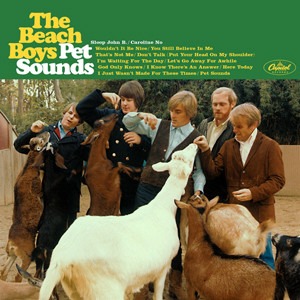 Day 1
Pet Sounds (1996) – The Beach Boys
I thought I liked The Beach Boys but it turns out I just like 'Wouldn't It Be Nice' and 'God Only Knows'. I don't remember why I landed on this album in particular, but I lowkey regret that decision. 'Wouldn't It Be Nice' is a classic banger. 'You Still Believe In Me' has weird lullaby vibes. 'That's Not Me' and 'Don't Talk' both suck, while 'I'm Waiting For The Day' felt Christmassy at times, and I must've blacked out at some point after that. I found the overall album kind of dull and unnoteworthy, with the exception of 'I Just Wasn't Made For These Times' which at least has relatable lyrics. One downside of having to use playlists on YouTube is that they may not be 100% accurate. Apparently, this album is meant to have more tracks (an A and a B side) and include 'God Only Knows', but I can only speak to what I listened to. This is an intense challenge and I can already tell I won't have time to revisit this.
Cover art: 6/10 love goats but wild choice, and really shows its age
Album name: 2/10 no pet sounds were heard on this album
Bangers: 2/13
Overall vibe: Dull background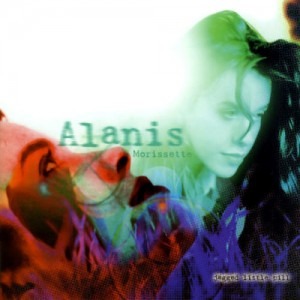 Day 2
Jagged Little Pill (1995) – Alanis Morissette
I had recently rediscovered 'Hand In My Pocket' (yes, on Tik Tok), and it turns out I knew a bunch of her other stuff too but didn't realise. This album was cited on a recent episode of the 'Off Book' podcast as incredibly influential on Jessica McKenna, and anything that contributed to whatever kind of talent freak she is is definitely something that I want to try. There are so many great tracks on here. 'Mary Jane', 'You Oughta Know', and 'Ironic' have all made it onto playlists, despite that last song seeming to not know the definition of its title. I was especially fond of the last number, a hidden cappella track called 'Your House'. It's so harrowing without instrumental accompaniment that I thought it was about losing a loved one to death, but as it goes on it becomes clear it's an equally upsetting song about a breakup. Unfortunately, Spotify doesn't have the a cappella version separated from its preceding 'You Oughta Know Remix', which is fun but it's difficult to improve on the original.
Cover art: 7/10 I like what they were going for but I can't read the smaller text
Album name: 10/10 maybe one of the most memorable album names since The Dark Side of the Moon. The jukebox musical kept the same title because there's literally no way to improve upon it
Bangers: 6/14
Overall vibe: I'm having a party and we're all wearing crop tops
Next up: an ex-boyband star's second solo album, and a folk rock album that's over 50 years old.