Over a hundred University of Warwick students attended a protest this afternoon in support of student welfare. 
The protest, organised by Protect Warwick Women (PWW) and Shame on You Warwick (SOYW), was previously postponed as a result of bad weather. 
It involved speeches made by the organisers of the protest, as well as the testimonies of survivors of sexual misconduct and how that affected them on campus. 
Explaining the reasons for the protest on their Twitter page, PWW wrote: "We refuse to let this University ignore the concerns of their students, and treat engaging with out demands as a tick box to be half-heartedly checked off."
Speaking to The Boar about the turnout of the protest, Emilie Eisenberg, founder of SOYW, said: "Every time we protest, the crowd gets smaller. It's called activism fatigue, and it's frustrating.
"We are just students, not professional activists, so we can't just change tactics, and it's difficult because of the pandemic."
Cai Kennedy, co-founder of PWW, added: "In terms of turnout, I'm glad people still care and have showed up. We are going to keep going, we will occupy at the end of term but will be reoccupying in September for a fresh start."
Arriving at the piazza despite the rain, many protestors came holding hand-made signs and participated in chants supporting the protest and its aims.
We just want the University to do anything. They've given up on us.

– University of Warwick Student

 
Chants included "stop the violence, stop the rape" and "hey hey, ho ho, Stuart Croft has got to go". 
One survivor of sexual assault of campus who spoke at the protest said: "What frustrates me is I know I did exactly what I was supposed to do. I feel like the University of Warwick has failed me personally."
"I am here to show my solidarity with these very brave young people," said a second-year History and Politics student when asked why he chose to attend the protest.
"It takes incredible determination to keep up an occupation."
During a speech, Brin Arnold – a co-founder of PWW – spoke out about the University, condemning their communication with the protestors and the support that is in place for students. She said: "They are going out of their way to prioritise and belittle our work, so that they don't have to admit their inadequate policies and sub-par support services allow for assaulters to walk freely on campus and tell survivors of assault that their experiences are not important enough to warrant significant change.
"I am so sick of crying to these people on Teams and seeing them not even flinch. These are the people whose jobs are to ensure the wellbeing and protection of their students watching us break down in front of them and literally not even flinching. 
"And then, having the audacity to say that they're offended by the fact that we're telling them it doesn't look like they care about the wellbeing of their students."
The organisers also alleged that the University claim that sexual assault training for staff on campus is approved by the SurvivorsTrust is not true, having contacted the trust themselves. The Boar is investigating this claim.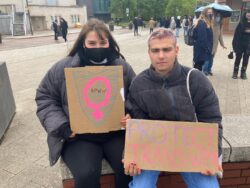 Protestors holding their signs. Image: The Boar / Ellie MacArthur
When asked about why they attended the protest and what action they hope the University will take in its aftermath, many commented about how grateful they were for the action and support of PWW and SOYW. 
One pair, who sat on the piazza in the middle of the protest, held a sign that said: "Rather let your students freeze and starve". They said: "It just means a lot that they're doing this.
"We just want the University to do anything. They've given up on us."
Recently, the University have released a community statement where they have outlined their progress over the last academic year. Measures introduced under 'prevention' include making the Warwick Values module mandatory for all students, compulsory consent sessions for students, "all new foundation, UG and PGT students will participate in mandatory, timetabled, 'Introduction to Active Bystander' workshops", "'Flip the Script' training which focuses on the empowerment of women", "a White Ribbon Campaign and accreditation Scheme for Male Allies", "peer-to-peer Toxic Masculinity project training",  and "increased signage to support on campus is being displayed in key campus spaces to ensure members of our community can easily access support if they need it".
They have also introduced personal alarms and information on support and consent which will be shared via campus residences at the start of the new academic year and available to all students not resident on campus. Alarms are available on demand in the meantime via the SU.
In April, the University of Warwick issued a statement asking PWW to call off their occupation of the piazza, where they have currently been for over nine weeks. 
They asked that the protestors continued to work with the University, adding: "We believe that working in partnership is the most effective way of finding long-term solutions. Ultimately, we all share the same determination to tackle sexual misconduct and to ensure all members of our community feel safe." 
They also highlighted some of the demands over which the protesters and the University have disagreed. They said that this included two areas: training and security.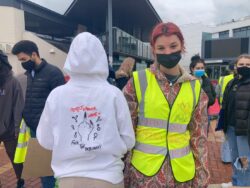 PWW organisers. Image: The Boar / Ellie MacArthur
The University explained that they disagree with the approach of the occupiers, maintaining that they "have been saddened to see personal attacks against members of staff".
PWW have since claimed that the University has ceased direct contact with the protestors. Instead, they alleged that the University is communicating with them indirectly through Warwick Students' Union. 
PWW have recently launched an 'Open Letter to Stuart Croft and Warwick University'. This letter has been signed by over 660 people, and demands that the University agree to the list of demands published by the occupiers. 
The last few months have seen a variety of activism at Warwick University campus. This week, a 'Palestine Solidarity Protest' was held which was attended by hundreds of students. Last November saw a march against sexual assault organised by SOYW after a petition launched by Laila Ahmed gained momentum. It has since been signed by over 60,000 people. In March, a vigil was held on campus following the death of Sarah Everard.