Most 20-year-olds wouldn't describe the past months as being the most successful of their lives. With a national lockdown and universities closed, many young people have seen themselves in slumps in terms of ambition and career trajectories. But Arlo Parks has instead seen herself bouncing from success to success.
Anaïs Oluwatoyin Estelle Marinho, otherwise known as Arlo Parks, has been BBC Radio 1's 'Tune of the Week', graced the cover of NME, done an NPR Tiny Desk concert from her South London home and landed a place on the longlist for the BBC Sound's Breakthrough Artist – all within 2020. Getting recognition from global artists such as Hayley Williams and Billie Eilish, Parks is reshaping the music scene. 
Her newfound fame has come off the back of her single 'Black Dog' that sees Parks coax the listener out of a dark mental space. Singing that she'd "lick the grief right off your lips" and that the human mind is "cruel for no reason", the song has resonated with the public, especially in the context of the turmoil many have faced the past few months.
Parks has extended herself beyond providing comfort through music and has taken up a role as CALM ambassador. Candid about her own mental health with her rising number of fans, her music has connected with a generation of anxious young people who are growing up in an increasingly complicated world.
Her music contains the teenage confusion and angst that the rock and indie scene has always had, but through an exciting new lens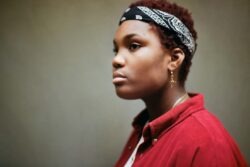 As a self-professed outsider, Parks has done a great job at encompassing multiple modern influences and genres well, mixing them with her own identity. Female, black and bisexual, with heritage from Chad, Nigeria and France, her music is a blend of indie-pop, low-fi and R&B. 
On 'Sophie', a voice that bears similarities to the electro-funk artist NAO's rings out over the clear metallic sounds of a snare and laidback basslines as she talks about "blowing bubbles in the face of thugs". Part of a big upsurge of LGBTQIA+ women singing about their relationships in the past couples of years, her record 'Eugene' sees her exploring the blurring of platonic and romantic boundaries. 
Cultural references to the alternative scene in the form of Courtney Love and Gerard Way shows her songs pay homage to a music scene that has historically kept people who look like Parks out of their image. Her music contains the teenage confusion and angst that the rock and indie scene has always had, but through an exciting new lens. 
Through the poetic lyrics and smooth, laid back instrumental tracks, Parks has begun to craft a promising path through the music industry. A new blend of life's chaos over relaxed beats makes her music unique – perfect for a year that has felt like a never-ending nightmare. One positive takeaway from 2020 is Arlo Parks, shifting the alternative and indie scenes towards a new style and image. 
Related Posts