Although excellent in highlight reels, clips don't quite do David Silva justice for how he's orchestrated play as the heartbeat of Manchester City's midfield for a dazzling decade. Considered by many as the club's greatest ever player, Silva has now moved on to pastures new, returning to his home country with impressive Spanish outfit Real Sociedad.
After winning 11 major trophies, including four Premier League titles, how City replace their club legend will be at the forefront of Pep Guardiola's mind as the 2020/21 season rumbles on.
David Silva provides balance to the midfield by dictating the tempo
Although he enjoyed great success throughout his time with the Citizens, David Silva particularly excelled under superstar manager Pep Guardiola and has won six major pieces of silverware since the Catalan's arrival in September 2016. During this period, Silva received even greater acclaim, featuring twice in the PFA Team of The Year. Under Guardiola, Silva most commonly operated as one of two "free 8s", playing alongside and to the left of Belgian playmaker Kevin De Bruyne.
Despite operating in similar positions, their roles in Guardiola's system have been markedly different. Whilst De Bruyne utilises his abilities to play riskier passes and strike the ball from distance to provide a greater goal and assist threat, the metronomic David Silva provides balance to the midfield by dictating the tempo of the team.
Silva is a maestro of La Pausa – a Spanish idea where the player in possession pauses with the ball to lure defenders out of position, before speeding up play or making a pass to exploit gaps created in the opposition defence. This phenomenal ability allows City and Silva to create more chances, control possession and dictate the tempo of a match – speeding play up or slowing it down with ease when City require it.
Additionally, it can prevent against counter-attacks, as fast and intelligent passing leaves opponents disorganised and not in their preferred positions to counter. The roles of Silva and De Bruyne in Guardiola's team bear out in the statistics with Silva having more passes per ninety minutes (72.4 – 60.9) and a higher pass completion rate (89% – 82%), while De Bruyne tallies more long balls (2 – 5.4) and assists (0.49 – 0.64).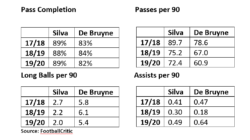 So how can Man City replace David Silva?
---
With David Silva lacking the physical attributes he once had, German midfielder Ilkay Gundogan has been preferred by Guardiola in recent big games, with Gundogan playing every minute of City's 2019/20 Champions League campaign.
Gundogan perhaps often gets the nod due to his own proficiency of La Pausa, with him showing great patience on the ball and an ability to dictate tempo which few of the City squad have. This, coupled with excellent technical ability, shows in the statistics with excellent pass completion and passes per 90 statistics. Hence, he possesses the Silva-esque ability of setting the tempo and making the team tick.

However, two criticisms are commonly posed against Gundogan by City fans and pundits alike. Firstly, he shows a severe lack of attacking creation. His assist ratio pales in comparison to David Silva's and he created only 11 big chances across the last three seasons compared to David Silva's 41. This means the majority of Manchester City's creativity falls on De Bruyne's shoulders when Gundogan is alongside him, as Gundogan provides a significantly less creative threat. Due to this, he has more recently been deployed in a single or double midfield pivot, charged with controlling possession from a deeper position.
Secondly, Gundogan's lack of mobility and stamina when compared to other midfield options, Phil Foden and Bernardo Silva, can leave City short of energy in midfield. This is especially relevant now as ageing holding midfielder Fernandinho has been replaced by the slower and less energetic Rodri.
Bernardo Silva twice broke the Premier League's records for distance covered in a match during the 2018/19 season, whilst Phil Foden had City's highest distance covered per ninety in that same season. However, Gundogan is clearly no slouch in this area and the difference here can be greater attributed to the phenomenal energy levels of Bernardo Silva and Foden, rather than Gundogan being lazy or unfit.

It should be mentioned that Foden came on as substitute more often in this particular season, so his stats are perhaps misleading. However, Foden's a player renowned for his energy levels, as shown by him covering 9.21km in only 66 minutes in 2020's crunch Champions League tie against Real Madrid.
---
During De Bruyne's long injury layoff, Bernardo Silva excelled in central midfield alongside David Silva and was awarded the club's Player of the Year in 2019. However, Bernardo fell out of favour last season and potentially faces a make or break year ahead. As well as phenomenal running stats, Bernardo Silva has excellent technical ability and provides a significant creative threat with more assists, big chances created and goals than Gundogan – though fewer than David Silva.

A key criticism of Bernardo is his lack of pausa. His passes per 90 are significantly lower than Silva and Gundogan's. With passing statistics more similar to De Bruyne, he appears more suited to De Bruyne's midfield role than David Silva's and performed so excellently there in 2018/19. In addition, a simple eye test suggests Bernardo fades in and out of the game more and tries more killer passes instead of dictating City's possession and tempo with shorter, metronomic passing.
---
Often lauded as David Silva's heir by the media, Phil Foden's case to start in central midfield would appear a strange one. Despite his technical proficiency and significant goal threat, his lack of attacking creation is a worry, with zero big chances created last season. Additionally, he has the lowest passes per 90 of City's midfield options, and like Bernardo, lacks the pausa to set the tempo of the game like Silva or Gundogan.

Despite his high work rate, Foden also appears weaker defensively. His defensive positioning and awareness are weaker than both Gundogan and Bernardo with significantly lower interceptions and recoveries.
At this early stage in his career, Foden seems better suited to cutting in and providing a goal threat from wide than setting the tempo himself from central midfield which tallies with Guardiola wanting him "closer to the goal". Whether he could develop into a Silva-esque player remains to be seen, but he's more likely one who could more ably replace De Bruyne when moving inwards in future years.

---
Reports suggest City aren't interested in signing a new midfielder this window, which seems strange as tempo controlling midfielders such as Thiago Alcantara and Houssem Aouar are seemingly available. Assuming this remains the case, Gundogan would appear best suited to replace David Silva as the heartbeat of Man City's midfield despite having less energy and a weaker creative threat than other midfield options. Due to his proficiency in la pausa, it is difficult to see how he won't again be important to Guardiola this season.
If Gundogan alone doesn't provide enough control for Guardiola in David Silva's absence, Bernardo or Foden could tuck in on the left side to provide extra control and defence against counter-attacks. Tactically, this would work as Benjamin Mendy (or a new signing such as Jose Gaya) could exploit the vacant space down the left-hand side.
City fans have plenty of reasons to be optimistic this season
Another replacement for Silva could be Bernardo Silva, alongside a tucked in winger giving extra control of tempo and possession coming, though a false nine (such as potential target Joao Felix) could do the same job by drifting into midfield. Bernardo and others may have to adapt their games for this to work, but it may preserve the extra attacking threat and energy that Gundogan's inclusion potentially limits.
City fans have reasons to be optimistic this season with a devastating attack and big bucks to spend on new recruits. However, David Silva's unique abilities suggest that no one at City (or perhaps even in world football) could seamlessly slot into his midfield position without time to acclimatise or tactical tweaks to the system.
Therefore, how City adapt without their greatest ever player pulling the strings in midfield will surely be pivotal in determining whether they regain their Premier League crown.
Related Posts