Around 50 young people took part in a strike against climate change in Leamington Spa on Friday 12 April.
Protesting outside the Town Hall and marching up and back down the parade, the students from a number of local schools called for immediate action to tackle climate change.
Over 60 towns and cities across the UK were also involved in coordinated strikes organised by the #YouthStrike4Climate movement.
A further 30 countries from across the world saw tens of thousands of young people striking for action to be taken against the climate crisis.
The global strike was the youth movement's third major demonstration this year. It was the first time that Leamington Spa officially joined, where the strike was entirely student-led.
The movement was inspired by Greta Thunberg, a 16-year-old Swedish activist, who started to skip school on Fridays to protest against climate change outside Sweden's Parliament in August 2018. Last month she was nominated for a Nobel Peace Prize for her work.
The organiser of the Leamington strike, a student from one of the local schools, told The Boar: "I don't think we're doing enough in Leamington Spa to be honest because as you can see it's mostly our youth.
"Obviously we don't have the vote yet because we're 15, 16. We can't change our future unless we do something which people see as rebellious even though we're not trying to be."
They added: "Some of our schools were supportive, our's was not."
Another student added that the purpose of the strike was "just about raising awareness" of the issues surrounding climate change.
The students led chants such as "climate change is not a lie, do not let our planet die" and "why can't all you people see, there is no planet B".
Some of the students in attendance said they had been threatened with detention by their school if they skipped class to take part in the strike. One of several parents present added that one school had sent out an email warning against children going.
Earlier today, @MattWestern_ MP spoke to Leamington youths about climate change and #YouthStrike4Climate outside the Town Hall. See a snippet of his speech below. You can find the full version on our Facebook page, https://t.co/otNEVA8B8G pic.twitter.com/2xt60P0LWo

— The Boar News (@BoarNews) April 12, 2019
Warwick and Leamington MP Matt Western addressed them outside the Town Hall. He said: "I think it's terrific that you're campaigning on this. I wanted to come down just to meet with you to hear what you have to say.
"It's very important that people like myself as representatives of the community for everyone – irrespective of party politics – to actually get the word from you."
He added: "I know you'll possibly be in trouble with your schools, but sometimes people have to take action when they are so moved. I congratulate you for being activists in that respect."
Speaking to The Boar about his thoughts on the youth climate strikes, Mr Western emphasised the importance of "young people making their voices heard".
He added that it was "critical" that representatives such as himself "were informed by the views of others" and especially young people, "as the policies that we set today will lay the foundations for what sort of society we live in 20 years, 40 years from now".
While he said that he "can't necessarily condone or condemn what they do", he does "really admire what they're doing".
"If that's the best way of getting the attention of others, the ends justify the means," he stated, adding that the strikes "are really having an impact on politicians in this country and that's a good thing".
Mr Western shared that climate change is "an issue" that has "concerned" him "for decades" and he now hopes that there will be an urgent debate on the issue in Parliament, having requested it twice.
"We probably have many of the answers and solutions to the challenges here in Warwick and Leamington," he said. He listed relevant organisations and companies in the area, including the Universities of Warwick and Coventry, Warwick Manufacturing Group (WMG), and Jaguar Land Rover.
He also said: "The tough thing is, energy costs have become so cheap that it's so easy for people just to jump in the car. They don't think twice about doing it."
"We have to think about the real costs of energy, not just the cost of energy and use, but the implications of use of energy," he added, and referred to the Warwickshire Energy Plan.
#SchoolStrike4Climate is such a massively inspirational movement and to see such a huge interest in caring for our future and the environment is brilliant

– Becca Brown
When asked about the responsibility that has been placed on young people to tackle issues such as climate change, Mr Western answered: "I think the older generation needs to take much more responsibility.
"There is considerable wealth in the older generation that needs to be used to benefit the younger generation."
During the strike, he invited a number of the young strikers into the Town Hall for a meeting on what they think he should raise in Parliament.
The students voiced concerns about the way that climate change is being taught in schools, believing that not enough emphasis was being put on the negative consequences.
They thought that responsibility should be shifted from the individual to the public, and large corporations should be "condemned" for their contribution to climate change.
They also proposed to increase the number of local recycling bins.
Some have criticised the strike. One commented: "Guess what, we're all gonna be here in 12 year's (sic) time. And we won't have noticed any difference."
"The envirohippies (sic) would do themselves a lot of good by toning down the rhetoric. And their parents should be fined for letting them miss school (or the school should if they allowed it)."
Another added: "Get a job, pay some tax, before you protest asking the government to tax you more for fake problems that don't exist."
The UK Student Climate Network (UKSCN) who is behind the #YouthStrike4Climate movement stated online that while they are "political", they are not "party political".
"For too long, our political system and methods of civic engagement have frozen out youth voices, and we have found ourselves disenfranchised and left with no avenues to express our politics," they said.
"If you really care for our movement, our climate, and our politics you will give us space to express ourselves, to develop our own ideas and narratives."
The recent strikes come after new analysis by Carbon Brief which highlighted the climate burdens that young people have inherited.
The data, compiled from emissions statistics and population changes, found that young people born from 1997 to 2012 will need to have a carbon footprint which is 17% of their grandparents' in order to tackle climate change.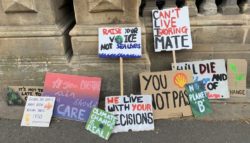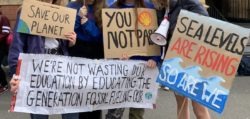 Signs used by the youth strikers. (Image: Evianne Suen / The Boar)
In a letter published in the scientific journal Science on Thursday 11 April, thousands of scientists and climate researchers declared that the youths' "concerns are justified and supported by the best available science".
"The current measures for protecting the climate and biosphere are deeply inadequate," the letter said.
The National Union of Students (NUS) also expressed their support for the strike. In a statement released a day before, they said: "We currently find ourselves facing the very real and immediate prospect of ecological breakdown, a drastically changing climate, and huge uncertainty.
"Without urgent and radical reform to restructure our economic systems along environmental principles, young people today will grow up to live in a radically different world."
Similarly, Becca Brown, the University of Warwick's Students' Union (SU) Environment and Ethics Officer-elect, commented: "#SchoolStrike4Climate is such a massively inspirational movement and to see such a huge interest in caring for our future and the environment is brilliant.
"It's about time our area got more involved in the global action to save the climate. With such a large population of students of all ages, the school strikes are a great way for local people to contribute to the international voice for the climate."