Anyone who is familiar with UK Urban music will most likely have heard of the duo, Krept & Konan, who have released singles like 'Freak of the Week', 'Wo Wo Wo' and 'Don't Waste My Time', with 'Freak of the Week' making it to number 9 in the UK Singles Chart.
The duo, made up of Casyo 'Krept' Johnson and Karl 'Konan' Wilson, originate from South London and have collaborated with the likes of Tinie Tempah, J Hus and Skepta. If you hadn't heard of them, there is a chance that if you were at Warwick University this time last year, you would have been discovering them through a Facebook event and getting your tickets.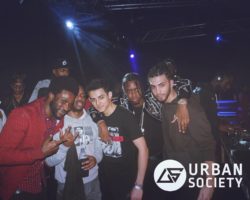 But if we're going to take a look into how this popular London duo graced the stage at Warwick University on 8th February 2018, we need to consult the society behind it, Urban Society, and discover how it came about and why this event was important in establishing them amidst the existing societies at Warwick. And what better way than interviewing the president, Mateo Quintero, himself?
---
Hana: Where did the idea for this society start?
Mateo: When we first arrived at Warwick, there were no Hip Hop or Urban music events on campus. It was a struggle to find anything good to do and that's where the idea of Urban Society came from. Me, Aqeel Asif and Ismaeel Siddiqui created Urban Society as a way to promote Urban music and culture across the University.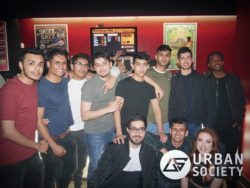 Hana: But Hip Hop society exists already, how were you different to them?
Mateo: The big difference between us and the Hip Hop Society was that we wanted to promote UK urban culture, not so much American Hip Hop culture. When we started up Urban Society, in our first year, the first thing we thought of doing was organising two big House parties in Leamington Spa, with a big emphasis on music from the UK urban scene. But our original intention was always to organise a massive event in the Warwick Copper Rooms to really show that the era of Urban music had officially arrived to Warwick.
Hana: Why Krept & Konan?
Mateo: I think we always wanted an artist who was very well-known. There was no point doing a big event without a big artist. Krept & Konan was, therefore, top of the list in terms of who we wanted to book. I mean, they had tunes like 'Don't Waste My Time' which are cult-classics in London. Krept & Konan are also rappers who transcended the Urban London music culture as their song 'Freak of the Week' was a mainstream hit across the World. Therefore, we knew that Krept & Konan, as an act, would promote themselves, making our job a bit easier.
Hana: Was it all about the performance?
Mateo: No. We always intended for the event not to just be a live musical performance, but for it to be a celebration of Urban music as a whole. Of course, we would have Krept & Konan perform as the highlight, but the rest of the night would also be dedicated to promoting a range of UK urban genres including UK Rap, Grime, Drill, Afrobeat and Dancehall.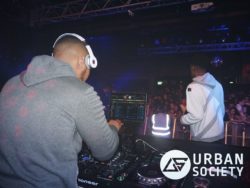 Hana: So you had the idea, but how did you actually manage to get them to perform here?
Mateo: I think, as a whole it took around 4 months just to book Krept & Konan. We originally got in contact with their management team around early September 2017 and there was an initial period of negotiation because Krept & Konan don't usually do University performances. It was around November that their management team agreed, subject to a few conditions, but the event wasn't really 100% until around the 20th of December, when Krept & Konan themselves gave their final confirmation. It was almost like a moment of celebration for us when we got the confirmation from Krept & Konan. We had such a great team, including Sahin Cevher, Samir Modi, Faeqa Chowdury, Rakeem Mehmood, Basheer Muhamed, Ali Jawad and Harbir Sahota, who were really able to push the whole thing over the finishing line. We knew that once we had them confirmed, we were going to make history in Warwick by organising the first large-scale urban music event, and that was something that was exciting.
Hana: Did you manage to sell enough tickets?
Mateo: It was actually mad. I think we put the tickets up for sale on the 23rd of December 2017, and we managed to sell basically half the tickets we had within like 1 hour because we were working with a club promoter from Coventry, tickets were also made available to Coventry University students. This helped us sell around 500 tickets all within the first hour of sale around 7pm that day. I think we always knew it was going to be a big event, but with 500 tickets in 1 hour we knew that what Krept & Konan would be madness. Within a week we had sold around 800 tickets, which was nearly full capacity of the Copper Rooms. In the end, we sold 1,200 tickets, which is the absolute limit of people which the Copper Rooms can hold (both upstairs and downstairs). I think that's even more tickets then they sold for the MTV Welcome Parties which they did that year in the Copper Rooms, from what we were told.
Hana: Was the event a success in the end?
Mateo: Yeah so the night was obviously wild. I remember standing on stage and looking out into the crowd and seeing that it went all the way to the bar at the back of the Copper Rooms. Krept & Konan were very professional in the way they did things. We had like a little buffet set out for them backstage and before their performance they looked out into the crowd and Krept said it looked like a festival in there.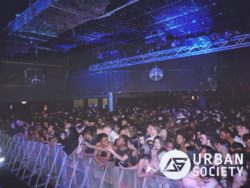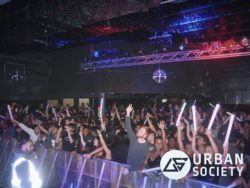 ---
Hana: What did the team have to say about it all?
"It was definitely the biggest Hip Hop event Warwick had ever seen and probably ever will see" (Mateo Quintero, Founder and President of Urban Society)
"We knew that Krept & Konan would be able to attract everyone, all types of people, and that's what we wanted. No other London Urban artist had the reach which Krept & Konan had, especially after they dropped their '7 days 7 nights' mixtape in October" (Sahin Cevher, Vice President of Urban Society)
"Compared to the big London Universities, the lack of presence of Urban music events was really noticeable when we first arrived at Warwick" (Ismaeel Siddiqui, Co-Founder of Urban Society)
"Building the society from 3 members to hosting a sold out event with 1,200 students attending was amazing. It was a hard, arduous process, but the results were great" (Aqeel Asif, Co-Founder of Urban Society)
"It was a great achievement to bring an Urban event to Warwick on such an unprecedented scale" (Basheer Muhamed, Head of Events for Urban Society)
"From helping to set up Urban Society, the fact that we managed to organise an event with a MOBO Award-winning artist which became one of the biggest events in the history of the University was a very rewarding experience" (Rakeem Mehmood, Head of Strategy for Urban Society)
After speaking to Mateo, it became very clear that if you have an idea for something and a good team, making that initial vision a reality is possible if you're willing to put in the effort and get things done. He certainly has a passion for this genre of music and this event was definitely a highlight for him as President of Urban Society. It was also a good indicator in proving that there was a need for this kind of event at Warwick and that this was something students were more than happy to pay for and promote. What it should demonstrate to other people, perhaps first years at Warwick, is that whilst it may be hard work, it can also be an extremely rewarding experience and something that will make your time at Warwick that bit more worthwhile and exciting. Urban Society are currently working on assembling a team soon to continue the work and keep the urban scene at Warwick going so it will be interesting to see what the next team are able to do.
Related Posts