A group of 11 students at the University of Warwick have been given precautionary suspensions following an official complaint to the University. The complaint came about as a result of a group chat in which discussion included raping and sexually assaulting other students from the University.
(Trigger warnings: sexual violence, rape, racism, paedophilia, FGM)
In addition to a number of conversations about sexually assaulting other students, the chat is alleged to include racist, anti-Semitic, misogynistic and ableist language, as well as claims of paedophilic activity. The University's investigation into the matter is still ongoing.
This article includes screenshots of the alleged chat that have been presented as evidence in the investigation. The names of all involved have been redacted.
Ninety-eight screenshots from the chat were submitted to the University as part of the complaint.
Those handed precautionary suspensions include senior members of several society execs, both academic and sporting. Among those temporarily suspended are alleged to be social secretaries, tour secretaries, a careers officer and a treasurer, both outgoing and incoming.
As part of their exec roles, several of the students represented Coventry Rape and Sexual Abuse Centre (CRASAC) in the context of their society's charity work.
In messages seen by The Boar, there are multiple references to rape. One screen shot reveals there were 19 results for the word "rape" in the group chat.
Under one search for "rape", the chat members discuss raping another female individual and her friends.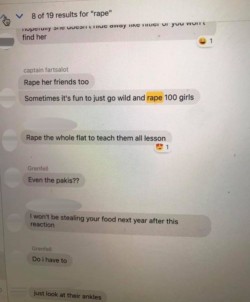 In another exchange, one individual says he will rape a girl in his flat. Another chat member responds saying that this "Wouldn't even be unfair".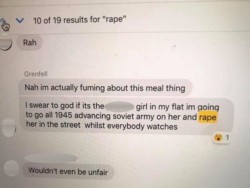 A separate screenshot appears to show a member of the chat posting a screenshot of a student talking about their experience of sexual assault on social media, followed by a laughing emoji.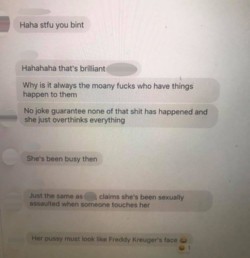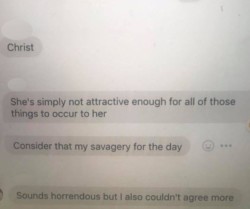 Another screenshot shows one chat member talking of having "surprise sex" with freshers. In another exchange, this individual discusses having sex with a student in Year 10.

The same individual makes multiple references to rape throughout the screenshots. In another exchange, the same individual states they will "pull anything with/without a pulse". In a separate screenshot, this individual also claims "What do we do with girls? RAAAAAAAAAPE."

The individuals also discuss which female they would most like to 'double foot', with one chat member stating that the female "deserves hair straighteners on her flaps".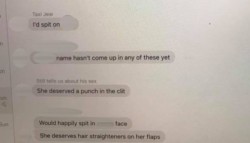 Another screenshot from the chat reveals a conversation which includes offensive and racist language, with individuals claiming they "love Hitler" and calls for a "crusade for racism".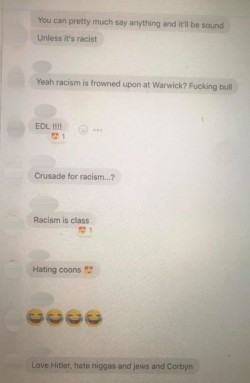 The screenshots show that for a period of time the chat was named 'Fuck Women, Disrespect them all' with the nicknames of several members altered to 'Grenfell' and 'Taxi Jew'.
In another conversation, two chat members discuss another female individual who cannot be named. In this conversation, they also talk about Derrick Bird and 'Fritzl'. Derrick Bird killed 12 people and injured 11 in a shooting spree in Cumbria in 2010. The Fritzl case concerns Josef Fritzl, who held his daughter captive and repeatedly raped her for twenty-four years.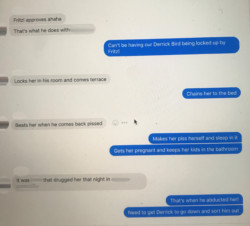 The Boar has also been provided with evidence that several of the students who have been temporarily suspended separately acknowledged the existence of the group chat.
When originally contacted by The Boar to ask whether students had been suspended, the University stated: "From time to time the University will issue a precautionary suspension to a student or students while a potential disciplinary matter is being investigated.
"The University would not normally comment further on such a suspension until the relevant processes had concluded."
The Boar will be following the investigation and will update you on any further progress.
If you have been affected by any of these issues, please contact Wellbeing Support or Warwick  SU Advice Centre.  https://warwick.ac.uk/services/supportservices/  warwicksu.com/advice
Alternatively, you can also contact the Coventry Rape and Sexual Assault Centre (CRASAC) on 02476 277777 – the helpline is open Monday-Friday, 10am-2pm, and Monday and Thursday evenings from 6-8pm. If phoning outside these hours, you can leave a voicemail message for someone from the helpline to phone you back.