21:16: That's all from me tonight but I'll be back tomorrow for men's football. Sweet dreams Warwick Uni students, as Varsity is won.
21:14: I'm now on a bus home beaming as Warwick maintain their unbeaten Varsity record. I may be wearing a woman's hat and jumper, but without them, you may never have known that Varsity was won with a last minute shot.
21:02: Warwick win! And VARSITY IS RETAINED
21:01: Not for long though, as from a penalty Warwick rifle home. 2-1.
20:59: Coventry go one-on-one and tie things up. 1-1.
20:53: Warwick yellow card.
20:40: Second half begins.
20:38: During the break, it's worth giving a shoutout to my girlfriend who supplied me with warm clothes for the match. Without her, I may be have been treated for pneumonia already.
20:37: Warwick go into halftime 1-0 up.
20:35: Cov shot blocked on line and then turned round post. 1-0.
20:34: Another Cov yellow.
20:30: Warwick keeper denies Cov from point blank range.
20:28: Warwick get their own yellow
20:25: Not sure what's going on, hockey is wild. Tensions getting to Cov as another yellow card brandished.
20:17: Yellow card for Coventry.
19:59: Disaster has struck as the game started 10 minutes early, but positive news as Warwick are 1-0 up.
19:53: Nick D is back with more play-by-play updates for the Men's Hockey match. So sit tight, it's going to be a good one.
19:16: Warwick score again. It's a great effort from long range. Surely that's the last. In fact, there goes the final whistle as just now as I'm writing this. What a terrific show by the hockey girls.
19:11: 8-0. Warwick find some space in the centre of the d – its poor defending really – and the shot is pinpointed just right of the the keeper's foot.
19:00: The goals are still coming. 7-0 now as it's clipped in near post. An utter whitewash.
18:51: Warwick have their sixth of the game. Again from a penalty corner. The initial shot is blocked but on the rebound it's neatly tucked into corner.
18:45: Into the second half now and Coventry are slightly more in it. Maybe it won't go to double figures.
18:35: It's half time now. Coventry fans just cheered a foul that went their way. Sums it up really.
18:29: And it's five. A great set play from the penalty corner. It's passed to the player at middle of the d, who safely collects it and threads it to the onrushing player just right of the post.
18:19: 4-0. Its a beautiful dribble from about the halfway line, followed by a calm finish into the corner. Coventry can't get a look in.
18:09: Its 3-0 already. Yep it looks like a goalfest is very much on the cards.
18:03: It's Warwick with the early pressure and the early goal, as its just about scrambled in. I hope this won't be a goalfest my freezing cold hands won't be able to handle it.
18:00: Right then we're off. Scratch my earlier comment.
17:56: Up next we've got my (Greg) sure to be wonderful coverage of the women's hockey. It's due to kick off at six, though these fixtures seem to rarely start on time.
15:22: Warwick win! 14-5!
15:17: 13-5. Victory is within grasp.
15:14: Warwick edge closer to victory as they extend the lead to 12-5.
15:11: 11-5 as Coventry pull one back. First to 15 wins I'm led to believe.
15:05: 11-4 as Warwick edge clear.
14:56: Still can't play the kazoo but Warwick can play ultimate frisbee. It's 10-4.
14:48: Sorry about the lack of updates, I've been given a kazoo and I've discovered I can't play it. It's 9-4 though.
14:42: 8-4 as the game takes a drinks break. Done some investigative journalism and can confirm a bagel is when you go scoreless. You're right Coventry, no bagels today.
14:37: 7-4 A's Warwick stretch the lead further.
14:30: A man in a bobbly hat launches the frisbee downfield and Warwick score. 6-4.
14:28: Coventry score a delightful point as Warwick let them back into the game. 5-4.
14:25: Warwick return with a point of their own. 5-3.
14:22: Coventry chant "No Chilli" and subsequently score. Tactics. Sounds like they're concocting some sort of strange meal though. 4-3.
14:19: 4-2 A's Warwick go up field quickly and restore their advantages.
14:17: Coventry ease into the game as the score is reduced to 3-2.
14:14: Coventry pull one back and a chant of "No Bagels Today" roars around Varsity. You know as much as I do.
14:11: It's 3-0 already. I think Coventry know as much about Ultimate Frisbee as I do.
14:09: It's 2-0 to Warwick. Easy pickings so far.
14:05: I think it's 1-0. Loud cheers from Warwick.
14:04: It all looks a bit unorganised to start, not sure what's going on.
14:02: Nick D back here ready for the live coverage of the Ultimate Frisbee. Not sure how it works but we'll have a laugh learning how it works as it goes along.
13:35: Warwick have won the men's volleyball by 3 sets to 1, winning the final set 25-16. I have to say this team looks like a lovely bunch of lads, I'm very pleased for them. And that's me out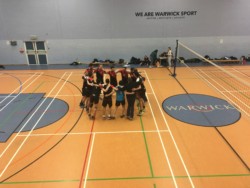 13:19: Warwick are 8-3 up in this potentially decisive set, and everything has gone their way so far. Let's serve Cov a thrashing
13:10: This tie has taken a twist, Cov have made it 2-1. They tried their very best to blow a 24-18 lead (25 = set win), bless them, but alas.
12:56: At a timeout in the 3rd set Coventry lead 12-7. Cracks are beginning to show in their team unity though
12:48: I'm no volleyball expert, but I would suggest that Coventry's inability to regularly serve over the net is quite a big problem
12:41: It's Alex taking over again, entering the 5th hour of standing in my spot in Desso Hall. Glad to hear the tennis is going ace. The Men's Volleyball is an absolute stonker, and Warwick look likely to go two sets up
12:32: Warwick have won the second set, and thus the match, with an ace. Fantastic display. I just realised that some Coventry have fans have #oneteamonedream emblazoned on the back of their sweatshirts. They should really change that to #oneteamonepipedream. They were never in that match.
12:17: Warwick hold their serve yet again. A beautiful drop shot at the net from Shkurskiy to seal it.
12:14: Its two games to one as Warwick break serve. The Coventry man who missed the ultimate shot isn't happy with himself. He isn't English so I couldn't quite catch the stream of expletives unfortunately.
12:10: The Warwick boys have won the first set 6-4. Into the second we go!
12:03: I feel slightly traitorous right now. I'm burrowed in with the Coventry fanbase because the Warwick lot have crowded out their section of the viewing balcony. Both are giving their players a fair share of support.
12:00: Elsewhere, the men's volleyball has got going, just as Warwick miss a volley of their own in the tennis.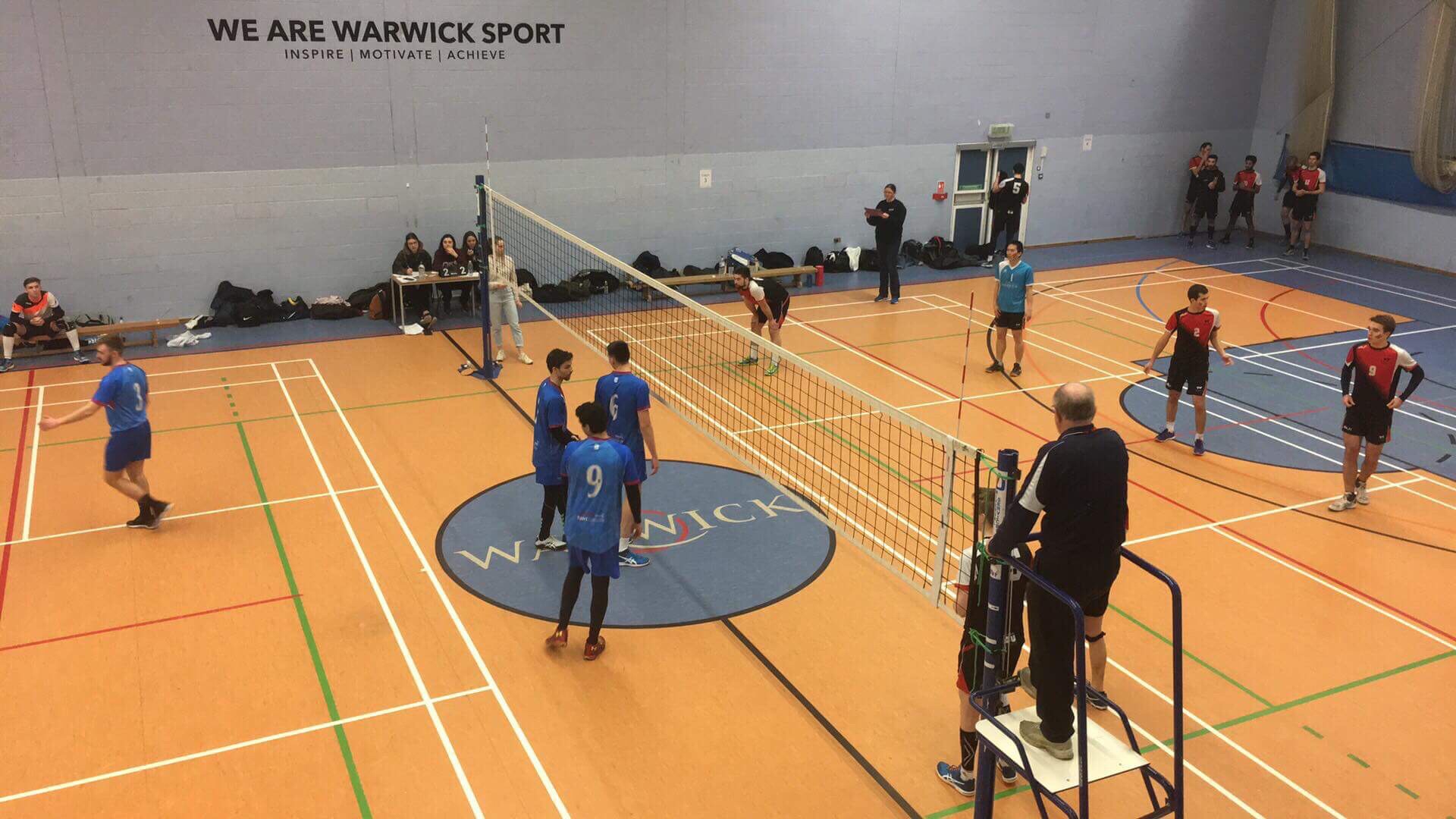 11:46: The Coventry fans are getting frustrated by the double faults. Both sides have been guilty though. I myself have committed a double fault by forgetting to mention the Warwick player's names. They are Alexandre Locci and Vladislav Shkurskiy.
11:35: Right the men's doubles are underway and its Warwick with the first game under their belt. A break of serve.
11:23: Switching over to Greg now with the men's tennis. Should be a good one! The players have been out warming up for a about 30 minutes now. Coventry were out first. "They think stretches are going to help them", jibe the Warwick contingent on the balcony. Confidence is high it seems.
11:06: Warwick have won by 47 runs! A superb  performance sealed with a conclusive run out. That's all from me, for now
11:03: After strolling down the wicket and middling a six, Coventry's batsman tried the same again and was caught behind square. Don't get cocky.
10:58: After a decent show of resilience, Cov lose another wicket, caught behind off a big outside edge
10:46: And another! Somebody pick Coventry's heads off the floor
10:45: Mihir takes another splendid catch as two Cov wickets fall in quick succession
10:35: We've set Coventry a huge target of 158  to chase. Surely they can't make that?
10:29: As tempers continue to flare here, generally speaking we're keeping a lid on things – responding to loose bowling with controlled shots, despite one run out
10:22: Mind games see the Cov player completely lose his head and bowl a Beamer. We're on 181 and building a big lead
10:08: After Cov posted 86 for their 10 overs, we're back into bat
09:56: Cov are 57-2 off 8 overs, Warwick have been fantastic in the field
09:49: I've been joined in Desso Hall by former Sports Editor James (who points out that someone here – not me, promise – is already drinking Fosters. If Shingi Mararike were also here it would be like a scene from The Avengers.
09:42: Excellent work with the gloves brings a stumping in the second over. A brilliant start for us with the ball
09:40: An amazing caught and bowled from captain fantastic Mihir, who's also opened the bowling. 'The Sound of Silence' plays the departing Coventry batsman, to giggles
09:33: At the close of 10 overs, Warwick have posted a very respectable (I think) 120 runs. Onto field now, so let's back up this display so far.!
09:31: Since the last update we've lost two wickets – the first being a run out after a breakdown in communication
09:25: The introduction of 'Move your Feet' to the playlist can't be a hint to the batsmen, who are going along just fine
09:15: An enjoyable couple of balls as Warwick's first 6 of the day is followed by a wide, a half-chance, then a four. 52-0 after 5 overs.
09:08: Mihir, Warwick's opening bat, has made a positive start, with a nicely controlled clip to the leg side my personal highlight. James Brown is playing. Life is good.
09:00: A lot of spectators have made the trip despite the early start. They're being seranaded by 'White Noise' on a speaker, and protected by a big blue net. You wouldn't get that at Lords
08:47: Up first in a mammoth day is indoor cricket, which I'm genuinely excited to see. The toss has just been and gone and Warwick will bat first
08:45: And what's that I sense around the viewing balcony? Could it be tension? After two important wins in the basketball last night, Coventry have momentum and points on the board. We all know it's only a momentary blip…don't we?
08:42: Wake up you sleepyheads! Varsity's Super Saturday is here, and I (Alex) for one am glad to not have to navigate the streets of Coventry and the children's play areas of its sports centre today. Desso Hall will be my bunker for the foreseeable future.