Construction work has been planned for the new Faculty of Arts building for central campus. The contract was awarded to Feilden Clegg Bradley Studios (FCB), who have designed the layout for the building, after winning an international design competition by the Royal Institute of British Architects.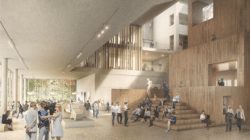 The new Faculty of Arts project was designed to unite the Arts and Humanities Faculties in one sole building, replacing the land once used for car park 7, which is situated near the Oculus and Arts Centre.
FCB are reported to have worked for a number of other universities in the past, including Cambridge and the Manchester School of Arts.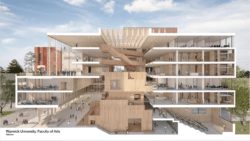 The plans for the new site are based around four light-filled pavilions set around a grand central stair. Each pavilion building will then house teaching spaces, offices and academic clusters. Instead of the traditional open planned atrium, the new building will also have a large wooden staircase that spirals around a series of spaces that can be used as studios, exhibitions and event halls.
There will also be physical connections between these four pavilions, allowing free movement between the building and each faculty department.
Construction for the £33 million project is expected to finish in 2020.