There is no better travel companion than a trusty book. Connor Hutchinson reflects on the literature you should be reading if you're visiting Central Europe this summer.
~~~~
A Moveable Feast by Ernest Hemingway
Destination: Paris.
Ernest Hemingway's personal memoir of his time as an unknown writer living in Paris, before his rise to fame, truly captures the loveable essence of Paris. A Moveable Feast forecasts Hemingway's wit and individual relationships with his friends, for example with classic writers such as Scott Fitzgerald and James Joyce.
If an insight into the lifestyle of a young Hemingway doesn't arouse your literary senses, his raw  and vivid descriptions of the 'city of love' will encapsulate your imagination to make you feel like you're sat there yourself in an intimate Parisian café, sipping on a full-bodied red wine.  Hemingway's simple but powerful imagery embraces the importance of French cuisine as he delivers mouth-watering anecdotes that will leave you hungry to experience new foods.
Whether it's the narrowing side-streets, the personality of the locals or the unique architectural beauty of the French monuments, Hemingway manages to summarise what makes Paris one of the most captivating cities in the world. This easy-flowing memoir is a perfect choice for your trip to Paris, as you can indulge in Hemingway's experiences, whilst creating your own.
The Diary of a Young Girl by Anne Frank
Destination: Amsterdam.
This may be an acquired choice for those who are visiting the Dutch capital, but if you're a history fanatic like myself, Anne Frank's diary is incredibly interesting. Notably, it creates an empathy of what war-time Amsterdam must have been like.
The main purpose for this choice of holiday literature is that it lays an emotional foundation for when you visit the house of where Anne and seven other individuals hid from Nazi oppression. The museum at Prinsengracht 263 in Central Amsterdam will hold added importance after reading Anne's diary, as she gives a historically precious account of how relationships changed, how she questioned her sexuality and how her love for one of the captives (Peter van Daan) gradually flowered as war commenced. The details of her shattered emotions during air raid strikes, her externally arrogant personality and fear of being captured by Gestapo officers, all accumulate to give you a sense of who Anne Frank actually was and what she was feeling at the time.
With her house being one of the main tourist attractions in Amsterdam, I highly advise that you delve into the life of this extraordinary teenage prisoner and use a fraction of your trip to visit one of the most emotionally-charged time capsules in central Europe.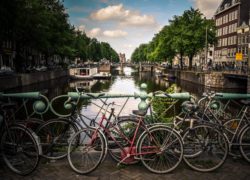 The Spy Who Came in from the Cold by John le Carre
Destination: Berlin.
Le Carre is a notorious Cold War spy novelist and has been labelled as one of the greatest contributors towards the spy genre. The Spy Who Came in from the Cold depicts the journey of a British agent who has been sent to communist East Germany to gather intelligence about a powerful East German officer.
This fictional depiction of Western espionage and the hysteria of the Cold War is a captivating masterpiece with surprising layers of truth. What better place to read this Cold War thriller than Berlin, the battleground of many hostilities between the United States and the Soviet Union, particularly throughout the 1950s and 1960s. Le Carre's methodical and gripping plots are usually based on the Cold War division of Germany, and give an entertaining but informative account of tactics, conspiracies and hatred surrounding the fight between the two opposing ideologies: communism and capitalism. Berlin still possesses many remnants of the Cold War, including the Berlin Wall, Checkpoint Charlie and several museums dedicated to this definitive historical period.
The background to Le Carres novels, particularly The Spy Who Came in from the Cold , are a perfect setting for your trip to Berlin as they emulate the city's distinct heritage as well as depicting how Berlin was not only an important cornerstone for Germany, but for the entire world.