65% of university students are living in squalor according to a recent survey of students' accommodation conditions.
Results from the 2017 National Accommodation Survey have shown that almost two-thirds of university students are plagued by accommodation issues. The annual survey, run by Student Money Website, compared the responses of over 2,000 students.
The most prominent issue was damp, which 47% of the participants had reportedly experienced. Over a quarter of students also noted that they had experienced rodents and pests within their accommodation, whilst around 5% claimed to have suffered bed bugs in this past academic year.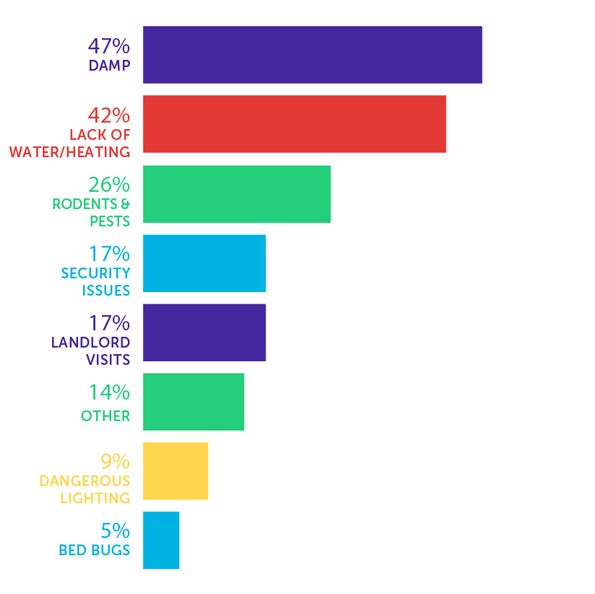 Graphic: Save the Student
Results collated within the survey showed that despite the severity of the issues, around one in four complaints were never fixed. Only 21% of issues were resolved within 24 hours, while nearly half of all reported incidents taking over a week to be rectified.
According to Save the Student, one in five students also struggled to get their deposits back at the end of the year, "despite a clear lack of help by landlords in dealing with reported complaints."
47% of the students who took part in the survey rented their accommodation from a private landlord, with a further 34% living in University Accommodation.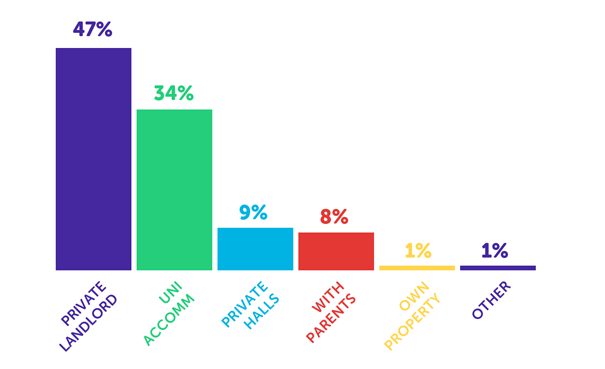 Graphic: Save the Student
According to the survey, the average student rent in the UK is £125 per week, which comes to approximately £535 a month. The highest reported rents were those within London, where students payed around £182 a week for accommodation. Northern Ireland was found to be the cheapest place to rent, with the majority of students paying a weekly fee of just £91. The average weekly price for accommodation within the West Midlands for 2017 is reported to be £111.
Eight out of ten students also responded that when choosing accommodation for the upcoming year, "some form of upfront fee" to a letting agency was required. Save the Student noted that: "according to government figures, this could mean students are having to pay an extra £200, or more, each before they can move into their accommodation".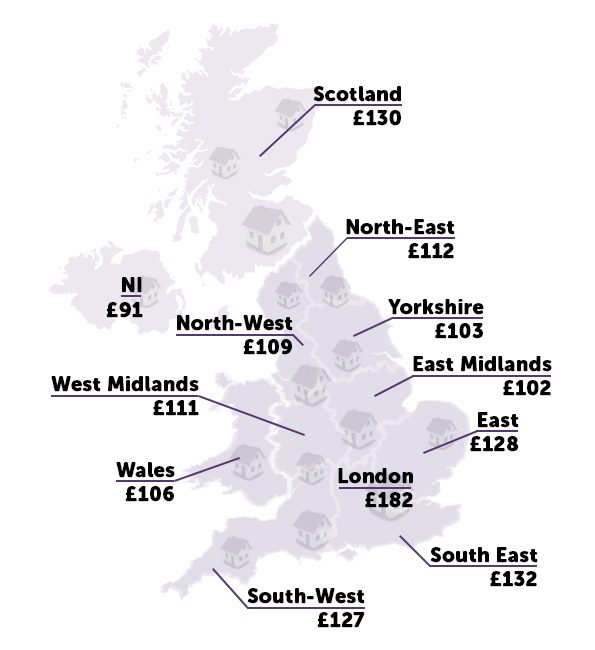 Graphic: Save the Student
Students on the survey cited being left without water for five days in the middle of winter, with little support from the landlord, as well as paying nearly two thousand pounds more for rent outside of term time due to overlong contracts.
Katy Georgina, a second-year Maths and Physics student spoke about her own experiences this year: "The shower door is hanging off the frame, the front porch ceiling fell through, the curtain rail in living room has completely fallen off and brought some wall down with it."
"Although the landlord has fixed these problems, had the house been of a higher standard to begin with they would not have occurred… I think that landlords tread the line very closely when it comes to student properties."
However, second-year Maths student Lawk Mineh said: "Our house is great value for what we pay and Warwick Accommodation have been pretty good landlords so far – I have had nothing to complain much about this year."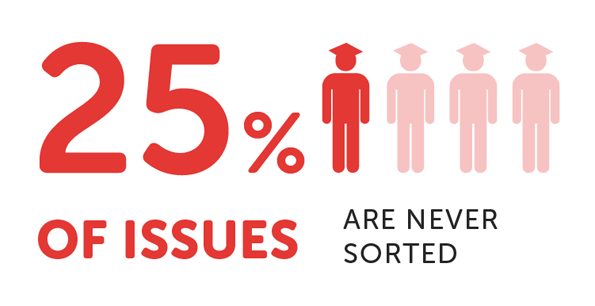 Graphic: Save the Student
Save the Student Editor Jake Butler commented: "People tend to think that living in substandard conditions is just part of being a student, but it's time we realised it simply isn't acceptable, especially when many students and their parents are shelling out plenty of money. There should be more obvious support available to students for matters like this".
Save the Student advises those living in poor housing conditions to "promptly report their issues, take photos and most importantly get advice from their university or SU welfare or accommodation team."
Related Posts